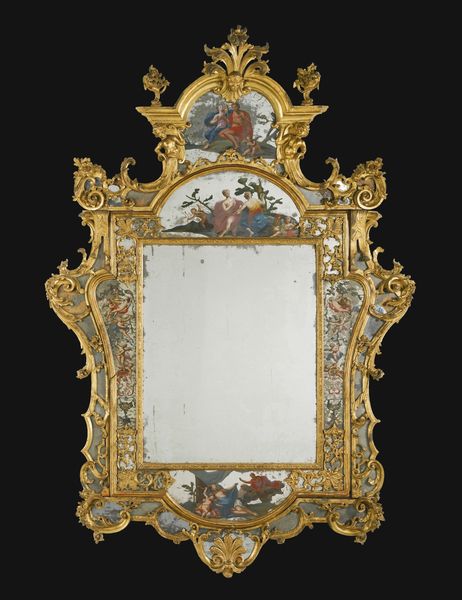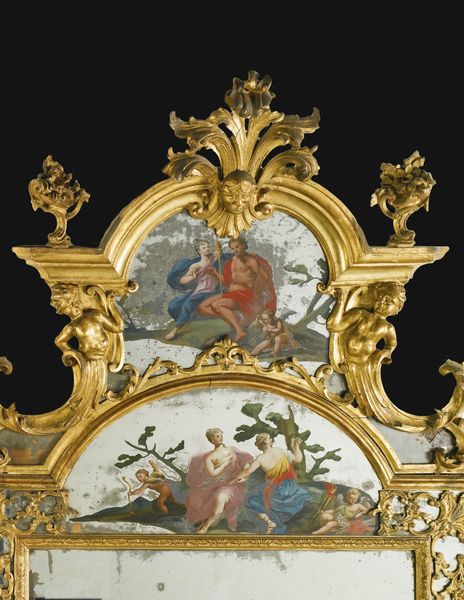 An Italian carved giltwood and reverse painting on glass mirror, Venetian, second quarter 18th century. Photo courtesy Sotheby's
the arched cresting surmounted by a female mask amongst acanthus sprays flanked by a flower-filled vase above a painted panel depicting lovers in a landscape with cupid, flanked on either side by boldy carved cherub terms above a further painted panel depicting two semi-naked females in drapery one inscribing a tree trunk flanked on either side by amorini, the side panels painted with gambolling cherubs with flower-filled vases, garlands, ribbons and trophies of Love, each angle carved with stylised lambrequins c-scrolls, flowers and foliage, the mirrored shaped borders carved with tasselled lambrequins, the panel on the apron depicting a reclining semi-naked female figure of Venus greeting Jupiter, the apron centred by a stylised anthemion the whole carved with c and s-scolls, flowers, leaves and rocaille. 293cm. high, 202cm. wide; 9ft. 7¼in., 6ft. 7½in. Estimate 150,000-300,000 GBP
PROVENANCE: Collection of cav. Eugenio Imbert, Milan prior to 1958;
Italian Private Collection
LITTERATURE: Giuseppe Morazzoni, Il Mobile Veneziano del Settecento, Vol I, Milan,1958, illustrated Tav. CCXXXI.
Comparative Literature: Graham Child, World Mirrors, 1650-1900, London, 1990, p. 363.
This impressive mirror which is unique both for its size and profusely painted borders is a superlative example of the virtuosity of Venetian carvers in the first half of the 18th century.
The technique of 'back painting' (painting on the back of glass panels), was a technique employed in Italy from the 14th century often with silver and gold leaf and later by the English in the 16th century. Reverse painting on glass is an art form consisting of applying paint to a piece of glass and then viewing the image by turning the glass over and looking through the glass at the image. Verre Églomiséis a commonly used term to refer to the art of cold painting and gilding on the back of glass. It was popular for Byzantine icons and this technique spread to Italy where in Venice it was influenced by Renaissance art. Since the middle of the 18th century, painting on glass became much sought after by the Church and the nobility throughout Europe. One can find mirrors made in 18th century Rome and Naples with flowers painted on the surface of the mirror, however, that technique is far less complex and requires less skill than that of the painter of the scenes on the reverse of the offered mirror.
Sotheby's. Treasures, Princely Taste. London | 03 juil. 2013 - www.sothebys.com