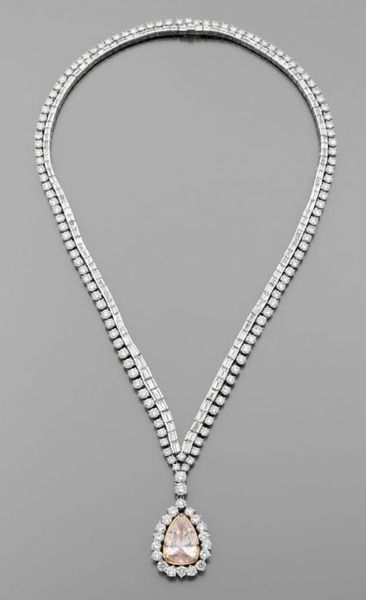 ELISABETH TAYLOR. Photo courtesy Artcurial
Collier rivière en or gris et or jaune formé d'une chute souple de diamants taillés en baguette soulignés de diamants taillés en brillant, retenant un diamant rose-orangé taillé en poire entouré de diamants taillés en brillant. Au revers du diamant le fond gravé "Elizabeth".
Provenance : appartenant à la collection House of Taylor, n° N30002-1.
Poids du diamant : 6.51 ct
Accompagné d'un certificat du laboratoire GIA indiquant couleur "Fancy Light Orangy Pink" et d'un certificat LFG indiquant la même couleur, pureté P1, pas de trace de traitement destiné à modifier la couleur.
Poids des diamants blancs : env. 31.80 ct
Tour de cou : 45 cm. Poids brut : 57,1 g
Estimation 300 000 - 350 000 €

Elisabeth Taylor a créé en 2009 sa propre maison de joaillerie à Los Angeles, The House of Taylor Jewelry, en collaboration avec Luxury Jewels of Beverly Hills.

A DIAMOND, WHITE AND YELLOW GOLD NECKLACE FROM THE HOUSE OF TAYLOR COLLECTION. ACCOMPANIED BY A GIA CERTIFICATE STATING THAT THE 6.54 CT DIAMOND HAS COLOUR FANCY LIGHT ORANGY PINK AND A LFG CERTIFICATE STATING CLARITY P1, NO INDICATION OF COLOR ENHANCEMENT.

Artcurial. Hôtel Hermitage, Monte-Carlo. 23 Jul 2013 14:30 - http://www.artcurial.com