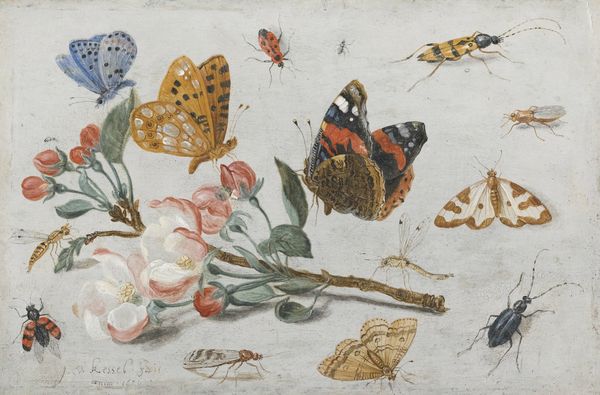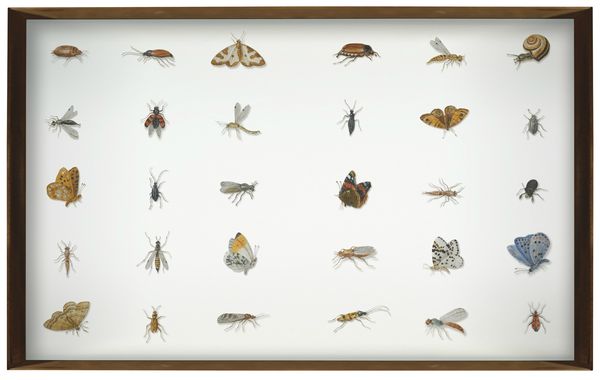 Jan Van Kessel (Antwerp 1626 – 1679), Study of insects, butterflies and a snail with a sprig of forget-menots & Study of butterflies and other insects with a sprig of apple blossom. Photo Sotheby's
a pair, the latter signed and dated: j.v.kessel fecit/anno 1659; both oil on copper, each: 12 by 18 cm.; 4 3/8 by 7 1/8 in. Estimate 250,000-350,000 GBP. Lot sold 302,500 GBP
PROVENANCE: Charlotte Anne Montagu Douglas Scott, Duchess of Buccleuch and Queensberry (1811-1895);
By descent to her daughter Lady Mary Montagu Douglas Scott, later wife of Colonel the Hon. Walter Trefusis MC;
Their daughter Adela Mary Charlotte (1879-1952), later wife of Captain William Lennox Naper;
With Leger Galleries, London, 1953;
With Brian Koetser, London 1964;
Where acquired by the family of the present owners.
EXHIBITED: London, Koetser Gallery, 6 April - 12 June 1964, cat. nos. 18a and 18b.
LITTERATURE: The Connoisseur, London, June 1953, reproduced.
NOTE: Jan van Kessel's intimate cabinet paintings, which manage to combine an intense observation of natural history with a wonderfully attractive design, have always been among the most prized of his works. He started painting them in the first half of the 1650s, with the earliest dated examples painted in 1653. Though some fine examples are on panel, such as those in the Ward Collection in the Ashmolean Museum in Oxford, the majority were painted on copper, the smooth surface of which was better suited to his meticulous and detailed finish.1 Most of the surving dated examples, like those here, come from the 1650s, but Van Kessel continued painting these subjects well into the 1660s, although the level of finish of the later examples tends to be less exacting than those from the previous decade. Many are purely studies of insects, but these are sometimes, as here, combined with studies of flowers or branches of fruit, and occasionally shells. As Fred G. Meijer has recently observed, Van Kessel only rarely repeated motifs in these studies, and it seems that for each of them he approached his subjects afresh.2 Many studies in the same panels are clearly observed from different viewpoints - some from above such as the snail here, or from the side such as the cockchafer beetle beside it - and often out of scale to each other, suggesting that each was the result of individual scrutiny.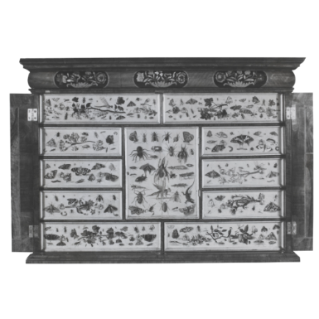 Although we cannot know for certain of their original function, these tiny coppers most probably originally formed part of a series of plates for a small cabinet, in which a collector would have kept his natural specimens as well as other curiosities in small drawers. Unfortunately over time most of these sets were split up, but surviving examples, such as that sold in these Rooms, 11 March 1964, lot 66 (see fig.1) indicate that the smaller panels formed a border around a larger central panel. Another complete set, for example, painted in 1658, and last recorded with the Hallsborough Gallery in London in 1956, included sixteen panels of similar size to the present pair of 14.3 x 19 cms around a central panel of 38.7 by 53 cm.3
1. See also the set of panels of 1653 sold in these Rooms 3 July, 1997, lots 12-14, for £220,000, £215,000 and £200,000 respectively.
2. F.G. Meijer, The Ashmolean Museum, Oxford. Catalogue of the the collection of paintings. The Collection of Dutch and Flemish Still-life paintings bequeathed by Daisy Linda Ward, Zwolle 2003, pp. 228-231.
3. Meijer, op. cit., p. 229, reproduced fig. 41.1, and in colour in The Connoisseur, vol. CXXXVII (1956), no. 553, pp. 198-99.
Sotheby's. Old Master & British Paintings Evening Sale. London | 03 juil. 2013, 07:00 PM - www.sothebys.com