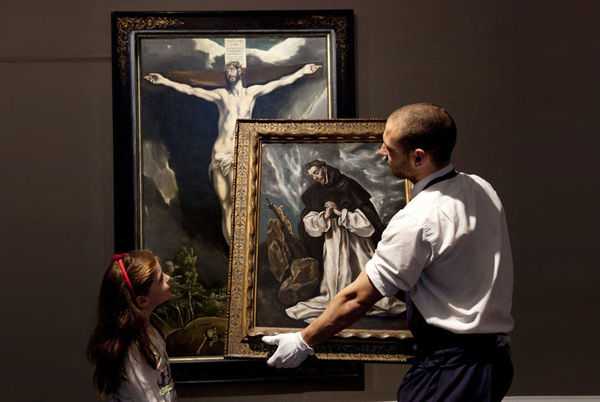 El Greco record and unprecedented global bidding at Sotheby's Old Masters Evening Sale. Photo: Sotheby's.
LONDON.- This evening, an unprecedented level of participation from new markets propelled Sotheby's London Evening Sale of Old Master & British Paintings to £35,048,000. Collectors from 33 countries took part in the sale with record numbers from Asia and the Middle East. More than 400 years since El Greco executed Saint Dominic in Prayer in fifteenth century Toledo, bidders from new markets battled tenaciously for this this powerfully expressive work which was appearing at auction for the first time. They drove the price to £9,154,500 (est. £3-5million), a new record for a Spanish Old Master and the highest price across London's Old Masters sales this week. In total, 8 auction records tumbled tonight, including that for Claude-Joseph Vernet, whose outstanding View of Avignon from the right bank of the Rhône outstripped pre-sale expectations to realise £5,346,500 (est. £3-5million). A new auction record for a female Old Master artist was also established when Rachel Ruysch's Still Life of roses from 1710 achieved £1,650,000 (est. £1-1.5million).
"The greatest Old Master paintings have a timeless quality that transcends their era and gives them a relevance to audiences today, as tonight's global bidding and record result for El Greco attest. The dialogue between Old and New is injecting fresh energy into our field. We're now firmly in a new era, where clients from new markets are collecting Old Masters in new ways. Our response has been to offer the most exciting and diverse works we can find – and to present them a more contemporary way." Alex Bell, Worldwide Head of Sotheby's Old Master Paintings.
· The sale featured two works by El Greco – the first time in living memory that two masterworks by the artist were offered in the same auction: Saint Dominic in Prayer, £9,154,500 (est: £3.5-5m) set a record for a painting by a Spanish artist, Christ on the Cross sold for £3,442,500 (est: £3-5m).
· Over 40% of lots sold achieved prices above presale estimates · 8 new artist records established
· 7 lots over £1 million
· 45% of paddle registrants in Sotheby's Old Masters Evening Sale had also registered for this afternoon's Treasures: Princely Taste sale, which totalled £9,218,850/ $13,973,933 /€10,856,154 (est. £8,205,000 - 13,280,000).
Mario Tavella, Deputy Chairman, Sotheby's Europe, Chairman, Furniture and Decorative Arts said: "Just five years ago we would never have seen decorative arts commanding such strong prices as in today's sale. The demand for rare treasures across all categories – from clocks to furniture and Works of Art – is higher than ever. Prices across the sale were driven by participation from clients in new markets as well as significant competition from Europe - in the room, on the phone and notably online. We saw new clients attracted to the saleroom by the selection of masterpieces possessing both prestigious and royal provenance and craftsmanship of the highest order, and we are delighted with this evening's results."
NEW AUCTION RECORDS:
• El Greco, Saint Domenic in prayer - £9,154,500 (est. £3-5 million)
• Claude-Joseph Vernet, A View of Avignon - £5,346,500 (est. 3-5 million)
• Giandomenico Tiepolo, The celebrated deeds of the Porto family of Vicenza - £3,218,500 (est. £3-5 million)
• Rachel Ruysch, Still Life - £1,650,500 (est. £1-1.5 million)
• Christoffel Van Den Berghe, Tulips, Roses, Narcissi - £626,500 (est. £250,000-350,000) Over three times the price achieved for the work in 2003 of $290,000 (£176,840)
• Francesco Botticini, The Madonna and Child - £494,500 (est. £150,000-200,000)
• Bartholomeus Grondonck, Kermesse of Oudenarde, - £266,500 (est. £120,000-180,000) • Paulin-Jean-Baptiste Guérin, Self-Portrait - £134,500 (est. £100,000-150,000)

Domenikos Theotokopoulos, called El Greco (Candia (Herakleion), Crete circa 1541 - 1614 Toledo), Saint Domenic in prayer. Photo: Sotheby's
indistinctly signed lower left: domén. ...kopol.... ; oil on canvas; 75 by 58 cm.; 29 1/2 by 22 7/8 in. Estimate 3,000,000-5,000,000 GBP. Lot sold 9,154,500 GBP
PROVENANCE: Possibly Marqués de Aldama, Madrid;
With Tomás Harris, London, 1931, by whom probably sold to;
Conte Alessandro Contini Bonacossi (1878-1955), Florence;
With Galerie Julius Böhler, Munich, 1970;
Acquired from the above by Dr. Gustav Rau (1922-2002);
Bequeathed by Dr. Rau to UNICEF.
EXHIBITED: London, Tomás Harris, Old Masters by Spanish Artists, June 1931, reproduced p. 11;
Paris, 140 Faubourg Saint-Honoré, Domenico Theotocopuli. El Greco (Exposition organizée par la Gazette des Beaux-Arts), 1937, no. 24 (lent by Contini Bonacossi).
LITTERATURE: ld Masters by Spanish Artists, exhibition catalogue, London 1931, p. 11 (as El Greco);
Dr. T. Borenius in Pantheon, May 1931, p. 203 (as El Greco);
Art News, 11 July 1931, vol XXIX, no 38, p. 3, reproduced p. 12 (as El Greco);
H. Furst, 'Art News and Notes,' in Apollo, July-December, 1931, vol. 14, p. 63, reproduced between pp. 68-69 (as El Greco);
The Studio, vol. 102, July-December 1931,pp. 147, 149;
A. Rubinstein et al., Domenico Theotocopuli. El Greco, exhibition catalogue, Paris 1937, no. 24 (as El Greco and datable 1588-91);
J. Camón Aznar, Domenico Greco, Madrid 1950, vol. II, p. 1365, no. 483 (as El Greco);
H. E. Wethey, El Greco and His School, Princeton 1962, vol. II, pp. 113-14, no. 206, fig. 250 (as El Greco and studio);
G. Manzini et al., L'opera completa del Greco, Milan 1969, p. 104, cat. no. 70d (as El Greco);
J. Gudiol, El Greco, 1541-1614, Barcelona 1971, no. 197 (as El Greco, and datable 1603-07);
J. M. Pita Andrade, El Greco, Milan 1981/Paris 1983, no. 234, reproduced p. 183 (as El Greco and datable 1600-05);
D. Davies (ed.), El Greco, exhibition catalogue, London and New York 2003-04, p. 150, under cat. no. 33, note 1.
NOTE: "I paint because the spirits whisper madly inside my head" - El Greco

This Saint Dominic in prayer is one of the finest and most characteristic examples of El Greco's art to be offered for sale for more than a decade, and amongst the finest of all his many depictions of saints. It is notable for its encapsulation of both the artist's extraordinary mind and imagination and his highly individual technique; his embracing and juxtaposition of a transcendental environment with a very personal and earthly depiction of the saint himself. Few devotional works are painted with such immediacy, vibrancy and confidence and yet in their scale and subject retain such an individual personality and intimacy. It is thus that with Titian, his greatest influence, El Greco can be considered the finest and most influential inventor of the second half of the sixteenth century.

Arriving in Counter-Reformation Spain in 1577, El Greco would have been struck from the outset by the fervour of the church's dogma to inspire piety and devotion through art. The Council of Trent in 1563 had decreed that there was to be nothing profane, disorderly, indecorous or confusedly arranged. And so we have here nothing but Saint Dominic, simply dressed in his black and white habit, in a moment of quiet piety in the wilderness, kneeling in prayer before a simple, model crucifix propped up against a rock.
For almost any other artist alive in Counter-Reformation Europe, such simple ingredients would have proved insufficient. The subject would have been infused with emotion, the features of Saint Dominic's face perhaps contorted to exaggeration by the depth of his devotion to God. El Greco requires no such artifice, in the knowledge that his extraordinary and lively technique, his fascination in both colour and in light and its sources were worth more to his art than any such affectation.
Though initially a painter of icons in the Byzantine style in his native Crete, El Greco's arrival in Venice in 1568 precipitated a remarkable transformation in his art. Struck immediately by contemporary Venetian artists' extreme use of colour and the dynamism of their technique, the very linear nature of his earliest works was soon entirely foregone. In 1570 he studied the works of Raphael and Michelangelo in Rome, eventually rejecting their excessive disegno in favour of the Venetians' creation of art through light and colour, in his view the only possible means of imitating nature. In Rome he was patronised by Cardinal Alessandro Farnese who gave him lodging but, whether because of his lack of public commissions in Rome or due to his interest in the decoration of the Escorial, El Greco left Italy for Spain and after a few months in Madrid arrived in Toledo in July 1577 where he would remain until his death in 1614.
El Greco received public commissions almost from the moment of his arrival in Madrid, indeed painting for the King the Glory of Philip II in 1577, yet from 1578 he decided to settle permanently in Toledo with his young family and to dedicate himself to a principally local clientele.1 He specialised in religious, or devotional, paintings for private clients and continued to execute them in his workshop from 1577 until his death. The earliest of his single figure saints date from the late 1570s. Though they became more sculptural, like the rest of his output in the 1580s, such as the Saint Francis in the Joslyn Art Museum, by the mid-1590s and turn of the century a sketchiness and greater fluency had returned (see, for example, the series of Apostles in Toledo cathedral and the Casa El Greco).2 It is interesting to observe the gradual softening of El Greco's forms through his depictions of Saint Dominic and Saint Francis. The Joslyn Saint Francis is amongst the earliest of his saints; of precisely the same composition, but perhaps ten years later, is the Saint Francis in the Torellò collection in Barcelona which is rooted in the earlier style but with a freshness of execution that animates its surface, though still the rich, solid forms remain, notably in the clouds (fig. 1).3 Then the present Saint Dominic, considered by the majority of scholars to date from his later period of fluency, circa 1600 or shortly thereafter, is governed throughout by a silkiness and lightness of touch quite the opposite of the dense and forms and surface of the Joslyn Saint Francis.
Though Saint Francis was treated by El Greco more often (Mayer lists fifty-six autograph paintings of him, Wethey twenty-four), and in ten different 'types' catalogued by Wethey, Saint Dominic was still widely portayed by El Greco and his workshop. Wethey considers there to be three 'types' for St. Dominic; one, of which most versions exist, being of the type of the present work; a second showing the saint in an interior;4 and a third showing Saint Dominic holding a small wooden crucifix, known only through a good copy in the Museo de Santa Cruz after the engraving by Diego Astor.5 Of the four versions of the present 'type', all of which, like this one, are signed on the rock lower left, the earliest is considered to be that now in the collection of Placido Arango in Madrid which is generally dated to circa 1585-90.6 Its forms are more solid and sculptural than the later versions. The other three versions, including the present lot, were probably all painted after 1600 in the master's mature style; the other two are in the Sacristry of Toledo Cathedral and the Museum of Fine Arts, Boston (fig. 2).7 An old copy in the collection of the Hispanic Society of America was undoubtedly made after the present example rather than any of the other versions mentioned above.8 The later versions, in common with the majority of El Greco's output from circa 1600 onwards, likely involve a modest degree of studio participation.

Though compositionally similar, no two versions are the same: the folds fall completely differently in all four pictures; in the Arango version they are smooth and neat, in the others more crumpled. The Arango version shows Saint Dominic at his youngest, the Boston picture at his most emaciated and gaunt and, with it, filling the least amount of the picture's surface. The features of Saint Dominic's face, too, vary from one to another, each one feeling like a one-off painted portrait. All four, however, are governed by the same strong diagonals, notably those of the shaft of light to the left of the saint's head, the starkly lit crucifix and the receding landscape behind. The crucifix itself is one that appears not just in these four paintings but in many of those depicting Saint Francis, including the best such one in the Torelló collection, Barcelona.9 The Saint Dominic composition is, as Wethey put it, one of El Greco's major inventions, and one his most successful, so that the large number of autograph versions is understandable.
It is no accident that in this painting, and indeed in all such depictions of Dominic, the saint appeals to us through his very down-to-earth and human appearance. He is no idealised saintly figure but rather someone that we recognise, with whom we can empathise. The principles of the Counter-Reformation dictated that art must inspire congregations to piety, and what better way than by portraying Saint Dominic as a humble soul not unlike those that the image wished to inspire. Similarly, El Greco's numerous paintings of Saint Francis never focus on his miracles but rather depict him in humble prayer in the wilderness - his piety enhanced by his terribly gaunt features and the barrenness of the setting. Saint Dominic too is isolated in the wilderness with nothing but his habit and crucifix. El Greco's depictions of Saint Dominic reflect to a very great degree the attitudes of contemporary reformers such as the Dominican Luis de Granada who would retire into the wilderness to pray and repent. And it was at this time that a chasm emerged in the Dominican order, between those, led by Bartolomé Carranza, former Archbishoip of Toledo, who considered primary 'good works' as penance and prayer, and those who maintained that preaching, scholarship and education were of equal importance. El Greco's siding with the supporters of Carranza is, in all his representations of Saint Dominic, unambiguous.
The viewer could thus more easily access the painting's message via a very human connection with its principal subject. But that very real subject is, however, set before a very unreal and almost supernatural backdrop. From the point of his arrival in Spain El Greco's paintings tackle this question of what Davies terms the 'dualism between heaven and earth' - he is fascinated by finding a way of connecting his painting's subject with its congregation, and vice versa.10 So, where in this painting and in all such paintings of single-figure saints, El Greco invites us into the subject via the saint's own humanity, so in grander works, such as the early altarpieces of the Resurrection (1577-9; Toledo, Santo Domingo el Antiguo) and the Crucifixion (c. 1580; Paris, Musée du Louvre), he includes half-length saints at their base, the same size and at the same height as the actual priests standing at the altar in front of them.11 These half-length saints act thus as intercessors between the divine and the physical, between priest and painting. They too are portraits, in a sense like the donor figures of religious commissions from earlier in the century; they are human, humble and un-idealised. Similar pictorial tricks contribute further to our connection with Saint Dominic in the present work: he fills the entire picture plane; he is compelled forward into our space, his white habit nearly spilling over the frontal edge. Behind him is the divine light of heaven, withinhis reach but not ours (yet) and, like the half-length Saint Idelfonso in the ToledoResurrection, Saint Dominic is here the intercessor or stepping stone between us (the physical) and the divine.
Much has been conjectured about the inspiration behind El Greco's concept of light in his religious paintings. Just as he does not define form and matter in his figures by slavish repetition of nature, nor does he the ambient world that those figures inhabit. He relies not on nature but on an idea in his mind. For El Greco, as he famously said, the language of art is celestial in origin.
"Art is everywhere you look for it, hail the twinkling stars for they are God's careless splatters."
His belief in the concept of light metaphysics, where "initially radiant light emanates from God and is imparted to angels who transmit it to man whose soul is thus spiritually illuminated", is almost certainly born from the Pseudo Dionysius the Aeropagite, a Greek copy of whose Celestial Hierarchy features in the inventory of his library.12 There is nothing literal in El Greco's concept of form or light, just as there is nothing literal about his interpretation of the scriptures. It is curiously contradictory that his depiction here of Saint Dominic is so literal, that we can sense his bony frame beneath his heavy cloak and mantle, but that the setting for him is quite the opposite. But the supernatural light that renders the setting so unreal and that thus causes this contradiction emanates of course from God, and a connection with God through dutiful prayer is our ultimate goal. God's divine light illuminates Saint Dominic, and we are to hope that by following his example, it will illuminate us too.
LITERATURE
The 1937 exhibition catalogue erroneously identifies this painting as the version formerly in the collection of A. Sanz Brémon, Valencia and latterly in the Placido Arango collection (Wethey no. 203).

Though unknown to him when compiling his 1926 catalogue on El Greco, when the painting was brought to his attention at the 1931 exhibition, Dr. August L. Mayer considered this a fully autograph "fine, signed work by the Master". Mayer later included the work in his own exhibition in Paris in 1937.
PROVENANCE
The ownership of the Marqués de Aldama was a supposition of Tomás Harris and is as yet unsubstantiated.
1. The Glory of Philip II was not well-received by the Hieronymite congregation at the Escorial and it was removed from the church into the King's private collection; see Wethey, under literature, vol. II, pp. 75-6, no. 117, reproduced vol. I, figs. 65 & 66.
2. See, respectively, Wethey, op. cit., vol. II, p. 123, no. 222, reproduced vol. I, fig. 273; and Ibid., vol. II, pp. 104-106, nos. 173-185, reproduced vol. I, figs. 218-230.
3. Ibid., p. 123, no. 223, reproduced vol. I, fig. 274.
4. Ibid., vol. II, p. 114, reproduced vol. I, fig. 252.
5. Ibid., reproduced vol. I, fig. 251.
6. Ibid., vol. II, pp. 112-3, reproduced vol. I, fig. 247.
7. Ibid., p. 113, nos. 204 and 205, both reproduced vol. II, figs. 248 & 249.
8. See A.L. Mayer, Domenico Theotocopuli. El Greco, Munich 1926, p. 37, no. 223a, reproduced.
9. Ibid., vol. II, p. 123, no. 223, reproduced vol. I, fig. 274.
10. D.Davies, 'El Greco and the Spritual Reform Movements in Spain', in Studies in the History of Art. El Greco: Italy and Spain, vol. 13, Washington 1984, p. 69.
11. Wethey, op. cit., vol. II, p. 7, no. 8, reproduced vol. I, figs. 52, 53, 360; & vol. II, p. 49, no. 74, reproduced vol. I, fig. 78.
12. Ibid., p. 71.
Claude-Joseph Vernet (Avignon 1714 - 1789 Paris), A View of Avignon, from the right bank of the Rhône near Villeneuve. Photo: Sotheby's
signed and dated lower left: Joseph Vernet f/ 1757; oil on canvas; 99 by 182.7 cm.; 39 by 72 in. Estimate 3,000,000-5,000,000 GBP. Lot sold 5,346,500 GBP
PROVENANCE: Commissioned by Louis-Gabriel Peilhon (1700-1762), Conseiller-Secrétaire du Roi, in 1751, who paid the artist 1,500 livres in 1757;
His deceased sale, Paris, Remy, 16 May 1763, lot 82, for 4,000 livres;
Pierre Louis Paul Randon de Boisset (1708-1776), Receveur général des Finances;
His deceased sale, Paris, Chariot, 18 March 1777, lot 202, to "Ste Foy par Aubert" for 4,200 livres;
Ange-Joseph Aubert (1736-1785), Joaillier de la Couronne;
His deceased sale, Paris, Hugues, 2 March 1786, lot 58 to Paillet for 4,300 livres;
Anonymous sale (Louis-François Saubert or J. Desmarest), Paris, Boileau, 17 March 1789, lot 88 to Marin for 3,702 livres;
M. Marin;
His deceased sale, Paris, Serreau, 22 March 1790, lot 339 to Joseph-Alexandre Lebrun(?) for 3,000 livres;
Probably anonymous sale, London, European Museum, 26 May 1806, lot 1738;1
Brightric Gofton Hutton Gee (d. 1949), Curraghen, Chew Magna, Bristol, 1954;
With Arthur Tooth & Sons, London, 1954;
From whom acquired by the father of the present owner.
EXHIBITED: Paris, Salon, 1759, no. 67;
London, Arthur Tooth & Sons, Recent Acquisitions on Exhibition, 15 November - 18 December, 1954, no. 22.
LITTERATURE: F. Ingersoll-Smouse, Joseph Vernet, Paris 1926, vol. I, p. 87, no. 683 and p.53, plate LXVII (engraving), fig.683;
Advertisment in The Burlington Magazine, vol. XCVI, December 1954, unpaginated, reproduced plate XXI;
G. Briganti, The View Painters of Europe, London 1970, pp. 280-281, reproduced fig. 246;
Probably B. Fredericksen, ed., The Index of Paintings Sold in the British Isles during the Nineteenth Century, vol. 2, Oxford 1990, part 2, pp. 1052, 1053, 1056.
ENGRAVED: By Pietro Antonio Martini in 1782, with a dedication to the Prince des Asturies.
NOTE: This magnificent painting is Claude-Joseph Vernet's only recorded view of his birthplace, the city of Avignon, and amongst his greatest achievements as a painter. Rarely seen in public and, subsequently, little studied, it was described by Giuliano Briganti in 1970 as "one of Vernet's finest views."2 The painting was last offered at auction more than 200 years ago and since then has appeared in public only once when exhibited by Arthur Tooth & Sons of London in 1954. Until that time it had been known to scholars only through Pietro Antonio Martini's engraving of 1782. The reappearance of this important painting is not just of great significance to scholars of Vernet himself, but also to the study of 18th century view painting at large. It is, too, an important document detailing the appearance of the rarely depicted city of Avignon in the mid-18thcentury, seat of the Papacy in the 14th century, and little changed to this day.
Claude Joseph Vernet was born in Avignon in 1714 and received his early training in the city, first under the tutelage of his father Antoine and later in the studio of Philippe Sauvan (1697-1792). Sauvan's work in Avignon was primarily religious commissions and decorative schemes and Vernet soon moved on to Aix-en-Provence to study under the marine and landscape painter Jacques Viali (c. 1681-1745). Vernet's work on decorative commissions in the studios of Sauvan and Viali gave him access to the private collections of Avignon and Aix. Here he came into contact with works by the earlier generation of decorative landscape artists, Gaspard Dughet, Salvatore Rosa and most importantly, Claude Lorrain. His first independent work, a series of landscape overdoors, is recorded in 1731.3 His early talent drew the attention of Joseph de Seytres, Marquis de Caumont (1688-1745), who, as the first in a long line of French noble patrons, offered to sponsor a trip to Italy. The purpose of the trip was twofold, Vernet was both to continue his artistic education and make drawings after the city's antiquities for his patron.
Vernet arrived in Rome in 1734. The artist's introduction into papal circles was facilitated by his early years in Avignon, where his work had brought him into contact with a number of important churchmen. Avignon was a papal territory from 1348-1791 and although the papacy had long since returned to Rome the city was ruled by the Congregation of Avignon, a department of the Papal Curia. Vernet soon integrated himself within the French artistic community that thrived in Rome. He was granted access into the Academie de France in Rome and worked closely with the French landscape and marine artist Adrien Manglard. Within four years Vernet's success in Rome was such that he began to keep a record book of his commissions, a Livre de Vérité, and in 1743 he was accepted into the Accademia di S. Luca.4 During these early years in Rome, Vernet became best known for his stormy shipwrecks, imaginary landscapes and Italianate coastal views. His first important patron in Rome was a fellow Frenchman and Ambassador to Rome, Paul-Hippolyte de Beauvilliers, Duc de Saint-Aignan (1684-1776) and his works soon became highly sought after amongst a diverse range of patrons including British visitors undertaking the Grand Tour, Roman nobles, churchmen and French diplomats.
Whilst Vernet's output in Rome during the 1740s largely consisted of decorative marines and landscapes he also produced a small number of topographical works, earlier precursors to his Ports of France series and the present work. Vernet honed his skills as a topographical artist on famous views of the city such as the Ponte Rotto (fig. 1) and Castel Saint Angelo (fig. 2) and later in the decade painted the magnificent View of the Bay of Naples(fig.3).5 These topographical paintings differ from his other work in that the handling of paint is much more precise and the individual details acutely observed. However they share with his decorative work a lively interest in figures and an exquisite rendering of light. Vernet's topographical views are best understood as part of a European wide interest in the development of city topography. This manifested itself in Rome through the work of cartographers, such as Giovanni Battista Faldi, printmakers like Giovanni Battista Piranesi and in the works of the vedutisti such as Gaspar van Wittel, called Vanvitelli. It is also recognisable in Venice through the work of Canaletto and his followers.
Whilst Vernet's output in Rome during the 1740s largely consisted of decorative marines and landscapes he also produced a small number of topographical works, earlier precursors to his Ports of France series and the present work. Vernet honed his skills as a topographical artist on famous views of the city such as the Ponte Rotto (fig. 1) and Castel Saint Angelo (fig. 2) and later in the decade painted the magnificent View of the Bay of Naples(fig.3).5 These topographical paintings differ from his other work in that the handling of paint is much more precise and the individual details acutely observed. However they share with his decorative work a lively interest in figures and an exquisite rendering of light. Vernet's topographical views are best understood as part of a European wide interest in the development of city topography. This manifested itself in Rome through the work of cartographers, such as Giovanni Battista Faldi, printmakers like Giovanni Battista Piranesi and in the works of the vedutisti such as Gaspar van Wittel, called Vanvitelli. It is also recognisable in Venice through the work of Canaletto and his followers.
Despite the importance of the Royal commission Vernet appears to have been anxious to complete his promised View of Avignon for Louis-Gabriel Peilhon. Peilhon was an important early patron of Vernet's in Rome in the late 1740s and early 1750s. Peilhon's first commission, a pair of marines, dates from 1748 and his deceased sale of 1763 included eight paintings by Vernet (including the present work).8 In the first half of 1756 Vernet visited Antibes and Toulon and produced three views of the two ports.9 He had been travelling almost constantly and was in need of a rest. On the 16 May he wrote to the Marquis de Marigny to ask his permission to spend the summer in Avignon, breaking from the Ports of Franceseries to fulfil his other obligations.10 Vernet arrived in Avignon on the 3 July 1756 and the following three months in the city were a brief hiatus in his hectic itinerary.11
The View of Avignon that he began that summer has much in common with the paintings from the Ports of France series. It is both a masterpiece of topography and an excellent example of Vernet's unrivalled abilities as a decorative artist. ThePort of Antibes (fig. 4), painted in the same year, shares many characteristics with the present painting: a removed viewpoint, a minute observation of topographical detail, a characteristic use of golden light and a lively depiction of the foreground figures. It is unsurprising, given the two paintings were executed in the same year, to find Vernet using the same format and techniques in both works. However, it is possible that these parallels were more deliberate and that by painting Avignon in the same format as Antibes, one of the country's foremost seaports, Vernet was intentionally raising the status of his birthplace to a comparable level of importance. It is unlikely that fellow compatriot Peilhon would complain, neither at the city's implicit elevation, nor at the similarities between his commission and the paintings executed for Louis XV.
Despite these similarities the present painting is smaller and narrower in format than the paintings Vernet executed for the Ports of France series. The precise viewpoint Vernet chose favours the elongated composition. He positioned himself on the bank of the Rhône, in front of the Colline de Villeneuve, with the Ile de la Barthelasse in the middle ground and the peaks of the Alpilles beyond, looking back at the city from across the river. The medieval walls and the banks of the Rhône have restricted modern expansion of the city, and this view of the city is little changed today (fig. 5). Vernet's viewpoint enabled him to depict all the most important sights of the city, which he does with a fine brush, in meticulous detail. The Palais des Papes, the Petit Palais, the Cathédrale Notre-Dame des Doms d'Avignon, the church of Saint Pierre, the medieval ramparts and gates are all visible. Outside the walls, Vernet has depicted the Tower of Philip the Fair in the left foreground and the Pont Saint-Bénezet.12 Topographically Vernet's depiction is extremely accurate.
The painting is also one of Vernet's more beautiful renderings of atmosphere and of the evening sky at sunset. He paints the city bathed in the golden light of the setting sun and the result is sublime. The western facades of the buildings are sharply defined by the richness of the sun's dying rays while to the east long shadows stretch across the grassy flatlands of the Ile de la Barthelasse. Despite the time of day the waters of the river are still bustling with life. On the far right a ferry boat transports a carriage and its team towards the far bank of the Rhône, whilst on the left, three barges with heavy loads of quarried stone are dragged along the river from the towpath by a team of carthorses, the heavy towrope causing an unnatural ripple in the river's otherwise gleaming surface. As with so many of Vernet's compositions the foreground is enlivened by the activities of the local populace. On the far right a courting couple sit on the bank watching the sun go down, in the centre a group of local fishermen and their women gather whilst other peasant women wash their laundry in the river. On the far left a party of elegantly dressed men and women rest on the bank and, in the immediate left corner, a finely dressed couple promenade with their dogs, a white terrier and a collared hound.
It is probable that most of the work on the painting was finished during the summer but the painting was not completed until the following year, and is signed and dated 1757. Vernet records receiving payment of 1,500 livres in the same year and it was exhibited in the Paris Salon in 1759.13 The painting was highly admired in the Salon and in 1781 was engraved by Pietro Antonio Martini (fig. 6).14
Peilhon died in 1762 and the painting was included in his deceased sale of 1763 where it was sold for 4,000 livres to Randon de Boisset. It is interesting to note this dramatic increase in value, which brings the View of Avignon up towards a comparable price with the paintings from the Ports of France series, for which Vernet was paid 6,000 livres each.15 Pierre Louis Paul Randon de Boisset (1708-1776), Receveur général des Finances (fig. 7) was a prolific art collector. His 1777 sale, which included the present painting, fetched a total of 1,260,775 livres and was an important event in Paris. After this sale The View of Avignon passed through three further French collections, before disappearing from records after it was bought by the dealer Joseph Alexander Lebrun at M. Marin's sale in 1790 (see provenance). It is highly likely that the painting then travelled to England and is identifiable with a View of Avignon listed in the catalogue of the European Museum, 26 May 1806, lot 1738.16 The description: "A view of Avignon, in the South of France, justly esteemed the chef d'oeuvre of Vernet. This beautiful and glowing performance was purchased by the Comte de Vaudreuil for twelve thousand livres, out of the exhibition at Paris, near forty years ago. Vernet was a native of Avignon; and the house where he was born, on the Banks of the Rhone, and near the Papal Palace, he has here accurately described" matches the present painting exactly, as does the approximate Salon date. However the present painting was never owned by the Comte De Vaudreuil and the price he is listed as having paid was eight times Peilhon's recorded payment. It is therefore probable that both the provenance and price listed in the sale catalogue are erroneous. No view of Avignon is listed in the Comte de Vaudreuil's various sales in the 1780s and '90s and it is highly improbable that Vernet would have charged 12,000 livres for any single painting.
The European Museum, begun in April 1789, was an institution in King Street, which offered paintings for sale by private contract, and was open for public exhibition all year round. New consignments were taken for the duration of a year, and accepted every Monday. Sales listings were updated continuously and the infrequently published sales catalogues were very quickly out of date. Records of the institution's actual transactions are limited and there is no indication of where theView of Avignon went after 1810. The painting disappeared from public records until 1954 when it was rediscovered in the collection of the late Brightric Gofton Hutton Gee at Curraghen, Chew Magna. Gee was not a major collector and how it came into his possession is unknown. A collector named "Gee" was buying in the London salerooms in the first decade of the 19th century and he is probably the same "Gee" who was active in the sale of paintings belonging to Bristol iron founder John Gibbons (1777-1851) on 7 October 1820. Although the title page is lacking from the only extant copy of this catalogue it is likely that the sale took place in Bristol and "Gee" is listed as a buyer of five lots, including lot 46, A Shipwreck by Claude Joseph Vernet, for which he paid £105. Although there is no proven link between this "Gee" and Brightric Gofton Hutton Gee it is interesting to note a collector by the same name, in the Bristol area, with a taste for Vernet, buying in the same period as the View of Avignon was on the London art market. The 1954 sale was the only time the painting was exhibited in public in the last 200 years and the importance of its re-emergence today cannot be overstated.
1. The painting appears to have gone unsold in May 1806 and is again listed on 29 December 1806, lot 1738, 4 July 1807, lot 59, and 26 May 1810, lot 53. In 1807, and again in 1810, the painting was consigned by a W. Smith. See B. Fredericksen, ed.,The Index of Paintings Sold in the British Isles during the Nineteenth Century, vol. 2, Oxford 1990, part 2, pp. 1052, 1053, 1056.
2. G. Briganti, The View Painters of Europe, London 1970, p. 280.
3. P. Conisbee, in The Grove Dictionary of Art, London 1996, p. 331.
4. Published in L. Lagrange, Joseph Vernet et la peinture au XVIIIe siècle, Paris 1864.
5. All three are in the Louvre, Paris. See L. Manoeuvre and E. Rieth, Joseph Vernet. Les Ports de France, Paris 1994, pp. 21, 24, 25.
6. See Lagrange, op. cit., 1864.
7. Three of this series are in the Louvre, Paris and twelve are in the Musée national de la Marine, see Manoeuvre and Rieth, op. cit., pp. 43-145.
8. P. Conisbee in Claude-Joseph Vernet, exhibition catalogue, London 1976, under no. 22.
9. Manoeuvre and Rieth, op. cit., p. 41.
10. Lagrange, op. cit., p. 82.
11. Journal, published in ibid., p. 283.
12. The bridge is commemorated in the famous song "Sur le Pont d'Avignon."
13. H.W. Janson comp., Catalogues of the Paris Salon. 1673-1881, London 1977, p. 17, no. 67.
14. Martini dedicated the print to the Prince of Asturias, the future Carlos IV, as a tribute to his recent request for a pair of paintings by Vernet. Conisbee in Claude-Joseph Vernet, exhibition catalogue, 1976, no. 85.
15. G.W. Lundberg, 'Le graver suédois Pierre-Gustave Floding à Paris et sa correspondance' in AFF, Novelle Period, vol. XVII, 1932, p. 277.
16. Listed in B. Fredericksen, ed., The Index of Paintings Sold in the British Isles during the Nineteenth Century, vol. 2, Oxford 1990, part 2, p. 1052, and again, p. 1053, 1056.
17. Fredericksen, op. cit., pp. 1053, 1056.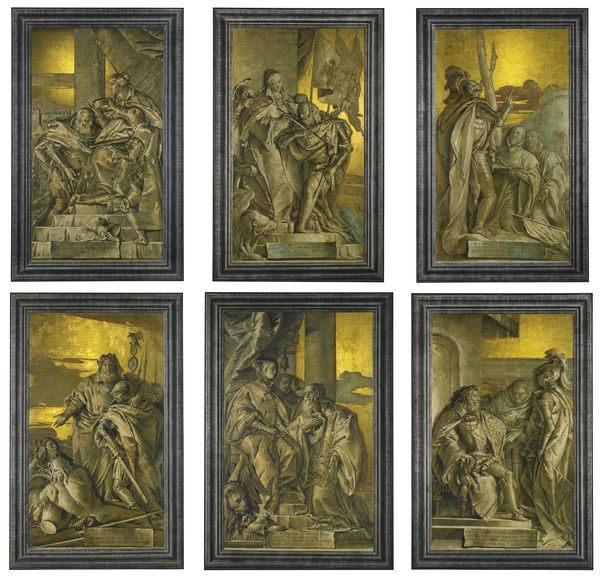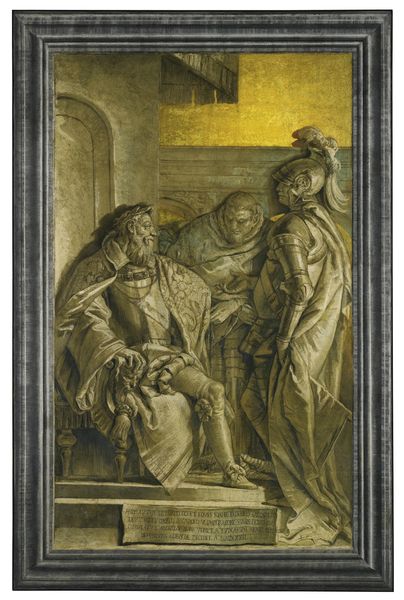 Giandomenico Tiepolo (Venice 1727 - 1804), The celebrated deeds of the Porto Family of Vicenza: Jacopo Porto appointed Governor of Vicenza in 1022; Donato Porto appointed A Patrician of Venice in 1379; Gerolamo Porto appointed Prefect of Piedmont in 1508; Francesco Porto appointed General of the Republic of Venice in 1554; Ippolito Porto commended by Charles V in 1572; Giovanni Battista Porto appointed Commander-in-chief in 1661. Photo Sotheby's
each dated and extensively inscribed with a description of the event they portray a set of six, each detached fresco transferred to canvas, in a trompe l'oeil frame, gold ground, unframedthe trompe l'oeil frame in the scene with Francesco Porto is an addition ;each approximately: 271 by 185 cm.; 106 3/4 by 72 7/8 in. Estimate 3,000,000-5,000,000 GBP. Lot sold 3,218,500 GBP
PROVENANCE: Painted circa 1760 in Palazzo Porto, Vicenza, where they hung until circa 1900;
Dr. Eduard Simon (1864-1929), Berlin, from at least 1903 until 1929;
His deceased sale, Berlin, Cassirer und Helbing, 11 October 1929, lots 13-18 (as Giambattista Tiepolo);
Acquired at the above sale by Axel Wenner-Gren (1881-1961), 32 Quai de Passy, Paris and later Stockholm;
With the Hallsborough Gallery, London, 1966 (as a collaboration between Giambattista and Giandomenico);
Acquired from the above by Dr. Gustav Rau (1922-2002);
By whom bequeathed to UNICEF, the present owner.
EXHIBITED: Stockholm, National Museum, Aldre Italiensk Konst, 1944, nos. 216-21 (as Giambattista);
Leeds, Temple Newsam House, 1967-68 (as Giambattista).
LITTERATURE: F. Vendramin Mosca, Descrizione di Vicenza, 1779, vol. II, p. 86 (as "Tiepoletto");
P. Molmenti, G.B. Tiepolo, la sua vita e le sue opere, Milan 1909, pp. 271-72, reproduced pp. 269-70 (as Giambattista);
E. Sack, Giambattista und Domenico Tiepolo, Hamburg 1910, p. 183, cat. nos. 294-299 (as Giambattista);
M. Friedländer, Sammlung Dr. Eduard Simon, Gemälde, Berlin 1929, pp. 42-52, reproduced plates XV-XX (as Giambattista);
C. Vigni, Disegni del Tiepolo, Padua 1942, p. 65, under cat. no. 195 (as Giandomenico, datable 1755-60);
G. Vigni, 'Note su Giambattista e Giandomenico Tiepolo', in Emporium, July 1943, p. 14 and note 2 (as Giandomenico, possibly on Giambattista's design, and dated 1760);
A. Morassi, A complete catalogue of the paintings of G.B. Tiepolo, London 1962, pp. 48-49 (as Giambattista with collaboration from his son Giandomenico);
A. Morassi, 'Giandomenico Tiepolo', in Enciclopedia Universale dell' Arte, Venice/Rome 1965, ad vocem;
Exhibition of Six Tiepolo Frescoes from the Palazzo Porto, Vicenza, exhibition catalogue, London 1966 (as a collaboration between father and son, datable 1757);
K. Roberts, 'Current and Forthcoming Exhibitions', in The Burlington Magazine, vol. CVIII, no. 756, February 1966, p. 102 (without specifying which Tiepolo is the author);
B. Nicolson, 'Current and Forthcoming Exhibitions', in The Burlington Magazine, vol. CVIII, no. 756, March 1966, p. 155, reproduced figs. 55 & 56 (without specifying which Tiepolo is the author);
A. Noach, Tiepolo Frescoes from the Palazzo Porto, Vicenza, exhibition booklet, place unknown 1967 (as Giambattista);
A. Pallucchini, L'opera completa di Giambattista Tiepolo, Milan 1968, pp. 127-28, cat. no. 261B (as a collaboration between father and son);
A. Mariuz, Giandomenico Tiepolo, Venice 1971, p. 122, reproduced figs. 140-145 (as Giandomenico);
E. Forssman, Il Palazzo da Porto Festa di Vicenza, Corpus Palladianum XVIII, Vicenza 1973, pp. 65-66, reproduced figs 74-79;
G. Knox, 'Primi Pensieri by Domenico Tiepolo and a New Painting', in Master Paintings, XVII, I, 1979, pp. 32-33, under cat. nos. I and J, only Ippolito Porto reproduced (as Giandomenico);
G. Knox, Giambattista and Domenico Tiepolo, A Study and Catalogue Raisonné of the Chalk Drawings, vol. I, New York, 1980, p. 323, cat. no. P.317 (as Giandomenico);
R. Menegozzo, Nobili e Tiepolo a Vicenza. L'artista e i suoi committenti, Vicenza 1990, p. 119-126, all reproduced (as Giandomenico);
B.L. Brown (ed.), Giambattista Tiepolo, Master of the oil sketch, exhibition catalogue, Milan 1993, pp. 279-80, under cat. no. 44, and notes 6, 7 (as Giandomenico);
M. Gemin and F. Pedrocco, Giambattista Tiepolo, I dipinti, opera completa, Venice 1993, p. 476, under cat. no. 501 (as Giandomenico);
F. Pedrocco, Tiepolo, The Complete Paintings, New York 2002, p. 303, under cat. no. 269 (as Giandomenico).
NOTE: These magnificent monochrome frescoes commemorating the glories and achievements of the Porto family from the eleventh to the seventeenth centuries were painted around 1760 by Giandomenico Tiepolo for the Palazzo da Porto Festa in Vicenza which had been built by Andrea Palladio. The scion of a wealthy patrician family, Giambattista Orazio Porto (1730-1816) commissioned the artist and his father Giambattista to collaborate in the decoration of three of the palazzo's main rooms. A stylistic analysis of the works produced would suggest that the father limited himself to working on the ceiling of the main salone, where he painted the oval fresco depicting the Apotheosis of Orazio da Porto which is now in the Seattle Museum of Art.1 Giandomenico, meanwhile, worked on two smaller rooms, producing the present series immortalising Porto's forefathers, and another series, still in situ, which was possibly commissioned to replace Paolo Veronese's three allegories on canvas from 1551-52 which are today split between the Vatican and the Pinacoteca Capitolina in Rome.2 To this day, Domenico Brusasorci's fresco of the Fall of the Giants can still be seen on the ceiling of the room in which the present series probably hung.

The frescoes had always been assumed to be by Giambattista until 1943 when Vigni (see Literature) reassigned them to Giandomenico, proposing a dating ofcirca 1760. Preparatory drawings for the designs of Jacopo and Ippolito are known, the former in the Museo Civico in Trieste (see fig. 1) and the latter in the Chrysler Museum of Art in Norfolk, Virginia (see fig. 2). While Vigni assigned the latter to Giambattista - thereby proposing that the compsitions were conceived by the father but executed by the son - Knox assigned both drawings to Giandomenico, thereby considering the whole creative process to be by the son. Morassi and Pallucchini, both writing in the 1960s, still saw Giambattista's hand in the frescoes and proposed a collaboration between father and son, though since Mariuz's 1971 monograph all scholars have considered the works to be by Giandomenico alone.3 Mariuz in particular mentions that the hatching technique used to delineate texture, executed almost like an etching, betrays the hand of the son. While gold backgrounds are more often associated with Italian painting before 1500, there was a short revival in its popularity in the Veneto in the eighteenth century. Other examples of the artist's work with a gold background include the eight trompe l'oeil monochrome bas-reliefs from 1761-62 frescoed in Villa Pisani in Stra.4

The frescoes can be divided into three neat pairs. Since the paintings are homogenous both in terms of composition and content, the pairings are based on the light which enters the design rather than chronological or subject matter. As suggested in the Leeds exhibition catalogue from 1967 and again by Forssman (see Literature), the position in which each painting was destined to hang in their original room would have had a direct impact on the way the artist composed the designs, for the painted light-fall would have been conceived in such a way as to avoid contrasting with the direction of the natural light coming in from the windows. For example, in two of the paintings the shadows fall to the right and in two others to the left, while in the remaining two the shadows are relatively unpronounced, suggesting that they were possibly evenly divided on three walls, with a single source of light in between them. Moreover, the fact that in the frescoes depicting Gerolamo and Donato the shadows are much stronger than in those showing Ippolito and Francesco, suggests that the first two were destined to hang further away from the window where the natural shadows would have been longer than in those frescoes nearer the window. Forssman proposes that with one's back to the window one would have seen to the left the frescoes of Donato and Francesco with Girolamo and Ippolito to the right. In the wall opposite, Jacopo and Giovanni Battista, the frescoes in which the shadows are virtually negligible, would have guarded the entrance.

While the frescoes celebrate the triumphant feats of the condottieri of the Porto family over the course of seven centuries, the chronological order also provides the modern viewer with a useful timeline which illustrates the political shifts and events of Medieval and early modern Europe. It illustrates the varying fortunes and ever-changing allegiances of Europe's key players, and of course the fundamental role the Porto family played within the successes of the Republic of Venice, at times within the bosom of the Holy Roman Empire and latterly as an independent political force. The first fresco shows Jacopo Porto - a count and a knight, and renown for his moral integrity and learning, as the inscription is keen for us to know - appointed prefect of Vicenza in 1022 by the Emperor Henry II (also known as Saint Henry). Two river gods accompany them to the left while Palladio's basilica in Vicenza anachronistically adorns the background. The second fresco shows Donato Porto being co-opted among the Venetian patricians in 1379 in recognition for his help in the victorious War of Chioggia against the Genoese Republic, Venice's great rival on the seas. TheSerenissima is represented by Saint Mark's lion lower left, while the coins and trireme symbolise Donato's financial and naval assistance. By the early sixteenth century Venice and the Porto Family were at war again, this time against an alliance composed of virtually every other major force in Europe, united under the banner of the League of Cambrai. Tiepolo's fresco shows Gerolamo Porto appointed Prefect of Piedmont in 1508 by the Venetian authorities, symbolised once more by the lion, while the flags of the inimical Holy Roman Empire, France and the Papal States are seen beyond.

The Porto family were still participating in the struggle for European power in the sixteenth century and beyond: in the fourth fresco Francesco Porto is immortalised for receiving the general's cap in 1554, while behind him can be seen his beloved Villa Porto Colleone in Thiene, near Vicenza. The next fresco shows Ippolito Porto honoured by the Emperor Charles V – recognisable by his distinctive profile - for capturing and handing over the Elector John Frederick, Duke of Saxony, wanted by Charles for his rebellious uprising. Power in Europe was steadily being centralised by Charles V, as both internal rivals for his throne and foreign powers gradually submitted to his rule. That the fresco's caption should also list that Ippolito gave his life defending Venetian territories abroad at the battle of Corfu against the Turks, also illustrates the continuing Venetian dominance of the seas, a theme which usefully leads on to the last fresco, arguably the highpoint of the family's history, as Giovanni Battista Porto is appointed generalissimo and given the keys to Crete, Palma and Mantua in 1661.
PROVENANCE:
The frescoes have enjoyed a remarkable history and have passed through the hands of some of Europe's wealthiest and most discerning collectors. Their original home, Palazzo Porto was commissioned from Andrea Palladio by Iseppo Porto in 1554 shortly after marrying Livia Thiene.5 Painted in 1760, the frescoes were removed from the palazzo in circa 1900 along with Giambattista's aforementioned Apotheosis of Orazio da Porto when they were acquired by the Berlin industrialist and collector Eduard Simon (1864-1929) who had been recommended them by the curator and art historian Willhelm Von Bode (1845-1929), who would shortly thereafter found the Kaiser Friedrich Museum, now named the Bode Museum in his honour.6 By 1903 the detached frescoes were hanging in Simon's house in 7 Victoriastrasse in Berlin which had been built shortly before by the renown architect Alfred Messel (1853-1909). The dining room was specially designed to fit the frescoes and the plans were meticulously studied before building was allowed to commence (see figs. 3 and 4). Their next owner, the Swedish entrepreneur Axel Wenner-Gren (1881-1961; fig. 5), one of the richest men in the world at the time, took the works to Paris and then Stockholm, before they were sold to the Hallsborough Gallery in London. It was here that Dr Gustav Rau, the German industrialist and collector, acquired them.
1. See Gemin/Pedrocco under Literature, 1993. The museum also houses a very finebozzetto for the design. The subject has also been interpreted as Valour Triumphs over Ignorance and is Crowned by Virtue.
2. See Gemin/Pedrocco, under Literature. For Veronese's Allegories see T. Pignatti and F. Pedrocco, Veronese, Milan 1995, vol. I, pp. 59-61, cat. nos. 31 and 32, reproduced.
3. Vigni (see Literature,1942) lists a drawing of the Jacopo composition as by Giambattista in preparation for Giandomenico's execution. The drawing is inscribed:Giacomo (sic).
4. See Mariuz, under Literature, pp. 136-37, reproduced figs. 179-82. Two Allegories with a gold background are also known to have been painted by Giambattista Tiepolo and are today in the Rijksmuseum in Amsterdam: see B. Aikema (ed.), Italian Paintings from the Seventeenth and Eighteenth Centuries in Dutch Public Collections, Florence 1997, pp. 159-60, cat. nos. 182-83, both reproduced.
5. Situated in the Contrà Porti, the palazzo should not be confused with the smaller and less ornate Palazzo Porto in Vicenza's Piazza Castello.
6. When the fresco now in Seattle was detached, only a thin layer of plaster was removed. Such was the thickness of the paint which had seeped through and remained on the wall that a very clear outline remained which was subsequently retouched and to this day gives a satisfactory impression of the original.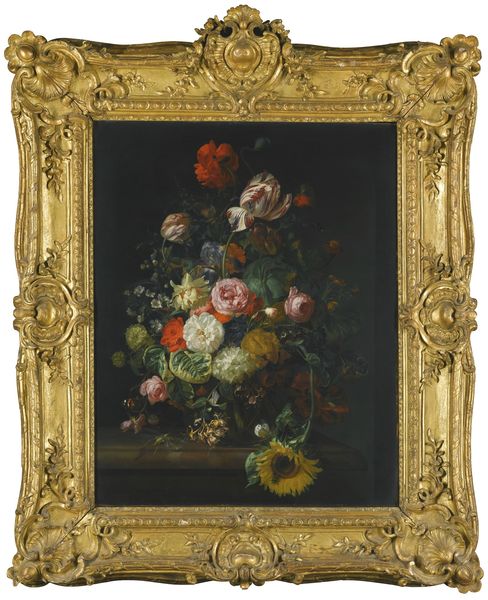 Rachel Ruysch (The Hague 1664 - 1750 Amsterdam), Still life of roses, tulips, a sunflower and other flowers in a glass vase with a bee, butterfly and other insects upon a marble ledge. Photo Sotheby's
signed and dated lower right: Rachel Ruysch/1710; oil on canvas, in a fine French carved and gilt wood frame, Régence, early 18th Century. 88.9 by 71.1 cm.; 35 3/8 by 28 in. Estimate 1,000,000-1,500,000 GBP. Lot sold 1,650,500 GBP
PROVENANCE: Commissioned with pendant from the artist by Pieter de la Court van der Voort (1664-1739), Leiden, for 1300 guilders;
His son Allard de la Court van der Voort (1688-1755), Leiden;
His widow, Catherina de la Court van der Voort-Backer (d.1766);
Her (deceased) sale, Leiden, Luchtmans, 8-9 September 1766, lot 103 (Fl. 1,015 to de Winter);
Gottfried Winckler (1731-1795), Leipzig, by 1768;
Mr. Lesser Lesser, 123 New Bond Street and 14 Westbourne Terrace, Hyde Park, London;
His (deceased) sale et al, London, Christie's, 10 February 1912, lot 95, with pendant (200 guineas to Shepherd);
Kenneth Fitzgerald, 12th Baron Kinnaird (1880-1972), Rossie Priory, Perth;
With Hazlitt, Gooden and Fox, London;
Acquired from the above by the parents of the present owner in 1974;
Thence by inheritance.
LITTERATURE: P. De la Court van der Voort, Eigenhandige inventaris van kostbaarheden en schilderijen van Pieter de la Court van der Voort, Erfgoed Leiden en omstreken, Familie De la Court, no. 23, inv. no. 132, Ms. Inventory of pictures etc in his house on Rapenburg 65, Leiden 1731, p. 21, North Wall:1 bloemstuk ongemein wel, dun, uytvoerig en zeer natuurlijk geschilderd van juffrouw Rachel Ruysch, h. 2v 10d, b. 2v 3 1/4 d, F 650
1 dito wedergade van dezelve, zijnde fruytstuk, beyde voor mij geschilderd en bij mij gelogeert zijnde nog nader oversien en verbeetert, h. 2v 10d, b. 2v 3 1/4 d f 650 - (1flowerpiece, unusually good, thin, elaborate and very naturalistic from Miss Rachel Ruysch, height 2 foot,10 duim, width 2 foot, 3 1/4 duim, 650 florins
1 ditto, of the same, being a fruitpiece, both painted for me, and stayed over for redoing and enhancing, same measurements as above and same price 650 florins);
A. De la Court van der Voort, Staat en Inventaris van de Schilderijen...., Erfgoed Leiden en omstreken, Familie De la Court, no. 23, inv. no. 114, Ms. Inventory, Leiden December 1749, p. 6: '37 Een kapitaal uytvoerig en wonderlyk konstig geschilderd Bloemstuk Extra Fraay door Rachel Ruysch voor mijn vader geschildert, kost hem f 650
38 een dito weedergade zijnde een fruytstuk meede van Rachel Ruysch wonderlyk Uytvoerig geschildert voor mijn vader die f 650 off voor de twee f 1,300 betaald heeft' -
(37 A Capital, elaborate and remarkably artfully painted Flower piece, extra good, by Rachel Ruysch painted for my father, he paid 650 florins
38 A ditto representation of the same, being a Fruitpiece, also by Rachel Ruysch, remarkably elaborately painted for my father who paid 650 or for both of them 1,300 florins);
Z.C. Uffenbach, Merkwürdige Reisen durch Niedersachsen, Holland und England, Ulm 1753-5, vol. III, p. 627;
F.W. Kreuchauf, Historische Erklärungen der Gemälde, welche Herr Gottfried Winkler in Leipzig gesammlet, Leipzig 1768, p. 209, cat. nos. 516 and 517;
C. Hofstede de Groot, Verzeichnis der Werke...., Stutgart 1928, vol. X, p. 323, where incorrectly listed under the provenance for cat. no. 70;
Col. M.H. Grant, Rachel Ruysch, Leigh-on-Sea 1956, p. 29, where incorrectly confused under the provenance for cat. nos. 45 and 46.
NOTE: Hitherto presumed lost, the reappearance of this magnificent masterpiece by Rachel Ruysch is without doubt the most significant addition to her oeuvre in recent years. Though painted at the beginning of the 18thcentury, it epitomises the final and grandest stage of Dutch flower-painting of the Golden Age, of which Rachel Ruysch was one of the finest protagonists. Not only was she the greatest female exponent of her subject in her day, but arguably among the very best of either sex, and perhaps the greatest female painter before the second half of the 18thcentury. This picture was painted at a pivotal moment in her career, a period to which by common consent her finest achievements belong, and can be traced back directly to her own lifetime.
This painting has not been seen at public auction for over a hundred years, when it was sold from the Lesser Lesser collection in London in 1912. At that time it had a pendant, a Fruit piece, described simply as a 'Fruit, Birds' nest and Insects', which was also signed and dated 1710 (fig. 1, left)1. This picture was bought at the 1912 sale by the 4th Marquess of Bute, by whom it was unsuccessfully re-offered in 1923. It was later sold at Christie's, London, 3 July 1996, lot 145. From the first decade of the eighteenth century onwards Ruysch made several pairs of fruit and flower pieces of this type, all of similar size and painted on canvas or panel. Two of the best known of these pairs are counted among her finest works; those today in the Alte Pinakothek in Munich, painted the year before this picture in 1709 for Ruysch's chief patron the Elector Johann Wilhelm von der Pfalz2, and those today in the Palazzo Pitti in Florence (where her work was especially prized), painted in 17163. The similarity of these works, which were effectively variations of a theme (but never identical) and the breaking up of some pairs has made their subsequent identification with those recorded in early sources very difficult. We are extremely grateful to Dr Marianne Berardi for confirming that this work and its companion can now identified with certainty as the pair recorded in the celebrated De la Court van der Voort collection in Leiden and later owned by the renowned and prodigious Leipzig collector Gottfried Winckler (1731-1795). The description of the flower piece in the catalogue of the latter's collection published in 1768 perfectly matches the present work:
'Ein gläsernes Gefäss trägt einen Blumenstrauß, in welchem buntstreichte Tuilpanen, blühender Mohn und Rosen verschiedener Art, bey blauen Schwerdlilien und glühenden Granaten, unter mannischfaltigen kleinern Blumen hervorragend, rangstreitig das gereizete Auge ergötzen. Eine Bremste sättiget sich auf dem schweren Haupte der Sonneblume, welche, vom zerknickten Stengel, auf den marmornen Tisch niedergestrüzet ist; wo die grüne Heuschrecke sitzt. Gaukelnde Schmetterlinge und andere Insekten umgeben die Kinder des Frühlings und nähren sich auf ihren betaueten Blättern'.
'A glass vessel with a bouquet in which colourful tulips, blooming poppies and roses of various kinds, blue irises and glowing granatas jostle together with other diverse and outstanding smaller flowers to delight the excited eye. A horse fly (sic) sits on the heavy head of the sunflower, which has a broken stem and dangles on the marble table, where a green grasshopper sits. The butterflies and other insects surround the children of spring and feed on their bedewed leaves'.4
Gottfried Winckler (1731-1795), the scion of a wealthy banking family in Leipzig, was one of the greatest of 18th century German collectors. His catalogue of 1786 counted 628 pictures, including works by Durer, Holbein, Titian and Rembrandt. From 1765 onwards about 450 paintings from the collection were housed in his town house in St. Catherine Street and the Wincklerschen Gartenhaus. Here they were opened to the public every Wednesday afternoon for two hours, where they were seen by, among others, the young Goethe. As Johann Gottlob Schulz wrote in his Description of the city of Leipzig in 1784: 'How many princes would be envious of such a wonderful and valuable collection of paintings. It is one of the greatest ornaments of our city, and proof of the riches and status of the same'. At Winckler's death his collection numbered a reported 1300 paintings, 2,469 drawings and a staggering 80,000 engravings. Much of it was stolen during the Napoleonic wars and the rest dispersed by his heirs. In the former respect it is interesting to note that this pair of Ruyschs was probably split soon after, for the pendant Fruit piece was probably that sold in Paris in 1812 from the De Sereville collection and the two were not to be reunited until they appear together in the Lesser Lesser collection in London a century later.
According to Winckler's own 1768 catalogue, both pictures were formerly in the renowned De la Court van der Voort collection in Leiden. This famous cabinet collection, one of the greatest of its day, had been sold from the estate of Catherina de la Court van der Voort-Backer in 1766. Both pictures were bought at the sale by the dealer de Winter, perhaps acting as agent for Winckler.5 The pair had passed by descent from Pieter de la Court van der Voort (1664-1739), who had commissioned them directly from Rachel Ruysch (fig. 4). The two paintings were seen in Ruysch's house in Amsterdam on the 14th March 1711 by the travelling German scholar Zacaharias Uffenbach, where they were awaiting delivery to Pieter de la Court. He describes his visit thus:
"We also went to Mr Pool, in the Wolferstraat, a painter, to see the work of his wife Rachel Ruysch (the daughter of the famous Anatomist)... From his wife we luckily saw two paintings, because she rarely has something finished and everything is ordered a year in advance. The two works were for the Mr la Court in Leiden, for which he paid her 1500 Gulden. One was of flowers, the other of fruit. Both were very pretty and painted very delicately. …Mrs Pool reassured us that she cannot paint much more than two paintings in one year. She has to deliver one painting every year to the Elector of the Pfalz, for whom she is the court painter and from whom she receives a pension...… She is a woman of 40 years, trim, but not pretty".
The outstanding provenance of this exceptional still life is thus here traced for the first time to Ruysch herself and its original commission. An immensely wealthy textile merchant, De la Court had settled in Leiden in 1686 and had amassed a stupendous art collection, including a notable group of works by Frans van Mieris and the Leiden fijnschilders.6 Von Uffenbach's testimony is revealing about the relationship between De la Court and Ruysch, for clearly the paintings had been ordered at least a year in advance, and there was still time allowed for her to visit her patron after their delivery in Leiden to touch them up or finish them. He also records that De la Court paid Ruysch the impressive sum of 1500 guilders for the fruit and flower pendants, but according to Pieter's son Allard, recorded in his hand written inventory of 1749, the true price was 650 guilders for each piece, or 1300 guilders for the pair (fig. 3).
At the time this Flower piece and its pendant were painted Rachel Ruysch was at the height of her powers. In the year she painted it, 1710, she made the first of two trips to Dusseldorf, to the court of the Elector Johann Wilhelm van der Pfalz, to whom she had been appointed court painter in 1708. Interestingly, on his visit the following year, Uffenbach also saw the pair of paintings on panel intended by the Elector Palatine as a royal gift for his father-in-law Cosimo de' Medici (and still in the Palazzo Pitti to this day) This position at court Ruysch shared with her husband, the portrait painter Juriaen Pool (1665-1745), and she retained it until the death of her patron in 1716. By this date she had been a painter for thirty-six years, ever since her apprenticeship to the still-life painter Willem van Aelst in Amsterdam between 1679 and 1683. She and her husband still resided in Amsterdam, where despite being the mother to no less than ten children, she continued to work until she was 83 years old, although her production seems to have slowed after 1720. Her pictures were mostly painted at home and then sent abroad; they were highly sought after in her lifetime and indeed have remained so ever since. They have always been scarce, and as auction prices from the 18thCentury onwards attest, extremely expensive. No less then eleven contemporary poets paid tribute to her in addition to her biography, written by the contemporary painter Jan van Gool (1685-1763) in his Nieuw Schouburg in 1750.
The magnificence of this Flower piece easily explains Ruysch's extraordinary reputation. Its scale and the effort it and other such pairs required were such that she claimed to Zacharias Uffenbach a year later in 1711 that she could paint no more than two works per year. This period, when she was court painter to the Elector, saw her finest and most important work. As the present painting so eloquently attests, by this date she had outgrown the competent but limited style of her teacher Willem van Aelst, and completely mastered the idiom of the 17thcentury, with a dark background setting off richly coloured blooms brought into heightened focus and given volume by the sharp contrasts of light and shade. The use of the S curve in the design is subtle and balanced, and the delicacy of the brushstrokes beautifully conveys the softness and fragility of the blooms and their petals. As Marianne Berardi has kindly observed:
'The present bouquet is the first known instance in Ruysch's oeuvre of the large sunflower which becomes a trademark of her most ambitious flower paintings (note the Pitti bouquet of 1716). The head of the sunflower is so heavy its stem cracks and causes the flower to fall to the tabletop, where it dangles precariously over the edge. Ruysch is very clever in squeezing every ounce of drama out of this event by spotlighting the very fraction of an inch on the stem which is about to give way, and then placing a bumblebee, a grasshopper and a cabbage moth all on the head of the sunflower, visually weighing the head down even more! Would one more fly or ant or bee finally snap it off?'
'Both Jan de Heem and Abraham Mignon used the sunflower for visual drama in their work before Ruysch adopted it. But in her work it functions quite differently. The break in the stem is both artful and jarring. It creates a strong thrust down from the center of the bouquet where she clusters her heaviest blooms to anchor the arrangement. But by around 1708, Ruysch's bouquets look more modern than De Heem and Mignon's because the arrangement has many more unwieldy stems swinging out from the neat knot at the heart of the design and spinning into the negative space around it. She had begun in this stage of her career to create a more sculptural effect (interestingly) by relying upon these linear elements. The flowers are not facing frontally and cohering to a strictly (preordained) triangular or circular shape. Rather, beyond the rather dense core are long stems that fan out almost in a pinwheel fashion, but in a point-counter point manner. The basic thrust of this pinwheel is clockwise - note the direction of the tulip and the sunflower. However, counter-clockwise gestures occur in the red poppy at the apex of the bouquet, and also in the amazing variegated orange leaves on the left and in the curve of the honeysuckle to the left of the vase. There is more movement brewing in this bouquet and others beginning around 1708.'
In works such as this, and indeed in the 'forest floor' fruit pieces that were paired with them, Ruysch's style reflects the achievement of Jan Davidsz. de Heem, who was an important influence on her work, as well as Abraham Mignon, whom she surpassed. Her later pictures were responsive to the growing colour and lighter palette of the 18th Century and were painted with more movement, but without the sense of refinement and restraint of her greatest pictures such as this.
We are indebted to Dr. Marianne Berardi for her assistance with the cataloguing of this painting.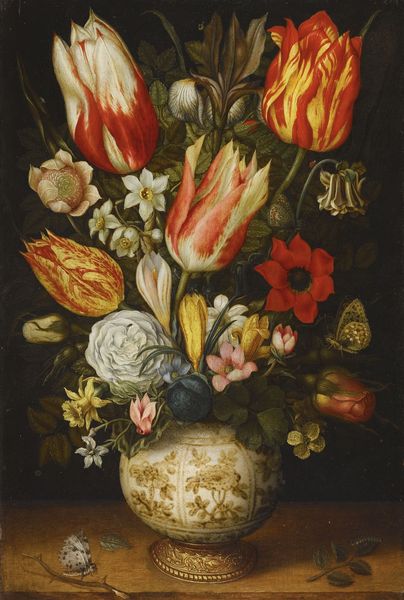 Christoffel Van Den Berghe (Active in Middelburg circa 1617-1628), Tulips, roses, narcissi, daffodils, crocuses, an iris, a poppy and other flowers in a gilt mounted porcelain vase on a ledge, with a queen of Spain fritillary, a white ermine and a magpie butterfly. Photo courtesy Sotheby's
oil on copper; 30.7 by 20.5 cm.; 12 1/8 by 8 1/8 in. Estimate 250,000-350,000 GBP.Lot sold: 626,500 GBP
PROVENANCE: Anonymous sale, London, Christie's, 17 December 1999, lot 9 (as Circle of Ambrosius Bosschaert the Elder);
With Richard Green, London, from whom acquired by a private collector;
Anonymous sale ('Property of a Private Collector'), New York, Sotheby's, 23 January 2003, lot 39 (as Van den Berghe) for $290,000, where acquired by the late father of the present owner.
NOTE: Van den Berghe's importance within the sphere of Dutch still life painting has been long-recognised but it is perhaps due to the scarcity of still lifes by him (less than ten are known) that he remains a much-overlooked figure in the birth and rise in popularity of the genre at the beginning of the 17th century. This would appear to be Van den Berghe's earliest work, earlier even than the 1618-dated copper in the John G. Johnson collection that is both his best-known and his most Bosschaert-ian.1 Bol surmised that Van den Berghe must surely have seen Ambrosius Bosschaert the Elder's earlier works in his home town of Middelburg, a supposition which seems almost certain, and proposes that he might have been Bosschaert's pupil. Bosschaert left Middelburg in 1614 and the likeness in palette and execution of both the Johnson copper and the present still life to early Middelburg-period Bosschaerts is undeniable. In this painting the artist has in fact borrowed the yellow and red tulip (upper right) from a 1608-dated Bosschaert.2 The globular porcelain vase recalls that of Bosschaert's earliest dated bouquet from 1605.
While the pert, elongated tulips here show a marked similarity with those of the Johnson picture their execution in this latter is a little smoother and this, as Fred Meijer has pointed out, argues in favour of an earlier dating for the present work, probably by just a year or two, to circa 1616-17. Both works are set against dark backgrounds illuminated by an even, bright light, and share a similar density. The coloring, too, is very comparable, with white and strong yellow accents, interspaced by reds, and both share the single dark blue flower embedded rather prominently in the lower half of each arrangement. On its own, the extraordinary condition of this painting permits a close scrutiny of Van den Berghe's early technique while the sculptural quality of its tulips, their rich pigmentation and fine detail throughout the bouquet mark it out as an exceptional example of early Dutch still life painting and of a genre of painting less than two decades old.
Though known also as a painter of landscapes, it is his handful of still lifes that distinguish Van den Berghe above others of his generation. He is recorded as a member of the guild in Middelburg in 1619 (when he is mentioned as 'beleeder') and again in 1621, and was still living there in 1628, at which point all records of him cease. Previously it had been thought that a Game piece sold in Middelburg in 1779, reported as being signed and dated 1642, provided proof of his existence beyond the 1620s, but description, size and signature correspond perfectly with the 1624 work in the Getty, Los Angeles; the 1642 date given in 1779 must therefore have been an error in transcription.
1. See L.J. Bol, The Bosschaert Dynasty, Leigh-on-Sea 1960, p. 55, reproduced plate 64
2. Sold London, Sotheby's, 11 December 1985, lot 43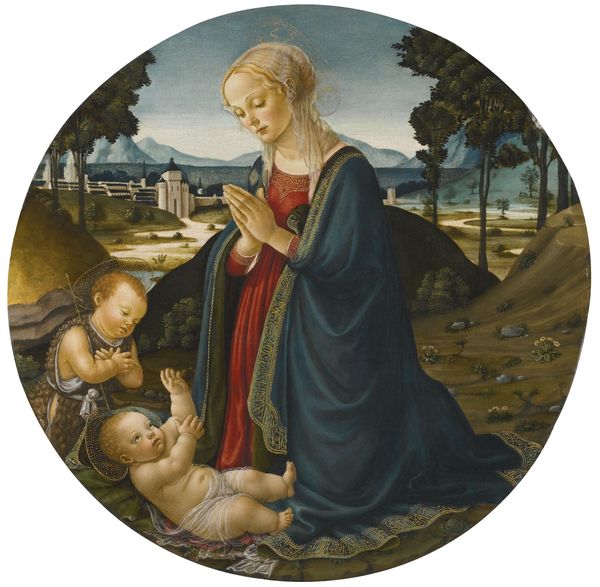 Francesco Botticini (Florence 1446 - 1497), The Madonna and Childwith the infant Saint John the Baptist in a landscape. Photo Sotheby's
oil on a single poplar panel, a tondo; diameter: 71 cm.; 28 in. Estimate 150,000-200,000 GBP. Lot sold 494,500 GBP
PROVENANCE: Possibly Villa Pasquale;
George Ashburnham, 3rd Earl of Ashburnham (1760-1830);
Thence by descent in the Ashburnham collection;
Until sold by the Trustees of the Ashburnham Settled Estates and The Executors of Lady Catherine Ashburnham, London, Sotheby's, 24 June 1953, lot 17, for £1,600 to Arthur Tooth & Sons, London;
From whom acquired by the father of the present owner.
LITTERATURE: Ashburnham Inventory, 1830;
A List of pictures in Ashburnham house in Dover Street made by the fourth Earl just before his death in 1878, London 1878, where listed as from Villa Pasquale;
B. Berenson, The Florentine Painters of the Renaissance, New York 1900, p.109 (as Botticini);
B. Berenson, The Florentine Painters of the Renaissance with an Index to their Works, New York 1909, p. 120 (as Botticini);
R. van Marle, The Development of the Italian Schools of Painting, The Hague 1931, vol. XIII, p. 416, note 1 (as Botticini);
B. Berenson, Italian Pictures of the Renaissance. A list of the principal artists and their works with an index of places. Florentine School, London 1963, vol. I, p. 39, vol. II, reproduced plate 1067 (as Botticini);
M. Bacci, Piero di Cosimo, Milan 1966, p. 117 (as Maestro delle Adorazioni);
L. Venturini, in M. Gregori (ed.), Maestri e botteghe. Pittura a Firenze alla fine del Quattrocento, Milan 1992, pp. 153, 245, reproduced p. 156, fig. 15 (as Botticini);
L. Venturini, Francesco Botticini, Florence 1994, pp. 125-126, 206, cat. no. 70, reproduced p. 206, fig.109 (as Botticini).
NOTE: This beautiful tondo of the Madonna and Child is a characteristic work by Francesco Botticini and is typical of the paintings produced for private devotion in Renaissance Florence. Since Berenson (see Literature) first attributed the work to Botticini in 1900, the paternity of the work has only ever been doubted by Mina Bacci who ascribes it, as well as other panels showing the Madonna adoring the Christ Child, to an artist she calls the Maestro delle Adorazioni. All other scholars, including Lisa Venturini in her catalogue raisonné on the artist from 1994 (seeLiterature), have attributed the work to Botticini.

The theme of the Madonna and Child is one Botticini visited several times. The design is closely linked to the tondo in the Cassa di Risparmio in Florence, though the figure of the Infant Saint John is omitted from the latter painting, while the pose of the Virgin and the lower part of Jesus' body must be based on the same cartoon.1 Both paintings show imaginary walled cities in the distance in similarly expansive and detailed landscapes, populated by scattered flowers conceived in a decorative rather than naturalistic idiom.

The lovely condition of the surface, due in part to the stability of the panel support which unusually consists of only one plank, allows us to fully appreciate the delicate glazes of the Madonna's face and robes which point to the influence of Verrocchio and Botticelli, as well as the details of her golden hair, her veil and the decorated borders of her blue mantle.

The early provenance from Villa Pasquale is listed in the Ashburnham inventories of 1830 and 1878 but is not substantiated.
1. See Venturini, under Literature, p. 125, reproduced p. 206, fig. 108, and reproduced in colour on the dust jacket.
Bartholomeus Grondonck (Active in Antwerp circa 1617), Kermesse of Oudenarde. Photo Sotheby's
signed and dated lower centre: B.v Grondonck 1617; oil on copper; 18.5 by 26.7 cm.; 7 1/4 by 10 1/2 in. Estimate 120,000-180,000 GBP. Lot sold 266,500 GBP
PROVENANCE: With Galerie de Jonckheere, Brussels, 1989;
Anonymous sale Paris, Tajan, 9 December 1996, lot 9, where acquired by the late father of the present owner.
LITTERATURE: J. de Maere & M. Wabbes, Illustrated Dictionary of 17th Century Flemish Painters, Brussels 1994, vol. I, p. 188, vol. II, p. 512, reproduced.
NOTE: This beautifully preserved copper is the only known signed painting by Bartolomeus Grondonck, a painter of landscapes in early 17th century Flanders who was much influenced by Hans Bol and Jan Brueghel the Elder. This painting is however indebted to a greater degree by David Vinckboons, and in particular to his celebrated composition of 1602, known to us today through his detailed drawing in the print room of the Statens Museum for Kunst in Copenhagen.1 It is a peculiarity that Vinckboons' best-known composition is one that exists today, in primary source at least, only through a signed drawing rather than a painting, but the composition was so popular in its day, and so influential, that it was widely reproduced by engravers, and their engravings widely copied by painters, for several decades after its inception. The composition was engraved by Nicolas de Bruyn (Hollstein, IV, 171) and Boetuis Adams Bolswert (Hollstein, III, 320) and, like all the known painted versions, the present work follows the direction of the engraving rather than the drawing or lost painting. A later version of the print was published in Amsterdam by Claes Jansz. Visscher in 1634, testament to the lasting popularity of the design. While many of the figures and figure-groups are directly lifted from Vinckboons' original, Grondonck has allowed himself an element of freedom in the mise-en-scène, with the figures less cramped in a roomier town square, several of them omitted, others adapted, and some seemingly of his own invention.

Through animated works like this it is not difficult to imagine the cacophony that characterised such kermesses, this one about to grow louder and more varied by the line of people queuing up at the musical instrument stall in the centre. The scene itself contrasts the innocence of childhood and its self-made fun with the excess and debauchery of those children's parents, as any self-respecting Flemish kermesse ought to. In front of a staged comedy stands a small group of onlookers, several gesticulating madly at the actors, while to its right two women urge their men not to get involved in a brawl. A young man relieves himself by the doorpost to the inn while a group of children pile themselves on top of each other, upside-down, sideways and any-which-way, as the warm afternoon descends into a haze of merriment.
For a long time the painting has been known as the Kermesse of Oudenaarde because the elaborate building in the central middle ground resembles, and is probably based upon, the town hall in Oudenaarde, south of Ghent. Other nomenclatures are thePeasant's kermesse, a literal translation of the inscription on the red flag, 'Die Boere kermis', and Sebastiaanskermis, presumably on the basis of the figure depicted on the same flag, which may or may not be intended as St. Sebastian.
1. See K. Goossens, David Vinckboons, Soest 1977, reproduced p. 64, fig. 30.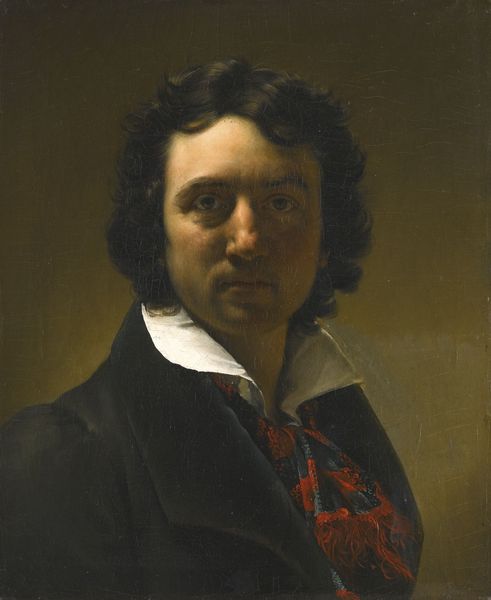 Paulin-Jean-Baptiste Guérin (Toulon 1783 - 1855 Paris), Self-Portrait, head and shoulders. Photo Sotheby's
inscribed on the reverse: PAULIN GUERIN/ peint par lui-même; oil on canvas, unlined, on its original stretcher; 54.8 by 45.2 cm.; 21 1/2 by 17 3/4 in. Estimate 100,000-150,000 GBP. Lot sold 134,500 GBP
PROVENANCE: In the collection of the present owner since the 1970s.
NOTE: Un portrait! Quoi de plus simple et de plus compliqué, de plus évident et de plus profond?1
This self-portrait is amongst Guérin's most psychologically penetrating. He turns to us, full frontal, with a haunting gaze dominating his highly naturalistic face. The left side of his forehead, cheek and nose are starkly illuminated from a light source slightly behind his head to our left, with the rest of his features subtly modelled by a faint reflected light. The bright white collar of his shirt leaps out at us over the lapel of his black velvet jacket, casting a muted reflection on his jaw line. In its observation of his features, and in their detailed execution, it is a highly sympathetic portrait, at once veracious and explicit, sincere and utterly arresting.
Praised for his brilliance by both Jean-Auguste-Dominique Ingres and Théodore Géricault, Paulin Guérin is one of the more mysterious and captivating painters of the early 19th century. The son of a locksmith he began his life in poverty, painting a number of self-portraits as he could not afford models. He exhibited at the Salon for the first time in 1810, showing only portraits, while his first composition piece, Cain after the death of Abel, for which he received critical acclaim and which was purchased by the government, was exhibited in 1812 (Toulon, Musée Toulon). Guérin was the official painter to the royal family during the reigns of Louis XVIII and Charles X, and he remained loyal to the Bourbons after 1830. His early style is rooted in the 18th century tradition of Jean-Baptiste Greuze and, indeed, of some of the great English portrait painters, though he achieves in both his portraits and composition pieces a Neoclassical personality all of his own, chiefly through his idiosyncratic use of colour, light, and a very particular form of sfumato which, of course, also distinguishes the paintings of his contemporary Romantic painters Pierre-Paul Prud'hon and Anne Louis Girodet. There is something more to Guérin's portraits though, chiefly in the combination of his extraordinary understanding of light and an intense psychological interpretation of his sitters, that seems to prefigure great portraits from the next generation such as those of Gustave Courbet, and in particular his own self-portrait of 1841, Desperate Man (private collection, France).

Based on a comparison with Guerin's 1804 dated self-portrait in the Musée de Toulon, which was painted on his twenty-first birthday, we can surmise a date of execution for the present self-portrait of circa 1815-20. Though similar in conception, with a haunting face emerging from a sombre backdrop, in this later example Guérin appears full-faced and, critically, much more prosperous and self-assured. In 1804 he had been in Paris but eighteen months, mired in poverty, near the depths of despair, and it was not until the following year that he found employment, first in the studio of Gérard and then as an apprentice to Vincent. By Napoleon's demise ten years later he was well established however, and an important member of Parisian society to boot. In 1819 he painted the portrait of the Duchesse de Berry which was a particular success, ensuring for him a long line of important society portrait commissions for years to come. The present self-portrait would appear to date to a similar moment as that of the Duchesse de Berry.
1. Charles Baudelaire at the 1859 Salon.
Sotheby's. Old Master & British Paintings Evening Sale. London | 03 juil. 2013 www.sothebys.com