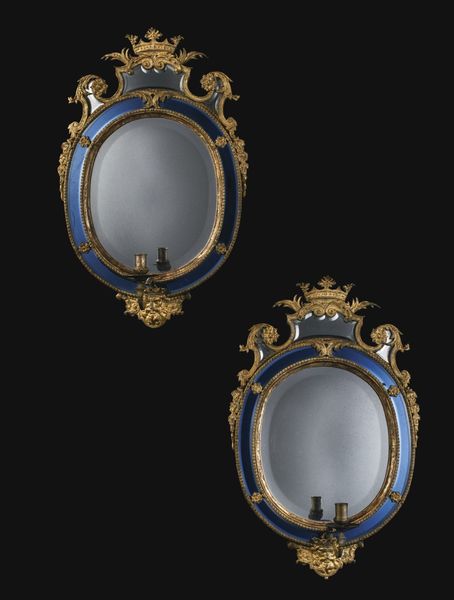 A pair of Swedish oval gilded lead girandole mirrors, early 18th century, attributed to Burchardt Precht. Photo Sotheby's
the oval bevelled plates within a bevelled blue glass border, surmounted by a coronet and scrolling foliage, with a mask head below and a later candle-arm, each 71.5cm. high, 44.5cm. wide; 2ft. 4¼in., 1ft. 5½in. Estimate 20,000-40,000 GBP
NOTE: Burchard Precht of Bremen ( 1651-1738) was a sculptor and cabinet-maker who was educated in Hamburg by his brother Christian Precht (1666-1774), set up his workshop in Sweden where he had arrived as early as 1674 in order to participate in the work being undertaken at Drottningholm Castle and in 1682, he was named carver to the court.. At Drottingholm palace he created the Royal Bedchamber where a pair of mirrors by him closely resemble the present pair of mirrors, (illus.Hakan Groth, Barock och Rokoko i Sverige, p.24). He produced not only mirror frames but also church furniture. His youngest son Christian ( b.1706) would become one of Sweden`s leading silversmiths; the elder son, Gustav(b.1698) followed more closely his father`s career and also produced mirror frames. It can be difficult to distinguish the work of the father and the son who created mirror frames in much the same manner and style.
In 1687-88 he travelled to Rome and Paris with the court architect Nicodemus Tessin, which strongly influenced his work.
The influence of English Queen Anne style mirrors is evident in Scandinavian mirrors dating from the early 18th century. The overall shape of Scandinavian mirrors and the use of mirrored borders surrounding the principal plates is evidence of this. The form of the present mirrors also shows the strong influence of Daniel Marot which was also prevalent in England at this time and follows quite closely a design for a mirror shown in Ernst Wasmuth, Das Ornamentwerk des Daniel Marot, in 264 Lichtdrucken, Berlin, 1892, p.166.
Distinctive of Precht`s work and which can be seen in the present mirrors is the use of gilt lead borders.
For further comparision see William Karlson, Stat och Vardag i Stormakstidens Herremanshem, p.316 which shows a mirror attributed to B. Precht with a similar crown and other elements to the present examples. Ernst Fischer, Svenska Mobler i Bild, pp. 68-9 illustrates mirrors with similar garlands, crown and palm leaves to the present example. For further comparison see Christie`s London, Dealing in Excellence, A Celebration of Hotspur and Jeremy, 20th November 2008, lot 160 and also Sotheby`s New York, The Collection of Mr and Mrs Stephen C Hilbert, 24th May 2007, lot 94.
Sotheby's. Arts of Europe. London | 10 Jul 2013, 02:00 PM www.sothebys.com