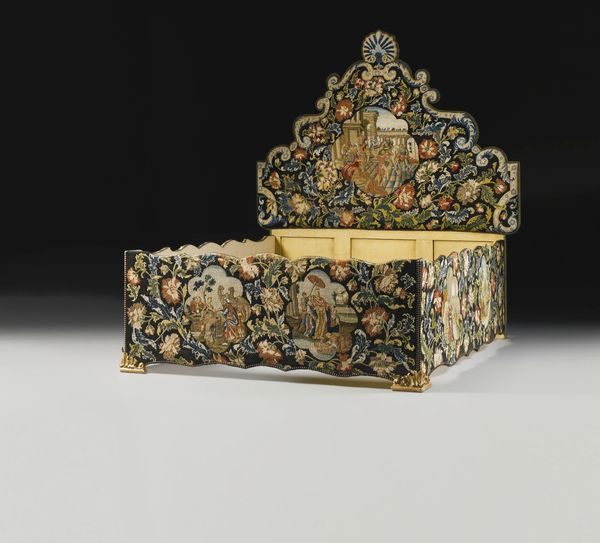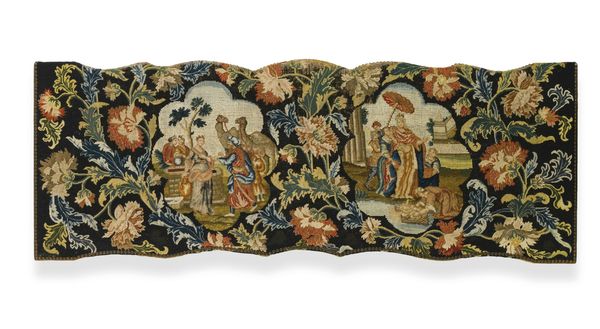 A set of polychrome needlework wool and silk bed valances and headboard, probably French, early 18th century. Photo Sotheby's
each panel worked in polychrome wools and silks in gros point needlework with exuberant flowers on a dark ground, incorporating lobed cartouches enclosing polychrome silk petit point needlework Biblical scenes; comprising of a shaped headboard, centred with lobed cartouche enclosing scene of `The Judgement of Solomon', (headboard with lower supporting wooden panel: total height including wooden support below: 126cm. at highest, 175cm. at widest; the wooden support alone: approximately. 63cm. high, 155cm. wide; 2ft, 5ft. 1in.), and three side panels `valances', (Two side valances: approximately 56cm. high, 190cm. wide; 1ft. 10in., 6ft. 3in.; Front valance: 56cm. high, 152cm. wide; 1ft. 10in., 5ft.), together with two small carved giltwood corner feet supports (Qty 4). Overall approximately 126cm. at highest, 175cm. at widest, 190cm. deep; 4ft. 1in., 5ft. 9in.,6ft. 3in - Estimate 25,000-35,000 GBP
NOTE: The type of bed more popular than any other in the late 17th century/early 18thcentury, was known throughout Europe as the `French Bed'. The simple framework supported hanging curtains, valances and headcloths, forming a relatively plain form overall. Evolving from the 15th century field bed, it could be easily moved and constructed. The status of the bed was entirely demonstrated through the hangings and degree of trimmings used. The wooden support components would not be visible. The valances added to the grandeur and were often more elaborate than the curtains, and more likely to have survived. In the mid 17th century headcloths were often simple hangings and low headboards were placed in front on them, often comprising of ornamented material pasted to carved wooden backing. It was at the end of the 17th century that needlework canvas work emerged as a form of hangings on furniture and the use of petit point subjects within designs ofgros point continued into the early 18th century. The billowing, curling leaves and scrollwork designs were popular in Europe, and designs were worked in principleateliers, with universal character and hence familiar motifs. The English merchants imported the needlework. In addition an embroidery school was set up at the convents of St. Joseph and another at St. Cyr by Madame de Maintenon, wife of Louis XIV, to which she retired after the King's death in 1715. Quantities of distinctive bizarre chinoiserie panels were produced by those sent to learn the techniques, which included the daughter's of the aristocracy. They were used for seat furniture upholstery and designs included figures and animals within the leaves and foliage, rather than within separate cartouches, typical of the bed valances. Wool was used with silk highlights, and in a combination of gros andpetitpoint. The focal figural groups were taken from literary sources using engravings, and were mythological and Biblical subjects. The present panels combine the literary subjects with the highly decorative effects and interest in botany.
For comparable panels see Sotheby's, London, 14th June 2000, lot 11, for a set of late 17th century needlework hangings, comprising of six valances and a headboard, of similar technique, with figural scenes which were mythological and included Charity, Fidelity, Peace, Abundance, and the `bizarre' design incorporated birds and beasts. The top valance (which was three joined panels) was approximately70cm. high; 2ft. 3in. The separate lower valances were shaped across the top and measurements were approximately 75cm. high, 216cm. wide; 2ft. 5in., 7ft. 1in., and the front valance was narrower at 75cm. high, 189cm. wide; 2ft. 5in., 6ft. 2in.
An early 18th century French bed with a similar style of valances, upper and lower, without a headboard, is illustrated in L. Synge, Art of Embroidery, History of style and technique, Antique Collectors Club, Suffolk, 1991, Chp.7, Eighteenth Century, pg.173, fig.153. For further information about similar needlework on seat furniture, see Chp.8, A Note on Furniture, pp.226-247.
For further information see P.Thornton, Seventeenth-Century Interior Decoration in England France and Holland, Yale University Press, 1978.
Sotheby's. Arts of Europe. London | 10 Jul 2013, 02:00 PM www.sothebys.com