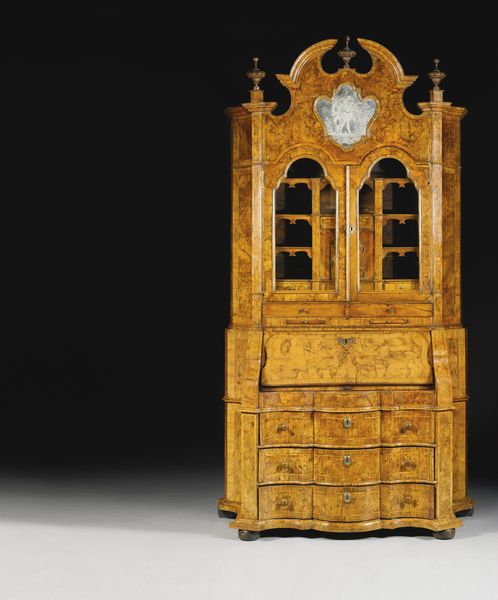 An Italian fruitwood inlaid walnut bureau cabinet, Venetian, mid 18th century. Photo Sotheby's
the upper section with a swan neck pediment centred by an urn finial flanked by identical urn finials on pedestals enclosing an engraved cartouche shaped mirror depicting an Antique figure in armour within a landscape above a pair of arched doors with later glass enclosing a fitted interior with seven niches and four drawers flanking a cupboard door enclosing a recess above two frieze drawers and a pair of candleslides, with concave sides, the lower section with a fall-front opening to reveal a fitted interior with a door flanked bytwo drawers and two secret drawers above a slide concealing further secret drawers, above three long bowed and concave-fronted drawers on bun feet; 282cm. high,120cm. wide, 69cm. deep; 9ft. 3in., 3ft. 11¼in., 2ft. 3¼in. Estimate 40,000-60,000 GBP
Comparative Literature: G. Morazzoni Il Mobile Veneziano del Settecento, Milan,1958.
Note: The details of the cresting, the elegant proportions, the gentle serpentine design of the sides rather than straight sides make the present bureau cabinet a fine example of the Venetian repertory, several examples of which are illustrated by Morazzoni, op. cit..
Deriving its form from the Anglo-Dutch repertory, the bureau cabinet, improperly called in Italy trumeau (from the French mirror which used to stand between two windows), very soon became the most important piece of furniture in the palaces of the ancient Venetian aristocracy and the rich merchants. Although they were meant to cut a bella figura on the best wall of a salon, these pieces were supposed to be functional too. While the bureaux cabinets commissioned for the surburban villas were often lacquered or decorated in arte povera to simulate lacquer, the finest examples which are found in the most important palaces of the lagoon were veneered in walnut and the presence with engraved mirrors. Unfortunately, due to lack of documentary evidence, very few names of cabinet-makers, carvers and gilders survive, to enable an attribution to a particular maker to be made.
Related bureau cabinets with glazed panels on the doors as on the present piece, were sold in these Rooms, lot 95, 26th May and 6th June 1989 and lot 163, 14th December 1998.
Sotheby's. Arts of Europe. London | 10 juil. 2013, 02:00 PM - www.sothebys.com