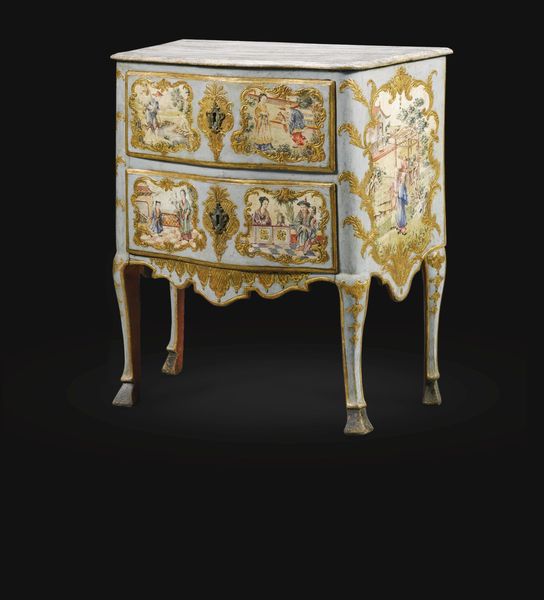 An Italian pale blue lacquered, parcel-gilt and pastiglia chinoiserie commode, Piedmontese, Turin, circa 1760. Photo Sotheby's
with a serpentine painted top imitating bardiglio marble above two long drawers with two rocaille and pastiglia reserves with chinoiserie figures in a landscape and interior scenes above an apron decorated with tasselled lambrequins with similarly decorated splayed sides on cabriole legs terminating in hoof feet; 40.5cm. high, 77.5cm. wide, 40.5cm. deep;1ft. 4in., 2ft. 6½in.,1ft. 4in. Estimate 25,000-40,000 GBP
Comparative Literature: Umberto Chierici, Torino, il Palazzo Reale, Turin, 1969, plates 22 and 23.
Hans Huth, Lacquer of the West, Chicago, 1971.
Note: This rare and beautifully lacquered commode, with detailed chinoiserie figures in imitation of Chinese famille rose porcelain is in the most delicate shade of pale blue and has the added rare feature of pastiglia parcel-gilt foliate and scoll reserves. Rather than the more usual method of arte povera (a technique borrowed from Venice) of cutting out engravings, colouring them then applying them to resemble true lacquer, the Piedmontese laccatori has actually skilfully painted the design. The commode is of small and elegant proportions with the top painted to simulate grey bardiglio marble the latter often found on Piedmontese furniture. Furthermore, the inside of the legs are painted red. The decoration was probably conceived for a room setting decorated with chinoiseries which were extermely popular in 18th century Piedmont.
The city of Turin, was second only in importance to Venice for the production of lacquer in the mid 18th century. In an attempt to imitate Versailles, King Vittorio Amadeo II (1666-1732) commissioned Filippo Juvarra (1678-1736) to remodel Palazzo Madama, in Turin. The most striking lacquer room of the first half of the 18th century was however, in the Royal Palace of Turin based upon designs by Juvarra. Far Eastern panels on the walls were added to by the local lacquermaster, Pietro Massa. The panels were lacquered in red and gold on a black ground to achieve a stunning effect.
The taste for rooms decorated in chinoiseries in Turin can be seen illustrated by Huth, op. cit., plate 132, for the lacquer room at Villa Vaccetti, near Turin, circa 1740. Furthermore, Chierici, op. cit., illustrates an overdoor and the GabinettoCinese in plates 22 & 23, demonstrating the taste for chinoiseries in Turin in the mid 18th century.
Sotheby's. Arts of Europe. London | 10 juil. 2013, 02:00 PM - www.sothebys.com