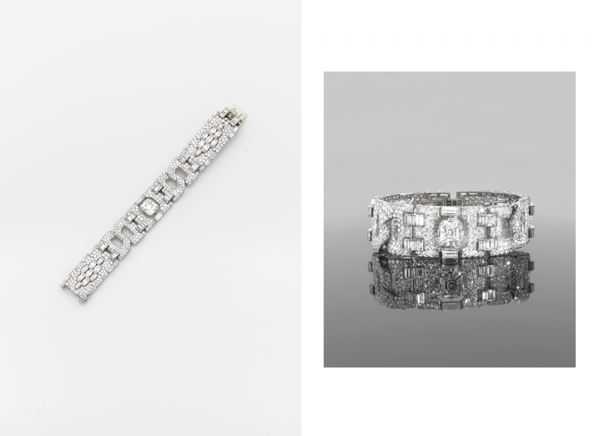 Beau bracelet Art Déco. Vers 1930. Photo Hôtel des Ventes de Monte-Carlo
en platine, agrémenté de deux plaques pavées de diamants figurant des motifs losangiques de diamants navettes, il est articulé par des boucles diamantées retenant au centre un diamant de taille émeraude à angles adoucis pesant environ 5 cts. Traces de poinçon de maître, numéroté. Longueur : 17 cm environ. Poids : 70,2 g.

An Art Déco diamond and platinum bracelet centered with a rectangular shaped diamond weighing approximately 5 cts.
Hôtel des Ventes de Monte-Carlo. Mercredi 17 juillet 2013. Hôtel des ventes de Monte-Carlo, 10 - 12 Quai Antoine 1er - 98000 Monaco. Tel. 00 377 93 25 88 89