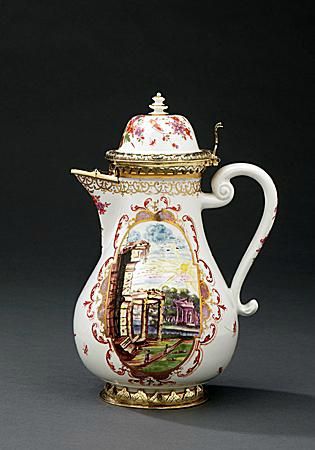 Coffee Pot, Böttger porcelain, Meissen, ca. 1723. Photo courtesy of Robbig Munchen
Decorated with coloured landscapes by Johann George Heintze. No mark. Fire-gilded silver mount, Augsburg hallmark and marker's mark "EA" for Elias Adam. H. 20 cm. Price on request - http://robbig.artsolution.net/
The pear-shaped form of this coffee pot is derived from contemporary silverware. It has a beak spout, scroll handle, and high-domed cover with double-disk finial. The low foot ring and rims of pot and cover are fitted with silver-gilt mounts by Elias Adam of Augsburg (master goldsmith from 1703).
Each of the two sides bears a quatrefoil cartouche made up of iron-red and gold Laub- und Bandelwerk and lustre fields. One cartouche contains an heroic landscape with a temple ruin on the left, partially removed from sight by the frame and another classical temple with a columned portico. The other cartouche shows a landscape with a river in the foreground and a bridge leading to a half-timbered house and a small castle further back. In the sky, yellowish sunlight shimmers through between cumulus clouds rendered in a transparent dark blue. Small insects in iron-red, apparently randomly placed, are scattered around the space between the cartouches; the cover, back of handle, and spout are decorated with indianische Blumen. The ornament is rounded off with a gold lacework border running around the pot and spout under the rim.
The overall decorative scheme follows the standard arrangement conceived around 1723 by Johann Gregorius Höroldt, which held good at Meissen for around twenty years, with only the subjects in the pictorial fields changing. In the very first years, the preference was for idealised European landscapes, to which chinoiserie scenes were soon added; around 1730, the two genres were superseded by European harbour landscapes with Kauffahrtei scenes showing merchants engaged in negotiations. The painting on the present coffee pot is thus an early example of "Höroldt" painting on Meissen porcelain. The style and manner of execution suggest that it came from the hand of Höroldt's first apprentice, Johann George Heintze, who later became one of the manufactory's most outstanding landscape painters. The present example of his work still displays the initial unaffectedness and naivety of his early style.
Literature: U. Pietsch: Johann Gregorius Höroldt 1696-1775 und die Meissener Porzellan-Malerei. Leipzig 1996.