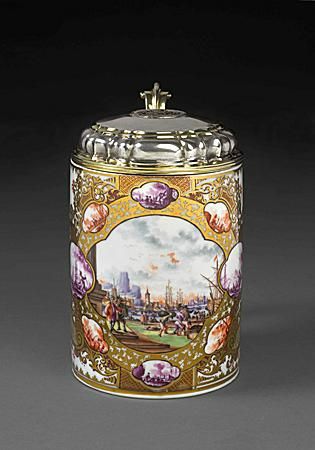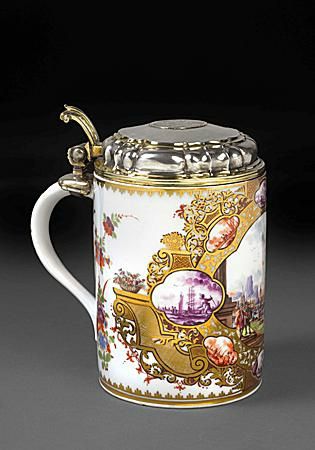 Christian Friedrich Herold (1700-1779), A cylindrical tankard with poly- and monochrome Kauffahrtei-scenes, Meissen, ca. 1732. Photo courtesy of Robbig Munchen
Painted with polychrome and monochrome harbour scenes by Christian Friedrich Herold (1700–1779) and Johann Gregorius Höroldt (1696–1775). No mark. Partly-gilt silver cover with a 1594 dated Saxonian coin with the portraits of the sons of the Electoral of Saxony Christian I. H. 17,3 cm, D. 10,5 cm. Price on request - http://robbig.artsolution.net/
Published: K. Jakobsen/U. Pietsch, Frühes Meissener Porzellan.
Kostbarkeiten aus deutschen Privatsammlungen, Munich 1997, cat.-no. 180.
This richly decorated tankard, which was discussed in detail by Otto Seitler together with a very similar counterpart, exemplifies a number of aspects of the technical and artistic prowess of the Meissen manufactory's painting department. Seitler attributes the "Kauffahrtei" harbour scene in the large central cartouche to Johann Gregorius Höroldt, while giving Christian Friedrich Herold the credit for the monochrome painting in the quatrefoil reserves set in the strapwork surround, which alternate between iron-red and purple. At the Meissen manufactory it was perfectly customary for two or more painters to be involved in the decoration of one piece in this way. In this case, the purely ornamental parts of the decoration, which combine with the high artistry displayed in the pictorial miniatures in the reserves to give this tankard a strikingly magnificent appearance, were executed by yet another specialist painter. Surrounding the large quatrefoil cartouche is a broad gold band within which foliate motifs stand out in the white of the porcelain surface, while the remaining undecorated areas are filled in with black-outlined foliate ornament and gold strapwork underlaid with fields of lustre. One painter who may well have executed this ornamentation is Noah Ernst Petzold (1699–1785), whom the register of manufactory staff of April 1731 described as painting "foliate, floral and other ornaments" [Laubwerck und Bluhmen auch andere Zieradien]; on 24 February of the same year Höroldt made the following entry: "Petzold, who has his hands full executing the foliate ornament on the fine services, and when it happens to be necessary, also doing the floral work," [Petzold, welcher das Laubwerck um die feinen Services zu machen und vollauf zuthun hatt, wes es ihm auch gleich einmahl daran mangeln sollte, das Blumenwerck mit beschicken muß] (see Rückert 1990, p. 182).
The silver-gilt lid with a thumb-rest ending in a scroll was presumably the work of a Dresden goldsmith, as the medallion of 1594 will also have been, with its relief portraits of the three sons of the late Elector Christian I of Saxony (1560–91, acc. 1586): Elector Christian II (1583–1611, acc. 1591), Prince Johann Georg (1585–1656, from 1611 Elector Johann Georg I) and Prince August (d. 1615).
Literature: Otto Seitler: Konrad Christoph Hunger und Johann Gregorius Höroldt. In: Keramikfreunde der Schweiz, Mitteilungsblatt 39, 1957, p. 25-28, Taf. VII, Abb. 15.