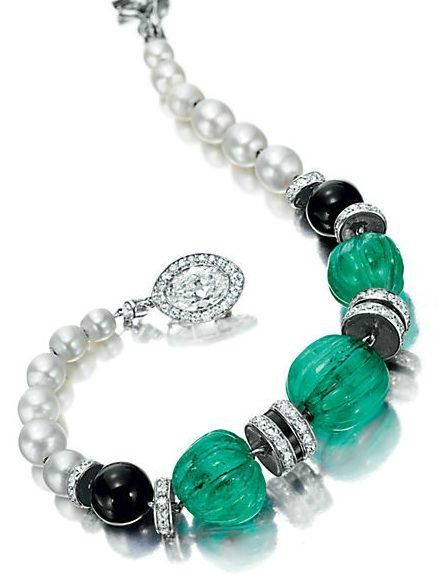 AN ART DECO EMERALD, DIAMOND AND NATURAL PEARL BRACELET, BY CARTIER. Photo Christie's Image Ltd 2012
Set with three fluted emerald beads, spaced by single-cut diamond rondelles, flanked by two onyx beads, to the natural pearl bracelet, measuring from approximately 6.20 to 4.44 mm, joined by a marquise-cut diamond clasp, mounted in platinum, circa 1925, 7¼ ins., with French assay marks and maker's mark, in a Cartier red leather case. Signed Cartier, Paris, no. 2318504. Estimate: $125,000 – $185,000 - Price Realized: $230,500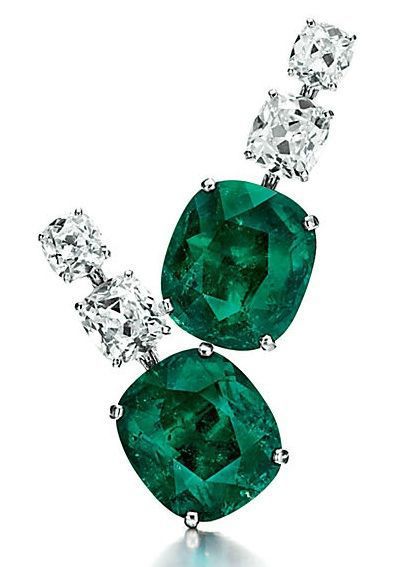 A PAIR OF IMPORTANT EMERALD AND DIAMOND EAR PENDANTS. Photo Christie's Image Ltd 2012
Each suspending a cushion-cut emerald, weighing approximately 13.09 and 12.42 carats, joined by an old mine-cut diamond, weighing approximately 2.32 and 2.29 carats, to the old mine-cut diamond surmount, weighing approximately 1.09 and 1.08 carats, mounted in platinum. Estimate: $550,000 – $750,000. Unsold

With reports 12021010 and 12021009 dated 8 February 2012 from Gübelin Gem Lab stating that gemmological testing revealed characteristics consistent with those of emeralds originating from Colombia. Indications of minor clarity enhancement

With reports 2135133716 and 1132476868 dated 10 March and 7 November 2011 from the Gemological Institute of America stating that the two old mine-cut diamonds weighing approximately 2.32 and 2.29 carats are G color, VVS1 and VS1 clarity respectively

With reports 2135842662 and 5121384687 dated 23 September and 20 October 2011 from the Gemological Institute of America stating that the two old mine-cut diamonds weighing approximately 1.08 and 1.09 carats are F and G color, VVS2 and VS1 clarity respectively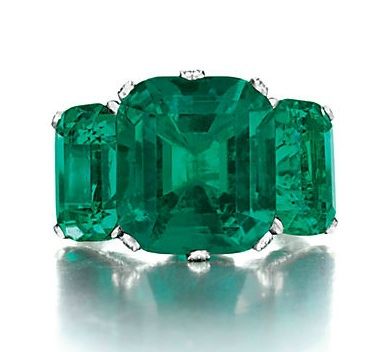 A SUPERB THREE-STONE EMERALD RING. Photo Christie's Image Ltd 2012
Set with a cushion-cut emerald, weighing approximately 8.51 carats, flanked on either side by two smaller cushion-cut emeralds, weighing approximately 4.04 and 3.94 carats, to the single-cut diamond shoulders, mounted in platinum. Estimate: $475,000 – $550,000. unsold

With three reports dated 14 May 2012 from Gübelin Gem Lab stating that gemmological testing revealed characteristics consistent with those of emeralds originating from Colombia. No indications of clarity enhancement

With three reports dated 23 to 28 April 2012 from the American Gemological Laboratories stating that it is the opinion of the Laboratory that the origin of the emeralds would be classified as Colombia. Clarity Enhancement: None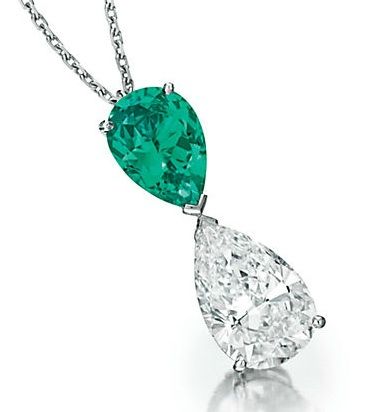 A DIAMOND AND EMERALD PENDANT NECKLACE, BY VAN CLEEF & ARPELS. Photo Christie's Image Ltd 2012
suspending a detachable pear-shaped diamond, weighing approximately 5.09 carats, from an inverted modified pear-shaped emerald, weighing approximately 3.03 carats, to the fine link 18k white gold neckchain, mounted in platinum and 18k white gold, 18 ins., in a Van Cleef & Arpels navy suede case. Pendant and neckchain signed Van Cleef & Arpels, pendant no. SL492. Estimate: $400,000 – $600,000. Unsold

With report 10391769 dated 17 September 2012 from the Gemological Institute of America stating that the diamond is D color, internally flawless clarity; accompanied by a working diagram indicating that the clarity may be improvable to flawless

Accompanied by a supplemental letter stating that the diamond has been determined to be a Type IIa diamond. Type IIa diamonds are the most chemically pure type of diamond and often have exceptional optical transparency. Type IIa diamonds were first identified as originating from India (particularly from the Golconda region) but have since been recovered in all major diamond-producing regions of the world. Among famous gem diamonds, the 530.20 carat Cullinan I and the 105.60 carat Koh-i-noor, are examples of Type IIa

With report CS 51550 dated 11 September 2012 from the American Gemological Laboratories stating that it is the opinion of the Laboratory that the origin of the emerald would be classified as Colombia. Clarity Enhancement: None

AN ART DECO EMERALD AND DIAMOND BRACELET. Photo Christie's Image Ltd 2012
Designed as a graduated series of nine rectangular and pear-shaped emeralds, alternating with circular and baguette-cut diamond spacers, to the baguette-cut diamond trim and circular-cut diamond hoop clasp, mounted in platinum, circa 1930, 7 5/8 ins., with French assay mark. Estimate: $350,000 – $450,000. Unsold

With report 58621 dated 28 February 2011 from the SSEF Swiss Gemmological Institute stating that the 9 emeralds are of Colombian origin, 3 with indications of minor clarity modification (oil) and 6 with indications of moderate clarity modification (oil).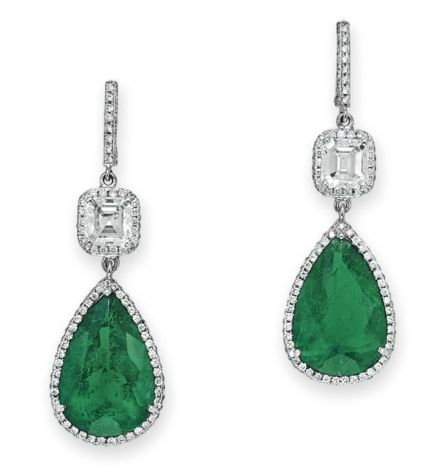 A PAIR OF EMERALD AND DIAMOND EAR PENDANTS. Photo Christie's Image Ltd 2012
Each set with a modified pear-shaped emerald, weighing approximately 10.83 and 9.96 carats, from a rectangular-cut diamond, to the circular-cut diamond trim, mounted in platinum. Estimate: $120,000 – $180,000. Unsold

With reports 11055234 and 11055235 dated 31 May 2011 from Gübelin Gem Lab stating that gemmological testing revealed characteristics consistent with those of emeralds originating from Colombia. Indications of minor clarity enhancement, one emerald with minor amount of filling material in cavities.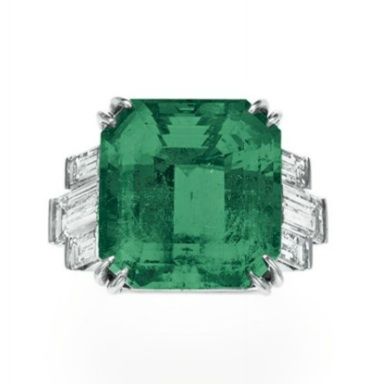 AN EMERALD AND DIAMOND RING. Photo Christie's Image Ltd 2012
Set with a rectangular-cut emerald, weighing approximately 18.37 carats, flanked on either side by three baguette-cut diamonds, mounted in platinum. Estimate: $120,000 – $180,000; Unsold

With report 12060070 dated 11 June 2012 from Gübelin Gem Lab stating that gemmological testing revealed characteristics consistent with those of emeralds originating from Colombia. Indications of minor clarity enhancement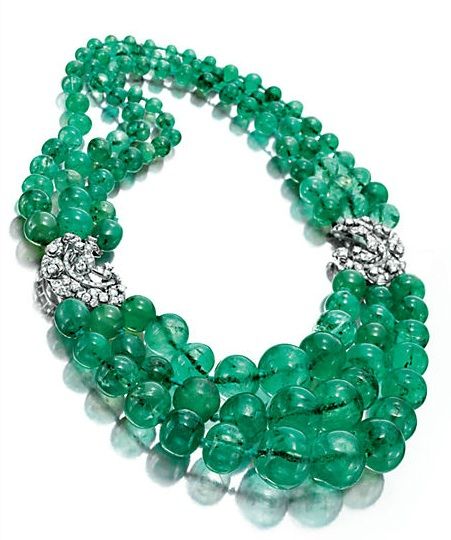 A THREE-STRAND EMERALD BEAD AND DIAMOND NECKLACE. Photo Christie's Image Ltd 2012
The front designed as three graduated strands of emerald beads, intersected by two circular and baguette-cut diamond openwork plaques of foliate motif, to the three-row emerald bead backchain, mounted in platinum, 17½ ins. Estimate: $50,000 – $70,000. Price Realized: $206,500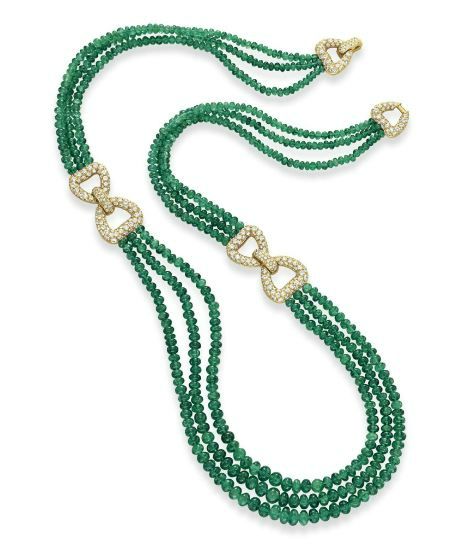 AN EMERALD BEAD AND DIAMOND NECKLACE. Photo Christie's Image Ltd 2012
Comprising three strands of emerald beads, spaced by openwork circular-cut diamond sculpted links, mounted in 18k gold, 30½ ins. Estimate: $8,000 – $12,000; Price Realized: $27,500

CHRISTIE'S MAGNIFICENT JEWELS – NEW YORK – DECEMBER 10TH, 2012 www.christies.com