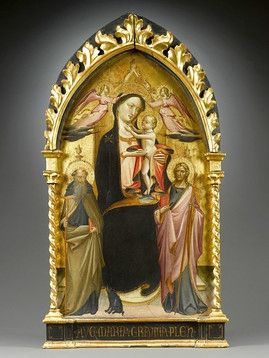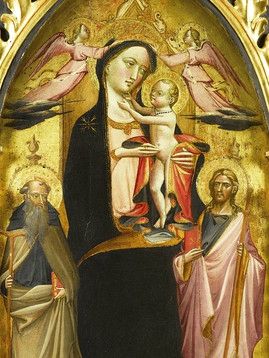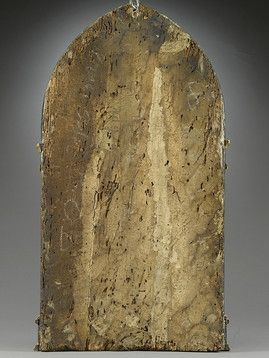 Giovanni dal Ponte (Giovanni di Marco) (1385-1437 · Florentine), Madonna and Child Enthroned, Crowned by Two Angels with Saints Anthony Abbot and James Major. Circa 1420-1425. Photo courtesy M.S. Rau Antiques.
Tempera on gold ground panel, 21 1/2 Inches. Price: $550,000
Giovanni dal Ponte, also known as Giovanni di Marco, is often grouped with the greatest artists of the early 15th century credited as the harbingers of the Italian Renaissance tradition. Studying under late 14th-century master Spinello Aretino and working alongside 15th-century contemporaries such as Lorenzo Monaco and Masaccio, Giovanni dal Ponte developed a style highlighted by careful use of perspective and naturalism that imbued his works with a tangible weightiness and truth to life. Such can be seen in his devotional composition entitled,Madonna and Child Enthroned, Crowned by Two Angels with Saints Anthony Abbot and James Major.

In this composition, the Madonna and Child are locked in tender embrace with one another, flanked by Saint Anthony Abbot on the left (identified by the small pig that sits dutifully at his feet) and Saint James Major on the right (holding the attributes of a book and a pilgrim's staff). Giovanni dal Ponte arranged the composition of these four central figures carefully to convey a sense of recession into space. This sense of depth, a nuance of the day portrayed so masterfully by Giovanni dal Ponte, is broken only with the cherubic Angels that alight over the flanking saints and seemingly emerging from clouds, an homage to the preceding Gothic painting tradition. Given the age of dal Ponte's paintings, few examples of his work of this high quality appear at auction. The majority of his works have become the prized acquisitions of the finest museums around the world, including but not limited to the Prado Museum, Madrid, the Rijksmuseum, Amsterdam, and the Fitzwilliam Museum in Cambridge, England.