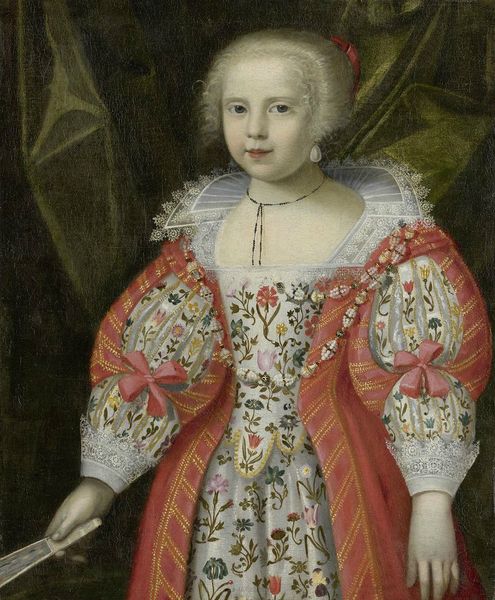 Attributed to British School, 17th century, Portrait of a Young Girl, c.1625-35. Oil on canvas, 65.2 x 53.5 cm. RCIN 401363. Royal Collection © Her Majesty Queen Elizabeth II
Provenance: Bequeathed to HM The Queen by Cornelia, Countess of Craven

This unidentified sitter wears a red silk gown over a matching bodice and skirt, each embroidered with a variety of flowers in coloured silk threads. This style of naturalistic embroidery was particularly popular in England during the late sixteenth and early seventeenth century, and took inspiration from various patterns books and botanical publications, one of the most famous of which was 'The Herball, or, Generall historie of plantes' by John Gerard (RCIN 1057110), first published in 1597. Rather unusually each flower here is depicted in its correct vertical alignment - more typically portraits and surviving garments show the floral design arranged into a serpentine format with swirling stems and variable orientations. It is also interesting to note that the embroidery design is deliberately asymmetrical across the bodice, sleeves and skirt.

The bodice has sleeves cut into panes of fabric, each of which is also embroidered with flowers and the red gown is gathered at the elbow with red ribbons. This is a style known as a virago sleeve and is particularly helpful in dating the portrait as this fashion was very popular in England during the latter half of the 1620s. Her blonde hair is tied back with a red ribbon and she carries a fashionable closed fan in her right hand, which by this date had replaced the older style of rigid fan more frequently depicted in sixteenth century portraits.