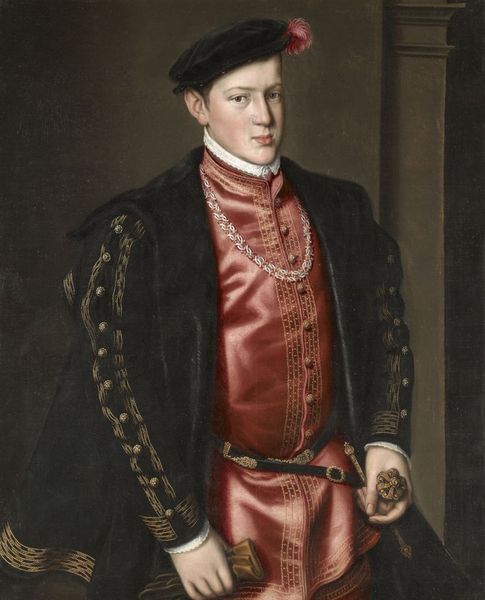 Workshop of Anthonis Mor van Dashorst (c. 1518-76), John, Prince of Portugal (1537-54), c.1552-4. Oil on canvas, 99.7 x 81.2 cm. RCIN 403953. Royal Collection © Her Majesty Queen Elizabeth II
Provenance: Bought by Queen Victoria from the Collection of King Louis Philippe, 6 May 1853.

Queen Victoria, Queen of the United Kingdom (1819-1901), when Queen of the United Kingdom (1837-1901)

John, Prince of Portugal (1537-54),was the only surviving son of King John III and Queen Catherine of Portugal. He married Joanna of Austria, sister of Philip II of Spain, in December 1552. John died in January 1554 aged sixteen, shortly before the birth of his son Sebastian, who succeeded as King of Portugal.

This portrait is a contemporary replica of a lost original portrait by Anthonis Mor. The original portrait, created in 1552 when the sitter was fourteen, belonged to Mary of Hungary (it was destroyed by fire at the palace of El Pardo in 1604). This is one of two known replicas which were created by Mor's workshop. Both would have been executed under the artist's direct supervision in Portugal.

Therefore, despite being a replica, this portrait is very close to the lost original, and it has a remarkable history. It is thought to be the replica created in order to be sent to Joanna of Austria by the Queen of Portugal as part of the marriage negotiations. After the death of Joanna of Austria in 1573 this portrait passed into the collection of her brother, Philip II of Spain. At the time of Philip's death it was on loan to his sister, the Empress Maria, at the palace adjoining the convent of the Descalzas Reales in Madrid. It probably passed into the convent's own collection which, in the 1830s, came into the collection of 'H. du Blaisel' who sold it to Baron Taylor for the collection of Louis-Philippe I of France. It was then displayed in Louis Philippe's 'Galerie Espagnole' at the Louvre.