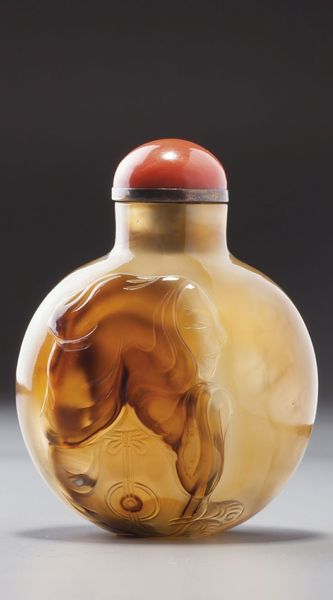 An agate 'Monk' snuff bottle possibly Imperial, Official School, Qing dynasty, Late 18th-19th century. Photo Sotheby's
well hollowed with a flat lip and a concave foot, carved with a low-relief, partially cameo design of a monk with a bi disc suspended on a cord from his belt, the robes extending under the foot of the bottle; the coral stopper with a silver collar; 5.6 cm., 2½ in. Estimation 140,000 — 200,000. Lot vendu: 250,000 HKD
PROVENANCE: Trojan Collection
Robert Hall, London, 1993.
EXHIBITED: Chinese Snuff Bottles V: From the Collection of Mr. and Mrs. Robert Trojan, Robert Hall, London, 1992, cat. no. 48.
Chinese Snuff Bottles in the Collection of Mary and George Bloch, The British Museum, London, 1995, cat. no. 279.
Israel Museum, Jerusalem, 1997.
LITTERATURE: Hugh Moss, Victor Graham and Ka Bo Tsang, A Treasury of Chinese Snuff Bottles: The Mary and George Bloch Collection, vol. 2, Hong Kong, 1998, no. 320.
NOTE: The present bottle can be attributed to the artistic genius of the Cameo Ink-play Master. No two bottles from this group are alike and he approached each piece of stone with a completely open mind and never stooped to rote repetition of standard images.
The ink-play here is masterful, and while brilliant in the interpretation of the cowl and robes, the artist's sheer genius at this game is revealed by the use of a darker circle of colouring in the stone as the central ring of the disc. The robes also continue beneath the slightly concave foot of the bottle, as does the carved detailing of them. This artist obviously saw his material as the 'canvas' for the work of art and felt equally at home using any surface of the bottle as part of the main subject.
Sotheby's. Snuff Bottles from the Mary and George Bloch Collection: Part VI. Hong Kong | 27 mai 2013 www.sothebys.com