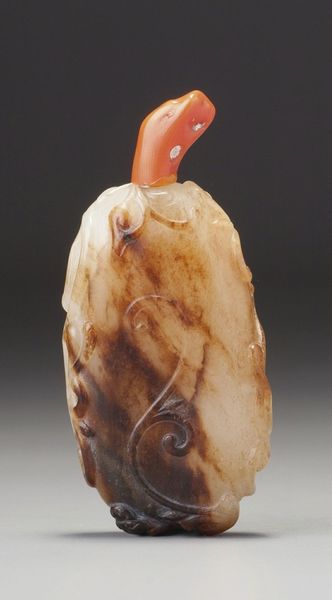 A grey-beige and russet jade 'Chilong and Lingzhi' snuff bottle, possibly Imperial, Qing dynasty, 18th-early 19th century. Photo Sotheby's
of pebble material, very well hollowed and carved with three chilong and a spray of lingzhi fungus, the head and shoulders of one beast forming the base, the natural pebble skin possibly enhanced with staining; the coral stopper carved as a twig; 5.9 cm., 2¼ in. Estimation 75,000 — 95,000. Lot. Vendu 137,500 HKD
PROVENANCE Hugh Moss (HK) Ltd., 1992.
LITTERATUREHugh Moss, Victor Graham and Ka Bo Tsang, A Treasury of Chinese Snuff Bottles: The Mary and George Bloch Collection, vol. 1, Hong Kong, 1996, no. 16.
NOTE The possible imperial designation is based on the subject matter, which was popular at court. The pebble material might also be an indication of such a provenance, but its use was common to the jade carving tradition of China, going back to at least the Han dynasty. It is possible that the natural pebble skin has been enhanced by staining, which was typical of court jade production and was ordered by the emperor on wares made for the court at Suzhou.
The carving of the dragons is as fine, although of a different style, and is artistically comparable with that seen on jade snuff bottles. The carving is under the total command of a master artist and lapidary, and the separation of ground and relief planes is exquisite. Each of the three beasts is unusually long, thin, and fluid in its sinuousness, to the point of having an almost snake-like body, with little distinction made between the thickness of the long, flowing bodies and the limbs and tails. The tails are also distinctive in having a short third division emanating from the point where the two main branches of the tail split. Two of the beasts' heads are feline, while the third is almost hawk-like, with a long, protruding, almost beaked upper lip and a shorter, bearded lower lip. All are standard forms for the chilong over the centuries, which could be depicted with dragon-, feline-, or fenghuang-like heads, but in combination with the body style here they make for a distinctive departure from the more normal creatures found on Palace products of the mid-Qing period. This suggests, perhaps, that if it was made for the court it was made either at a distant facility or by a carver summoned to the palace workshops who imported an individual style of carving the beast.
Sotheby's. Snuff Bottles from the Mary and George Bloch Collection: Part VI. Hong Kong | 27 mai 2013 - www.sothebys.com