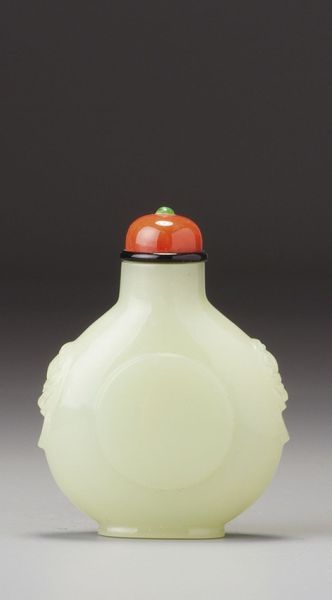 A pale green glass snuff bottle, Imperial Palace Glassworks, Qing Dynasty, Qianlong Period. Photo Sotheby's
of semi-transparent pale green glass, crizzled and unevenly suffused with air bubbles of various sizes, with a slightly concave lip and a protruding flat foot, carved with raised, very slightly convex circular panels on each main side, the narrow sides with mask-and-ring handles; the coral stopper with a jadeite finial and vinyl collar; 4.6 cm., 1¾ in. Estimation 24,000 — 30,000. Lot. Vendu 60,000 HKD
PROVENANCE A Far Eastern collection.
Christie's Hong Kong, 1st April 1992, lot 1584.
EXPOSITION Chinese Snuff Bottles: A Miniature Art from the Collection of George and Mary Bloch, Hong Kong Museum of Art, Hong Kong, 1994, cat. no. 77.
National Museum of Singapore, Singapore, 1994-1995.
LITTERATURE Hugh Moss, Victor Graham and Ka Bo Tsang, A Treasury of Chinese Snuff Bottles: The Mary and George Bloch Collection, vol. 5, Hong Kong, 2002, no. 788.
NOTE The present piece belongs to a small group of bottles of this lovely and distinct colour, one of which identifies it with the Palace and with the Qianlong emperor. A comparable example in the J & J Collection bears the mark Qianlong yuwan ('For the imperial enjoyment of the Qianlong emperor'); see Moss, Graham, and Tsang 1993, no. 334.
Crizzling, as seen on this example, shapes and reign marks, allow us to date the entire group to the earlier part of the Qianlong reign. Raised circular panels of this type also feature on the only known enamelled glass snuff bottle attributable to the late Kangxi period (Moss, Graham, and Tsang 1993, no. 183).
The mask-and-ring handles also suggest an early date. Compare the well-known Yongzheng marked turquoise bottle (Snuff Bottles of the Ch'ing Dynasty1978, no. 38), with similar small rings in relation to the masks. Another feature of this example that may indicate a date earlier in the evolution of the mask handle on snuff bottles is that the beast has a distinct jowl beneath its nose, although otherwise the formalization is of the standard type. The treatment of the jaw here suggests a degree of realism, whereas once such masks became a standard feature added to large numbers of bottles as a matter of course, details were simplified and the jaw tends to disappear.
The appeal of this bottle can be attributed to a number of different features: the lovely colour, intriguing crizzling, delightful and elegant shape, superbly carved mask-and-ring handles, perfect formal integrity, and the high skills of both glassblower and lapidary, not to mention its association with the court and conceivably even the emperor himself.
Sotheby's. Snuff Bottles from the Mary and George Bloch Collection: Part VI. Hong Kong | 27 mai 2013 - www.sothebys.com