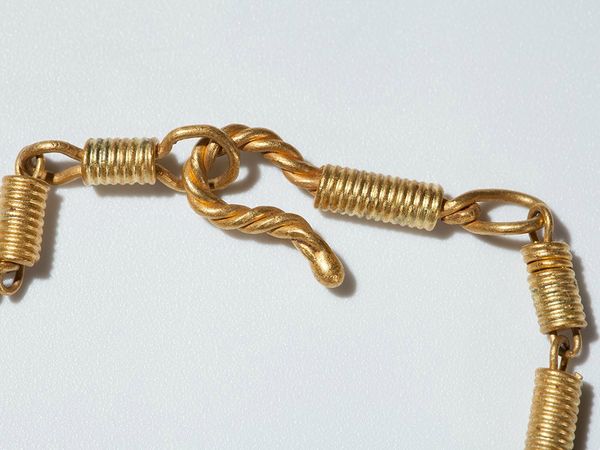 Rare Mesopotamian Necklace with Gold and Carneols, 1000 BC. Photo courtesy Auctionata
14 carneols and agates, 10 gold pearls, 12 gold spirals, one ceramic pearl with inclusions. Gold hook clasp. Unusual necklace. Length: 43.5 cm. Good state of conservation. Estimation : 1 600 / 2 000 €

This beautiful necklace was made in Mesopotamia between 1500 and 1000 BC.
It is composed of 14 carneols & agates, 10 gold pearls, 12 gold spirals and a ceramic pearl with inclusions in different colours (white and turquoise).
The carneols are cylindrical and irregularly formed.
The gold pearls are round and decorated with fine granulations in six circles.
The gold spirals are tightly twisted and shape small cylinders, four hang down from one end in the middle and flank the large ceramic pearl.
The ceramic pearl is unusually shaped of two cylindrical corpuses combined.
The necklace runs through the small cylinder above, the larger lower cylinder is decorated with four turquoise inclusions. Both cylinders are embellished with symmetrical, ornamental white inclusions.
The necklace is closed with a gold hook and is 43.5 cm long.
The necklace is well-conserved with only few imperfections.

Mesopotamian jewellery
Jewellery was made of gold, siver, bronze and glass in Mesopotamia.
The metals were decorated with colourful stones, for example lapis lazuli, carneol, jasper and agate.
The colours and materials were often ascribed to certain gods. Jewellery was used in daily life as well as for the decoration of statues and idols. Different metal techniques were used in the workshops to create these wonderful, unusual pieces of jewellery.
Auctionata - 10587 Berlin. Vendredi 9 août 2013. Franklinstrasse 13, 4. Stock 10587 Berlin. Tel: +49 30 9832 0221, E-mail: sales@auctionata.com