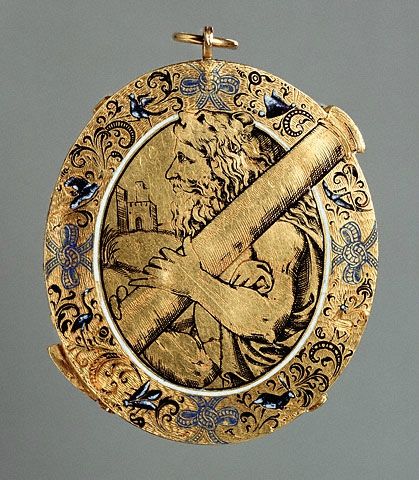 Hercules Pendant, Unknown. French, Paris, about 1540. Gold, enamel, and a baroque pearl; 2 3/8 x 2 1/8 in. 85.SE.237. The J. Paul Getty Museum ©J. Paul Getty Trust
This type of jewel was worn as a pendant, suspended from a chain around the neck or pinned to the sleeve of a garment. Depicting Hercules raising the pillars at Cadiz, this pendant was presumably made for a man, with the wearer reflecting the symbolic qualities of physical strength and courage of its subject. According to different accounts, Hercules either raised two mountains as monuments to his progress or split one mountain in two, forming the Straits of Gibraltar to discourage sea monsters from entering the Mediterranean.

Rarely portrayed, this subject was a favorite of the French king François I. The style of this pendant is especially close to that of artists working for François at his palace ofFontainebleau, particularly Benvenuto Cellini, the most prominent goldsmith there. Its unusual subject, sumptuous material, and exquisite workmanship support the idea that that this jewel was a royal commission.