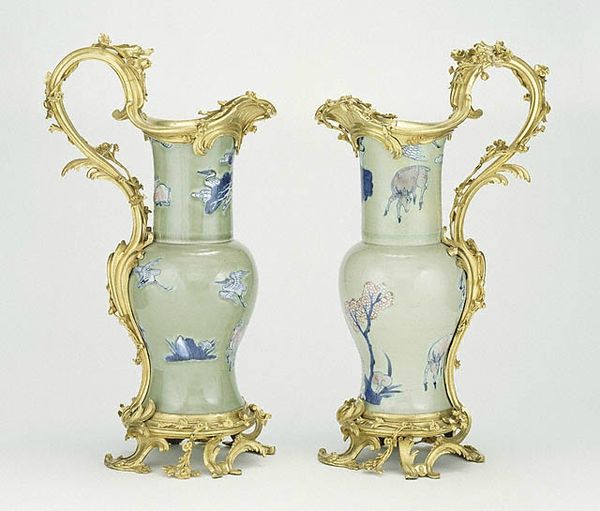 Pair of Ewers. Unknown . Porcelain: Chinese, 1736-1795; Mounts: French, Paris, 1745-1749. Hard-paste porcelain, underglaze blue and copper red; gilt bronze mounts. 78.DI.9. The J. Paul Getty Museum ©J. Paul Getty Trust
Voltaire, one of France's most popular playwrights and philosophers in the 1700s, summarized the feelings of his country when he wrote that Europeans could do nothing but "admire, blush and, above all, imitate" the works of the Chinese civilization. The French fascination with Chinese objects can be seen in these vases, whose mounts made them into ewers that were intended to be admired but never used.

To learn more about the market for mounted porcelain, scholars rely on the sales ledgers kept by Lazare Duvaux, an important Parisian marchand-mercier, between 1748 and 1758. From this book they learn who collected mounted porcelain (practically all his wealthy clients) and how much it cost. Duvaux would have purchased the porcelain unmounted and then commissioned French craftsmen to produce the elaborate gilt bronze mounts.