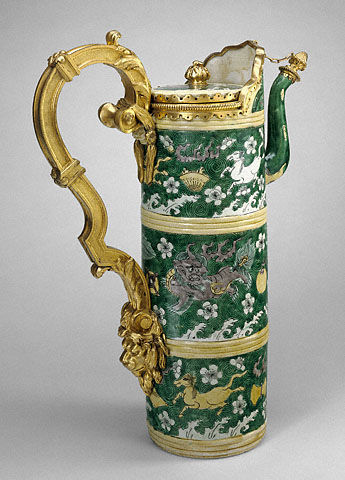 Ewer. Unknown. Chinese porcelain 1662 - 1722, French mounts 1700 - 1710. Hard-paste porcelain, polychrome enamel decoration; gilt bronze mounts. H: 1 ft. 6 in. x W: 1 ft. 1 7/8 in. x D: 5 3/8 in. 82.DI.3. The J. Paul Getty Museum ©J. Paul Getty Trust
One of the earliest known examples of the French fashion for mounting Chineseporcelain, this ewer arrived in Europe around 1700. Although conceived as a functional vessel for beer or milk tea in China, the ewer's European owner would have considered it purely decorative. The work's elaborate gilt bronze handle and other mounts, fitted by an unknown French craftsman, were thought to enhance and emphasize the exotic character of the brightly colored porcelain.

The practice of mounting Chinese porcelain in Europe goes back at least to the Middle Ages. These mounts were a tribute not only to the beauty of the material but also to its extreme rarity. By the mid-1600s, when larger quantities of Chinese porcelain began to arrive in Europe, they continued to be mounted in precious or semi-precious metals to emphasize their unusual colors and design.