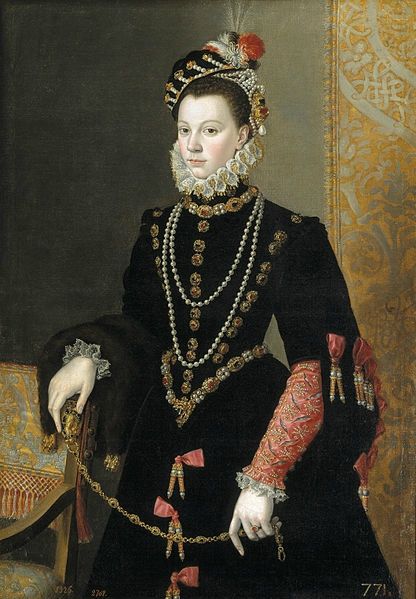 Juan Pantoja de la Cruz (1553-1608), Queen Elizabeth of Valois, third wife of Philip II, 1605, oil on canvas, 120.1 × 84 cm (47.3 × 33.1 in). Prado Museum
Isabel de Valois was the daughter of King Henri II of France and Catharine of Medici. Born in 1546, she married Felipe II in 1559, helping to consolidate the peace process between Spain and France. She was probably the Spanish Monarch's closest wife and she played a political role during her reign. She was the mother of the infantas Isabel Clara Eugenia and Catalina Micaela, whose weddings were planned to strengthen the Spanish presence in Flanders and Savoy.
The Queen wears an austere black velvet dress in keeping with Spanish fashion at that time, but she is adorned with sumptuous jewels. Her right arm rests on a court armchair and in her hands she holds a zibellini with an elegant gold chain ending in a gold pendent in the form around an animal head, set with precious stones. The movement of this jewel, along with the use of red in the ribbons and sleeves, gives this portrait a certain variation and dynamism which Pantoja uses to distance his style from the stasis and rigidity that predominated in earlier Spanish portraiture. Still, he follows the guidelines set out during Felipe II's time, using the model's cold and impassive expression to emphasize the solemnity of the royal image.

Some specialists consider this work to be a copy of an original by the painter Sofonisba Anguisola, a protégée of the Queen. It was painted for the Royal Collection and entered the Prado Museum from there.