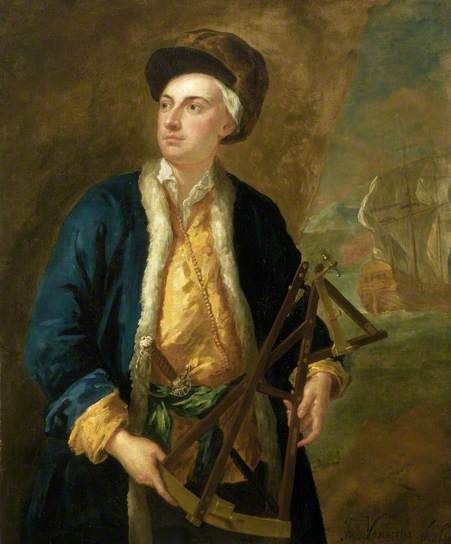 John Vanderbank the Younger ( London 9 September 1694 – 23 December 1739), A Merchant Captain with Elton's Quadrant, 1730s. Oil on canvas, 127 x 101.6 cm. BHC3128. National Maritime Museum. photo credit: National Maritime Museum, Greenwich, UK
A three-quarter-length portrait facing to left in a blue coat edged with white fur. The sitter also wears a yellow waistcoat with buttons at an angle across the front. He has a hanger (short hunting sword) thrust into a green sash and on his head he wears a peaked fur hat. He holds an Elton quadrant and stands against a background of rocks. The prominence given to the experimental quadrant may indicate that the sitter is Elton himself or someone closely associated with him, possibly Captain Walter Hoxton. He was captain of the ship 'Baltimore' and tested Elton's quadrant on a voyage from the Thames to Maryland and back in 1730. There is a merchant ship on the right.
The artist was an English painter and illustrator of Dutch origin, and son of John Vanderbank the elder, a tapestry-weaver in Soho, London, who died in 1717. He was a successful portrait painter who had studied at Sir Godfrey Kneller's academy from its foundation in 1711. With Louis Cheron, he also founded an art academy in St Martin's Lane in 1720, where great emphasis was placed on life-drawing. In the 1720s the academy attracted sitters and Vanderbank's included Isaac Newton (1725) as well as royal commissions. He is also thought to have influenced William Hogarth and was a book illustrator. The painting is signed 'Jn° Vanderbanck fec' bottom right.