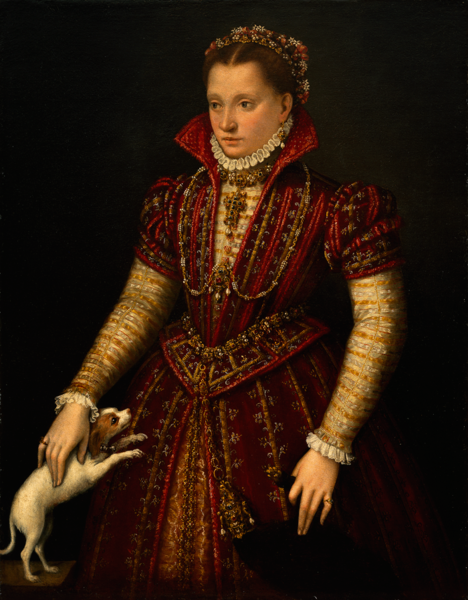 Lavinia Fontana (Bologna 1552–1614 Rome), Portrait of a Noblewoman, ca. 1580; Oil on canvas, 45 1/4 x 35 1/4 in. Gift of Wallace and Wilhelmina Holladay. National Museum of Women in the Arts © 2012 National Museum of Women in the Arts.
Portrait of a Noblewoman illustrates Lavinia Fontana's ability to render sumptuous clothing and jewels in astonishing detail. The contrast between the woman and the painting's plain, dark background is especially strong, ensuring that viewers will focus on the figure.
Recent scholarship has established that this painting of an unidentified, young Bolognese noblewoman is almost certainly her marriage portrait. Studies of account books and family diaries from this period show that the clothes and gems depicted here correspond precisely to the items typical of a high-born bride's trousseau. Additionally, 16th-century Bolognese brides wore red dresses, and the dog represents marital fidelity.
Suspended from the woman's belt is a curious item mentioned in numerous family records of that time. It is the pelt of a marten—a slender, minklike creature—whose head and paws are elaborately decorated with jewels. This adornment serves as an additional symbol of the bride's wealth.
Lavinia Fontana.
Renaissance painter Lavinia Fontana was commissioned to make not only portraits, the typical subject matter for women painters, but also religious and mythological themes, which sometimes included female nudes.
She made great strides in the field of portraiture, which garnered her fame within and beyond Italy. In fact, Fontana is regarded as the first woman artist, working within the same sphere as her male counterparts, outside a court or convent.

At age 25, Fontana married a fellow painter from a noble family, who acted as his wife's assistant and managed their growing household (the couple had 11 children, only three of whom outlived their mother). For 20 years beginning in the 1580s, Fontana was the portraitist of choice among Bolognese noblewomen. She also painted likenesses of important individuals connected with the University of Bologna.
Fontana's fame spread to Rome, where she moved in 1604. There she became a portraitist at the court of Pope Paul V and was the recipient of numerous honors, including a bronze portrait medallion cast in 1611 by sculptor and architect Felice Antonio Casoni.
(source: http://www.nmwa.org)