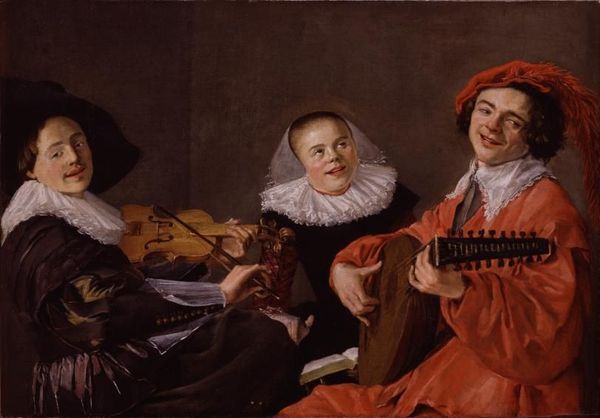 Judith Leyster (Haarlem 1609–1660 Heestede), The Concert, ca. 1633; Oil on canvas, 24 x 34 1/4 in. Gift of Wallace and Wilhelmina Holladay. National Museum of Women in the Arts © 2012 National Museum of Women in the Arts.
Along with tavern scenes and intimate domestic genre pieces, Judith Leyster frequently painted musical performance scenes. In The Concert, Leyster accurately depicts elements such as the Baroque violin (made without a chin rest and usually supported against the chest), as well as the woman's songbook.

The figures shown here are likely portraits. Based on similar individuals in Leyster's other pictures, scholars have tentatively identified the singer as the artist herself, the violinist as her husband, and the lute player as a family friend. The members of the trio, like all musicians, must work together as a unit, "in concert," which has led some writers to theorize that this scene symbolizes the virtue of harmony.

Leyster frequently placed her subjects against a plain, monochromatic background. Thus, nothing distracted from the figures, who are all shown in the midst of various actions (bowing or plucking strings and beating time). The deep angle at which the lute is held adds depth to the composition. The varied directions of the musicians' gazes offer the viewer different focal points.

Judith Leyster.
Judith Leyster, an independent artist with her own workshop and pupils, had a talent for painting lively scenes of people enjoying themselves in taverns or playing music.

Leyster produced most of her paintings between approximately 1629 and 1635; her artistic output decreased dramatically after her marriage in 1636. In addition to raising her children, Leyster may have managed the family's business and properties; she probably also assisted with her husband's art. By 1649, the family returned from Amsterdam to Haarlem, where Leyster spent the remainder of her life.

Her work was clearly influenced by genre paintings created by noted Haarlem artist Frans Hals, which led to attribution errors. Although well known during her lifetime, Leyster and her work were largely forgotten after her death until 1893, when a painting acquired by the Louvre was found to have Leyster's distinctive monogram (her initials entwined with a five-pointed star) hidden under a false signature reading "Frans Hals." This discovery led to renewed research and appreciation of Leyster's oeuvre, which had previously been confused with that of Hals.

(source: http://www.nmwa.org)