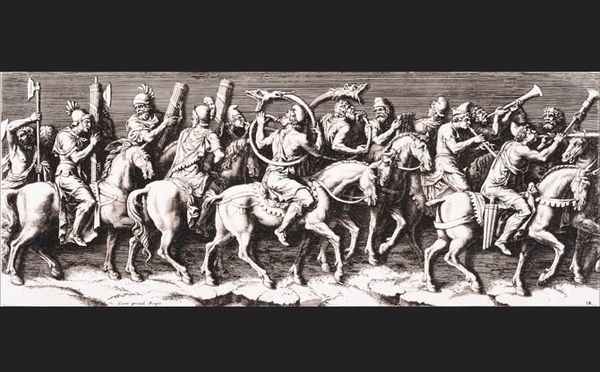 Antoinette Bouzonnet Stella (Lyon 1641–1676 Paris), The Entrance of the Emperor Sigismond into Mantua, 1675; Engraving on paper, 6 1/2 x 15 3/4 in.. Gift of Chris Petteys. National Museum of Women in the Arts © 2012 National Museum of Womenin the Arts.
Antoinette Bouzonnet Stella mastered the art of printmaking with tutelage from her uncle, painter and printmaker Jacques Stella. Invited to live in his prestigious lodgings in the Louvre, she produced copies of paintings by her uncle and 17th-century master Nicolas Poussin. She later received important commissions from French officials.

In 1675, Stella executed The Entrance of the Emperor Sigismond into Mantua for Louis XIV's minister of finance. The commission was part of a large-scale effort by the French government to emulate the appearance of Classical Greek and Roman sculpture in French national art.

The engravings reproduced a 16th-century stucco frieze in the Palazzo del Te in Mantua, Italy, by Renaissance artists Giulio Romano and Francesco Primaticcio. Stella's prints thus employ the grand pictorial language of ancient Rome to depict the visit of Holy Roman Emperor Sigismond to Mantua in 1433.

Exquisitely executed, the engravings by Stella illustrate the power of a narrative borrowed from antiquity, employed in 16th-century Italy, and sought after by the 17th-century French court.

Antoinette Bouzonnet Stella.
After her prominent artistic family facilitated her training in her youth, printmaker Antoinette Bouzonnet Stella created detailed and intricate engravings that depicted scenes from antiquity, the Bible, or paintings and sculptures by prominent artists.

Stella was the youngest daughter of a successful French goldsmith. Despite the restrictions placed on women in art academies at the time, her family's prominent social status allowed her and her sisters, Françoise and Claudine, to receive private training.

Her uncle Jaques Stella, a painter and close friend of Nicolas Poussin, assisted his nieces and nephew in their artwork, inviting them to live in his prestigious lodgings at the Louvre. As the youngest of the children, Antoinette was additionally trained by her older siblings. The family frequently collaborated in painting, engraving, and publishing prints.

Remembered for her masterfully executed aquatints and engravings, Stella suffered a tragic fall and died in Paris at the age of 35. One of Stella's most notable works, The Entrance of the Emperor Sigismond into Mantua, 1675, consists of 33 relief-style engravings on paper depicting crowds of men, women, children, and horses traveling alongside the emperor.

(source: http://www.nmwa.org)