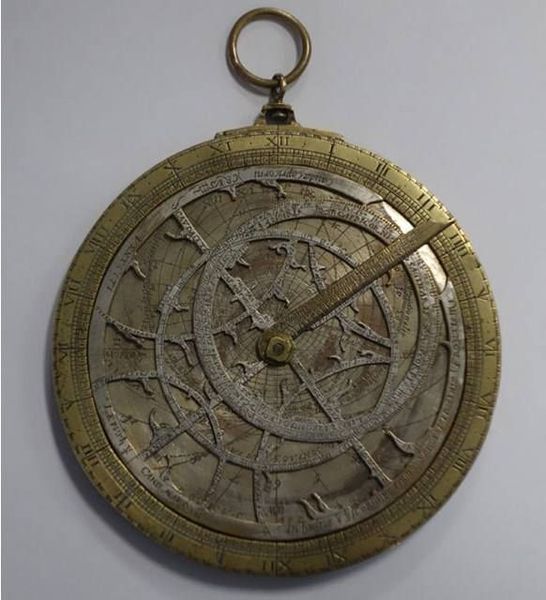 A rare 16th-century scientific artifact, an astrolabe, on display, in London, Great Britain prior its return to a Swedish museum Skokloster Castle, where it had been missing for over a decade. The brass-and-silver astrolabe, made in 1590 and worth around half a million euros ($750,000), turned up when an Italian collector discovered that the piece was listed as missing and came forward to return it, Register Director Chris Marinello said. AFP PHOTO / ART LOSS REGISTER.
STOCKHOLM (AFP).- A 16th century astrolabe, a kind of early "astronomical computer", was returned to a Swedish castle museum on Wednesday, 14 years after it was stolen, the castle's curator said.
"It was returned today and is back in the exhibit already," Bengt Kylsberg at Skokloster Castle near Stockholm said.
The astrolabe was made in Germany in 1590 in copper and silver and signed by Martinus Weiler.
Used to tell time and map celestial objects, it is valued at over $400,000 (almost 300,000 euros).
Kylsberg said the object was "in good shape" and there was "no trace indicating where it might have been" during its absence.
Stolen in 1999, it was recovered a few months ago when an Italian collector tried to sell it and asked his lawyer to consult the online Art Loss Register (ALR) of stolen art obects.
"Once we confirmed it was the same piece as reported to the FBI and Interpol, I negotiated with this lawyer for the return of the astrolabe," Christopher Marinello, a lawyer specialised in recovering stolen artwork for the ALR, said.
"No money changed hands," he said, providing no details on how the Italian collector ended up with the piece.
In January, Marinello helped return a Matisse painting to Stockholm's Museum of Modern Art 25 years after it was stolen. © 1994-2013 Agence France-Presse