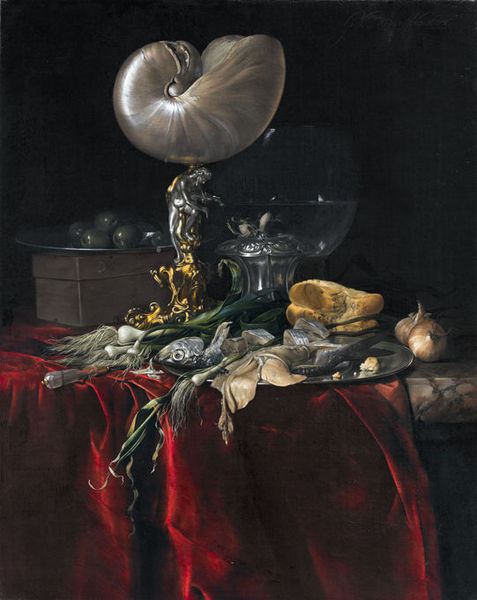 Willem van Aelst, Still Life with Fish, Bread, and a Nautilus Cup. Oil on canvas, 67 x 54 cm. Signed and dated upper right: Guillmo van Aelst 1678. Lot 1072 / Result € 292 800. Photo courtesy Lempertz
Provenance: The Sidney Coates collection. - Christie´s London 26.11.1976, Lot 96. - Richard Green, London. - Otto Naumann, New York 1999. - Private collection, Germany

Exhibitions: Elegance and Refinement. The Still-Life Paintings of Willem van Aelst. The Museum of Fine Arts, Houston / National Gallery of Art, Washington, 2012.

The Delft painter Willem van Aelst devoted himself almost exclusively to the genre of still life. Against a grey or dark background he depicted rare flowers, fruit, game and expensive tableware, often presented on marble slabs and velvet. Characteristic of his paintings is the cool, silvery palette and striking light.

An invention of Willem van Aelst's is the integration of fish into the type of magnificent still lifes. The fish still life itself has its roots in the early kitchen still lifes of Pieter Aertsen and Joachim Beuckelaer, and forms a distinct genre in the early 17th century. According to the hierarchy of genres it was considered lower than fruit or flower still lifes for example. For the first time Willem van Aelst combined the shimmering and silvery fish with exquisite and valuable works of art. The present painting is an outstanding example of this. It demonstrates all the characteristic elements of the artist's mature style. A grey veined marble slap is draped with dark red velvet creating a clever play of light. The rustic elements of the still life such as the fish, onions and leeks are combined with fine silver and glass vessels and in particular, an outstanding nautilus Cup. http://www.lempertz.eu