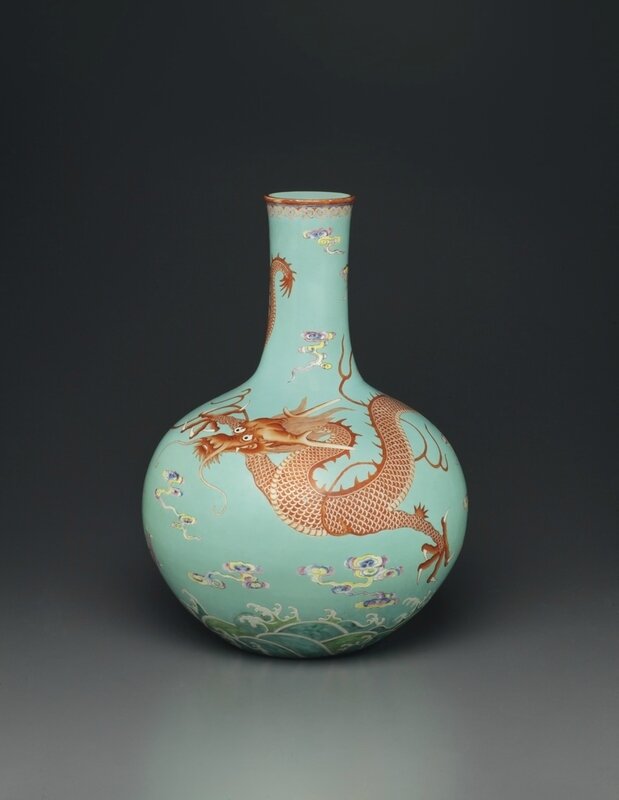 Lot 1391 - A Very Rare Large Famille Rose Turquoise-Ground Bottle Vase, Tianqiuping, Qianlong Seal Mark in Iron Red and of the Period (1736-1795), 20 in. (51 cm.) high. Estimate: $600,000-800,000. Photo: Christie's Images Ltd 2013.
New York – Christie's is pleased to announce three sales during September's Asian Art Week devoted to ceramics and works of art from China. Important Chinese Archaic Bronzes from a Distinguished Private Collection will be held the morning of Thursday, September 19, followed by A Collecting Legacy: Fine Chinese Jade Carvings and Works of Art from The Lizzadro Collection Part II at 11am. The afternoon will begin with the first session of Fine Chinese Ceramics and Works of Art, which will continue the following day
On September 19, Christie's will host the sale of Important Chinese Archaic Bronzes from a Distinguished Private Collection. The sale will feature 16 exceptional archaic bronze ritual vessels and fittings dating from the Shang to Han dynasties, 13th century BC – 2nd century AD. This private collection boasts outstanding provenance and many of these bronze vessels have been extensively published and exhibited. This sale offers the opportunity for collectors to acquire remarkable examples of classic bronze forms, as well as rare and unusual bronze shapes. The sale of these archaic bronzes is expected to realize in excess of $4 million.
Leading the sale is an important and very rare bronze fangyi, or ritual wine vessel and cover, from the late Shang dynasty, 11th century BC, with publication history dating back to 1842 (pictured left; estimate on request). Originally used to store wine, the fangyi was a rare and elite vessel form and are highly coveted by collectors. Fangyi are usually cast with a fine scrollwork ground pattern called leiwen. This fangyi, however, is cast against and embellished ground, which emphasizes the crisp and bold casting and makes this example even rarer.
Lot 1105 - An Important and Very Rare Archaic Bronze Ritual Wine Vessel and Cover, Fangyi. Late Shang Dynasty, 11th Century BC; 8 5/8 in. (22 cm.) high Estimate on Request. Photo: Christie's Images Ltd 2013.
Following the success of A Collecting Legacy: Fine Chinese Jade Carvings and Works of Art from the Lizzadro Collection in March 2013, Christie's is pleased to offer Part II with over 150 additional works from this renowned collection on September 19 at 11am. The sale will include a selection of exquisite jade carvings, including fine jade plaques, superb jade and hardstone snuff bottles, as well as outstanding carvings in other materials, such as coral, tourmaline, and amber.
An Italian by birth, Joseph Lizzadro (1898–1972) immigrated with his father to the United States in the early 1900s. Following his move to Illinois, Lizzadro worked his way up from a laborer at the Meade Electric Company, and eventually was appointed Chairman of the Board. In 1939, Mr. Lizzadro began his lifelong passion and fascination with Chinese jade and hardstone carvings. Over the years, his collection grew and he expressed interest in sharing "with others our enjoyment of the eternal beauty in gem stones and our appreciation of the art with which man has complemented the work of nature."
Lizzadro's dream was realized on November 4, 1962, when the Lizzadro Museum of Lapidary Art opened its doors to the public in Elmhurst's Wilder Park just outside of Chicago. The collection continues to grow under the discerning eye of his son, John Lizzadro, Sr., who shares his father's passion for Chinese carving. The museum now houses several hundred jade and other hardstone carvings, including pieces of international importance.
Thursday & Friday, 19 & 20 September 2013. Christie's sale of Fine Chinese Ceramics and Works of Art will be held in three sessions over the course of two days. Featuring over 500 lots that span hundreds of centuries, the sale is expected to realize in excess of $14 million.
A Magnificent And Very Rare Pair Of Massive Huanghuali Compound Cabinets And Hatchests, Sijiangui, 17th Century, 110 ½ in. (280.6 cm.) high, 49 in. (124.4 cm.) wide, 24 ½ in. (63 cm.) deep. Estimate: $1,200,000-1,800,000. Photo: Christie's Images Ltd 2013.
Highlighting the sale is a very rare and massive pair of compound cabinets and hatchests from the 17th century that are constructed from luxurious huanghuali wood (estimate: $1,200,000-1,800,000). The imposing size and monumental proportions, along with the broad flat surfaces of the cabinets effectively show off the natural beauty of the densely grained, honey-toned wood. The choice of precious huanghuali wood for this magnificent pair suggests the wealth and status of the owner, who could not only afford the most luxurious materials, but also the talents of a highly skilled master cabinetmaker.
A magnificent Qianlong mark and period (1736-1795) famille rose vase, formerly in the George H. Taber (1859-1940) Collection, features a large five-clawed, scaly, iron-red dragon with a long tail and a smaller pink dragon on a vibrant turquoise-ground. It has been suggested that this design represents the Qianlong Emperor, in the form of a red dragon, passing on knowledge and authority to his son, the future Jiaqing Emperor, in the form of the small pink dragon. The vase is remarkable for the boldness with which the dragon is depicted; the uncluttered scattering of the clouds and the rounded contours of the vase provide the dragons with a vivid sense of movement.
The sale will also feature a selection of outstanding jade carvings from the Collection of Dr. Leonard and Mrs. Ann Marsak. The Marsaks collected through the 1980s and early 90s, focusing on works of the highest quality and rarity, and purchasing only the best example of their type.
Among the jade highlights is a superbly carved spinach-green jade brush pot (bitong) from the Qianlong period (1736-1795) (estimate: $300,000-500,000). The sides are deeply carved with scenes from the Elegant Gathering in the West Garden, depicting eminent scholars celebrating Su Shi's return from exile in a continuous dramatic mountain landscape. Also included is a finely carved white lotus leaf-form brush washer from the 17th/18th century (estimate: $300,000-500,000), that features two birds and a spider on the rim, ingeniously carved from the natural dark grey markings.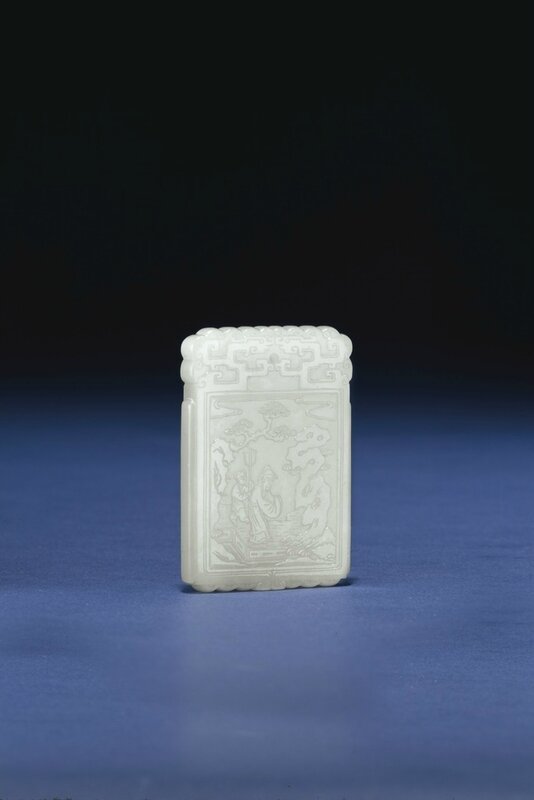 Lot 1162 - A White Jade Shaped Rectangular Pendant Plaque, 18th century, 2 7/16 in. (6.2 cm.) high Estimate: $30,000-50,000. Photo: Christie's Images Ltd 2013.