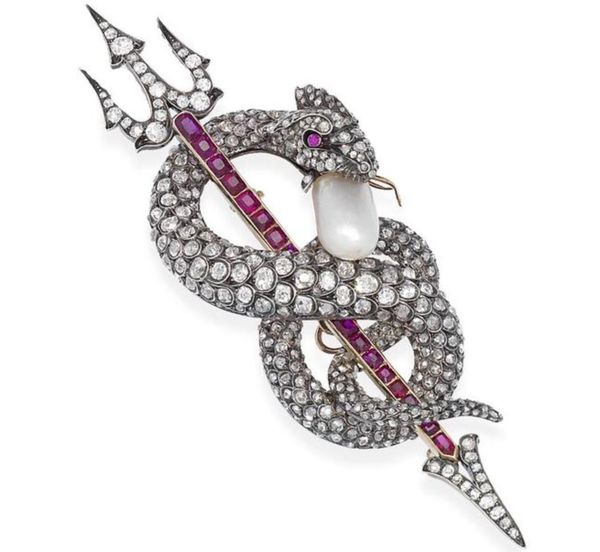 Lot 7 – A natural pearl, diamond and ruby serpent brooch, circa 1880. Photo Bonhams
The writhing old brilliant and rose-cut diamond sea monster with rose-cut diamond raised crest and circular-cut ruby eyes, holding a large natural pearl in its jaws, coiled around a cushion-shaped ruby and old brilliant and rose-cut diamond trident, mounted in silver and gold, circular-cut diamonds approximately 2.30 carats total, Portuguese assay marks, detachable brooch fitting, length 11.0cm. Estimate: $23,000 – $28,000

Notes: Accompanied by a report from The Gem & Pearl Laboratory stating that the pearl is natural, saltwater. Report number 07731, dated 10 May 2013.
This brooch is similar in both design and scale to one made by Oscar Massin in 1878 (see black and white illustration). Vever credited Massin with not only tremendous technical innovation but also an incredible lightness of touch when it came to setting stones. From 1878, Massin created jewels in the form of realistic tea roses, lace motifs, sprays and serpents and he would often join his team of highly skilled craftsmen at the jeweller's bench. Massin's designs, which were mostly exhibited anonymously, had a wide following both in France and abroad and the Shah of Persia was a collector. Perhaps this brooch is one of Massin's anonymous creations.
See Vever, Henri, translated by Purcell, Katherine, "French Jewellery of the 19th Century", Thames and Hudson, 2001, pp 964, 972-983 for further information about Massin.
Bonhams. Fine Jewellery. London, New Bond Street. 18 Sep 2013 - www.bonhams.com