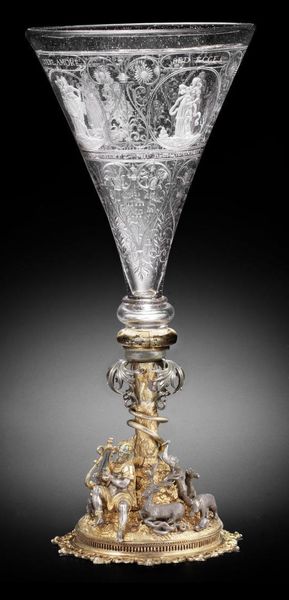 A Nuremberg engraved goblet, signed by Georg Schwanhardt the Elder, circa 1630, on a silver-gilt mount by Friedrich Hillenbrandt, Nuremberg, circa 1590. Photo Bonhams
In two sections, the conical bowl decorated with four circular line panels depicting a lady pouring wine, a gentleman offering wine to his lady, dancing before his lady and the couple embracing, between German and Latin inscriptions, enclosed by flowers, strapwork and insects, set on a triple annulated knop over a silver-gilt mount above foliage on a circular base fitted with Orpheus surrounded by animals and reptiles, fitted underneath with a detachable finely engraved lining depicting manly pursuits below inscriptions, with letters under the lining indicating the position of each applied figure or animal, OR Orpheus, H Hirsch etc., 29.5cm high overall, stem and foot lacking, later mounted (2). Sold for £133,250 (€156,039) inc. premium

Provenance: Sold at Sotheby's, Geneva, 18 May 1992, lot 84
Exhibited: The British Museum, London, 1992-2012, on long-term loan
Notes: The inscriptions on the bowl read:
Frotem Exporge utere amore sed ecce core recrea

Mit bscheidenheit erfrisch dein hertz lustig in freud auch freud auch freundlich schertz

On the mount: Requies his parta labore meritos suo inde triumphat Ali certamina rursos diem pugna verimus omnes

Die habn ihrn ehrn ein gnugen than drum tragens ehr und ruhm
Davon drauf hebens andre wider an biss mir endlich all kommen Dran

Towards the end of the 17th century the art of glass engraving was developed in response to the high cost of rock crystal. The Nuremberg engraver Georg Schwanhardt the Elder (1601-1667) ran the most important workshop of the second generation of glass engravers. He was the only recorded pupil of Caspar Lehmann, who is linked to the founding of the art (see the footnote to lot 71).

The many documented pieces by the Nuremberg goldsmith Friedrich Hillebrandt (master 1580, died 1608) are listed by Rosenberg and include examples in the Grünes Gewölbe, Dresden; The Germanisches Nationalmuseum, Nürnberg; the Hermitage, Leningrad; and the Hapsburg collections in the Kunsthistorisches Museum, Vienna.

See also Erich Meyer-Heisig, Der Nürnberger Glasschnitt des 17. Jahrhunderts (1963), p.32 and WT12.
Bonhams. 2 May 2013 10:30 BST London, New Bond Street. The Muhleib Collection of European Glass