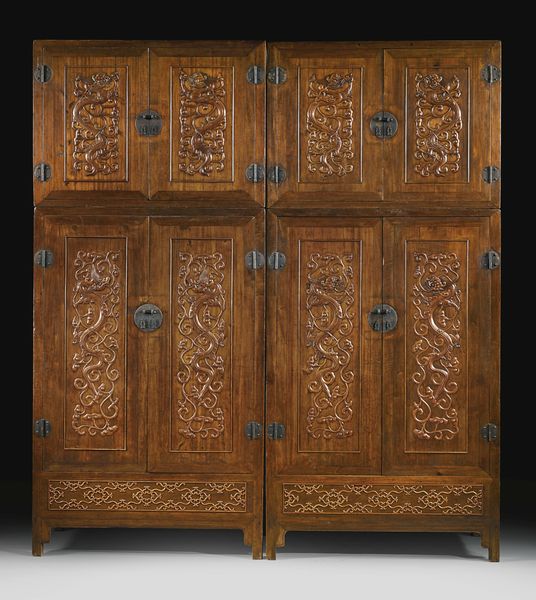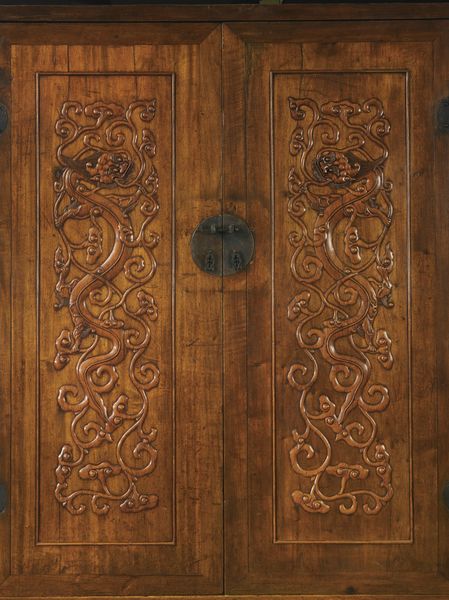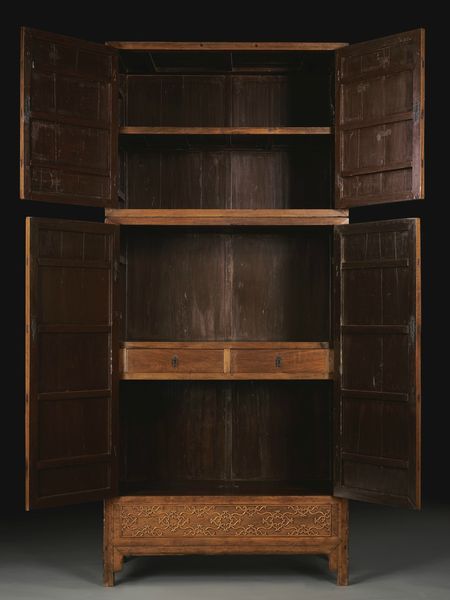 A pair of huanghuali and boxwood inlaid nanmu compound cabinets (sijiangui), Ming dynasty, 17th century. Photo courtesy Sotheby's
of massive rectangular form, in two sections, the upper chest with two square panel doors, the large cabinet with a pair of rectangular panel doors, each inlaid with a sinuous chilong issuing lingzhi within a raised frame ofhuanghuali wood, the horizontal panel above the plain apron inlaid with a frieze of boxwood latticework of linked ruyi-heads, the interior with a shelf and a pair of short drawers, the upper section with a single shelf (4). Height 109 in, 277 cm; Width 49 in., 124.5 cm; Depth 24 1/2 in., 62 cm. Estimate 250,000 — 350,000 USD
Provenance: Manfred Schoeni, Hong Kong.
Note: Created in pairs, these massive cabinets with 'hat chests' were designed to convey monumentality and strength. Displayed either adjoining, creating one large mass or separately, their scale alters any sense of proportion rendering other forms quite diminutive.

The present pair is distinguished by the presence of the well-carved and inlaid chilongamong lingzhi that dominate the surface. Carved inlay is not often found on Chinese furniture but examples which share the characteristics of this lot are known inhuanghuali and in other woods. A cabinet of smaller dimensions of jichimu inlaidnanmu was sold in these rooms 29th November 1994, lot 473. Even more rare is the fact that the pair of cabinets remains en suite with a luohan chuang, lot 209.
Sotheby's. Fine Chinese Ceramics & Works of Art. New York | 17 Sep 2013 - http://www.sothebys.com