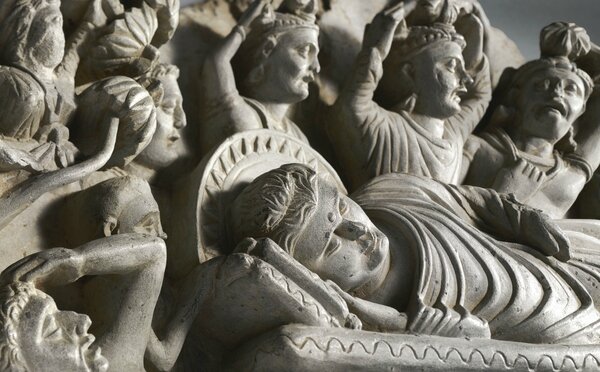 A grey schist relief depicting the Parinirvana of Buddha, 15 1/2 by 22 1/2 in. (39.4 by 57.2 cm), Ancient region of Gandhara, Kushan period, 2nd century. Photo: Sotheby's.
PROVENANCE: The George and Frida Thomas Collection, 1963

NOTE: The present relief depicts the Buddha's followers grieving at their Master's passing. The Buddha lies on his right side, his haloed head resting on his hand propped by a pillow, his feet resting one on top of the other. Subhadra, the Buddha's last convert, sits in front of the bed, in deep meditation. On the far left is Vajrapani, holding his head to his hand, overcome by grief. To the right, at the foot of the bed is Kashyapa, the elder monk and Buddha's faithful disciple reverently touching the Buddha's feet. Included in the scene are other mourners gesticulating in grief, their downcast faces expressing their bereavement. Yakshis look down at the scene from leafy bowers on either side as they cast petals upon the supine figure of the Buddha. The somber scene is imbued with pathos, a testament to the sculptor's exceptional abilities.
The Buddha's passing is related in detail in Buddhist chronicles, particularly the scripture Mahaparinirvana sutra. On his last journey the Buddha stopped at Kushinagara to rest amidst a grove of sala trees. They are said to have burst into bloom out of season. Here the Buddha lay down peacefully, bade a final farewell to his followers and entered nirvana. The extreme grief of the mourners–disheveling their hair, weeping copiously and lamenting with outstretched arms–is described in detail in the text, as is the calm and self-possessed comport of the Buddha's disciples who were mindful of his teachings. The artist of the present relief seems to have been well-versed with this textual reference as he has represented the scene faithfully.
The present sculpture bears several interesting characteristics. The dress, gestures, and facial features of each mourner are distinctive. The richly-garbed, turbaned figures represent the Malla notables of Kushinagara who, according to legend, rushed to the scene to pay their respects to the Buddha upon receiving the news of his passing. The two flowering sala trees, signifying the cardinal directions of North and South, are artfully represented in the relief. The deep carving and attention to detail exemplify the extraordinary craftsmanship of the Gandharan period.
See I. Kurita, Gandharan Art, Vol. I: The Buddha's Life Story, Tokyo, 2003, pl. 482, 483 and 486 for comparable works in the collections of the Victoria & Albert Museum, Freer Gallery of Art and British Museum. However none is as complete, materially or iconographically, as the present example.
Sotheby's. Footsteps of the Buddha: Masterworks from Across the Buddhist World. New York | 03 sept. 2013 - http://www.sothebys.com