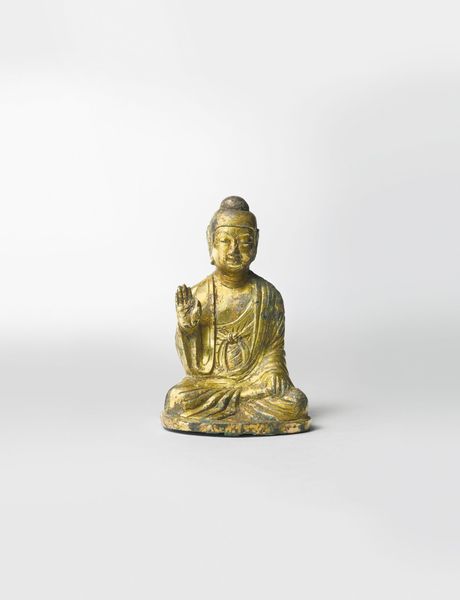 An important small gilt-bronze seated figure of Buddha, Korea, Unified Silla period, 8th century. Height: 4 in. (10 cm). Photo: Sotheby's.
PROVENANCE: Acquired in the 1980s from a San Francisco collection formed in the 1960s

NOTE: Buddhism traveled from China to the Korean peninsula during the 4th century. At that time the peninsula was divided into three kingdoms - Goguryeo in the north, Baekje in the southwest, and Silla in the southeast. It took over one hundred more years before Buddhism made its way down the peninsula and entered Silla. By the middle of the 6th century, Buddhism had become the official religion of the Silla Kingdom. In 668, Silla succeeded in unifying the entire peninsula, giving rise to a period of political stability that lasted for about one hundred years. During this period, Buddhist art flourished and many temples were built.
Seated Korean gilt-bronze Buddhas are rarer than their standing counterparts, and appear to be more closely influenced by contemporaneous Chinese Tang period sculpture, than to the elongated and slender Three Kingdoms period standingbodhisattvas and pensive Maitreya images which were so strongly influenced by the attenuated early Northern Wei dynasty of the late 5th century.
The present figure is seated in dhyanasana, with the right hand in abhayamudra, the gesture of dispelling fear. In the fuller proportions of the upper body and head, and in the sensitively layered drapery, the present figure appears closely related to a seated Amitabha image with original aureole and lotus base, excavated from Hwangbok-sa, 'Temple of Imperial Happiness,' Kuhwang-dong, Kyongju, which was dedicated before 706 AD by King Hyoso, and again by his son, King Songdok, see Y. Pak & R. Whitfield,Handbook of Korean Art. Buddhist Sculpture, Seoul, 2002, no. 38, pp. 204-217. It is also interesting to compare these smaller gilt-bronze votive images to their much larger counterparts executed in stone, such as the famous Sokkuram Buddha, seated in bhumisparsamudra and clearly influenced by the High Tang 'International Style' of 8th century China, illustrated ibid., no. 48, pp. 250-9.
Sotheby's. Footsteps of the Buddha: Masterworks from Across the Buddhist World. New York | 03 sept. 2013 - http://www.sothebys.com