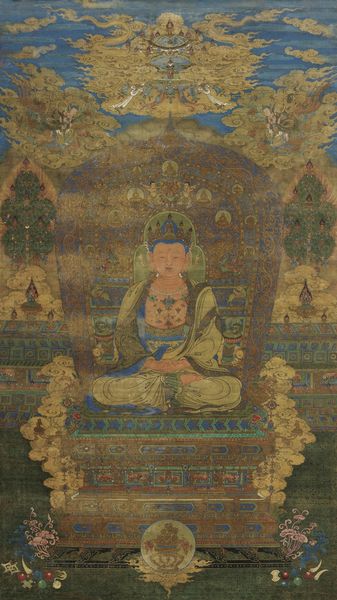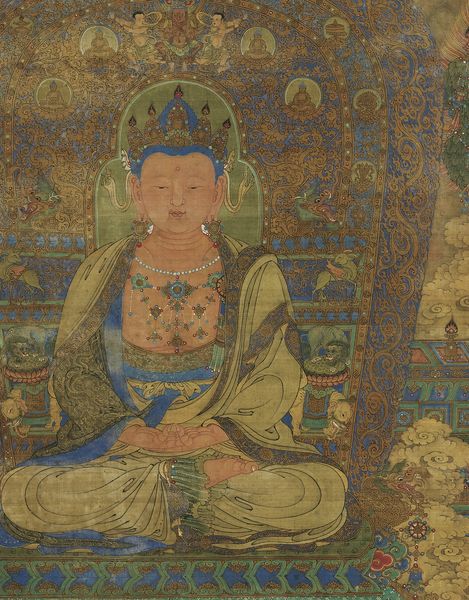 A very rare painting of a Buddha, China, Ming dynasty, 15th century. Photo: Sotheby's.
56 3/4 by 32 1/4 in. (144.1 by 81.9 cm)
PROVENANCE: Sotheby's Hong Kong, October 8, 2008, lot 2623
NOTE: This very fine and detailed painting depicts a Buddha with hands held together in his lap in dhyanamudra and seated in dhyanasana on a low waisted lotus petal base supported on an elaborate multi-tiered Sumeru throne.
The Buddha portrayed is likely to be Amitabha, who is usually depicted with his hands in dhyanamudra. In this elaborate painting, he wears long flowing robes and fine scarves with hems delicately detailed with gold-painted lotus scrolls, gathering gracefully around his shoulders and revealing bejewelled necklaces across his bare chest. He has a serene expression below the spiral-curled hair that covers his ushnisha fronted by a tall five-leafed jewelled tiara. Amitabha reigns over the pure land of Sukhavati, where devotees of Mahayana Pure Land Buddhism aspire to be reborn. This aspiration is the central tenet of Pure Land Buddhism.
The throne that supports the Buddha represents Mount Sumeru, the mountain at the center of the universe in Buddhist cosomology. Mount Sumeru is said to have a square base and an hour-glass shape. The mandorla that forms the back of the throne incorporates the Five Dhyani Buddhas. This arrangement, with a central figure and smaller figures suspended above, is evocative of Tibetan thangkas, which often depict Buddhas, bodhisattvas and lamas surrounded by their emanations. In this case, the Five Dhyani Buddhas each represent one of the five skandhas, cumulations or mental and physical aggregates, which make up the whole of existence, both cosmic and physical.
The Five Dhyani Buddhas are surrounded by the Eight Auspicious Symbols - the pair of fish, lotus, canopy, wheel, conch, parasol, vase and endless knot. These eight symbols harken back to an early Indian investiture offering made to kings during their enthronement, and pre-date Buddhism. In the Buddhist tradition, these symbols represent offerings made by the Vedic gods to Shakyamuni upon his enlightenment. In the midst of the Five Dhyani Buddhas is an image of Garuda. According to Hindu legend, Garuda emerged fully-grown after five hundred years enclosed in an egg. This full-grown emergence represents a second life, and in the context of Pure Land Buddhism, points to a rebirth in the Pure Land. The outer border of the mandorla is formed from scrolling flames.
The central figure is framed by jewel-decked wish-granting trees, precious offerings including a scholar's rock, an elaborate three-tiered bejeweled canopy, and a pair of apsaras riding phoenix. The meticulous way the painting is rendered is typical of Ming dynasty Buddhist paintings.
This type of arrangement, with a figure seated on a lotus base supported on a Sumeru throne and backed by an elaborate mandorla, can be found in many examples of early Ming dynasty Buddhist art. For a silk brocade Ming dynasty example depicting Padmapani from the 14th / 15th century see A & J Speelman, Chinese Works of Art 2008, Catalogue, London, 2008, p. 137, no. 68. A Yongle period gilt-bronze Buddha complete with its base and mandorla, which is stylistically similar to the present painting, is in the collection of the British Museum and illustrated in W. Zwalf (ed.),Buddhism Art and Faith, London, 1985, p. 210, no. 305 and frontispiece. Another Yongle period gilt-bronze Buddha from the Speelman Collection was sold in our Hong Kong rooms October 7, 2006, lot 808. A painting of the same Buddha, with similiar layout, dating to the Yuan dynasty is in the collection of the National Palace Museum in Taipei and formed part of their exhibition The Buddha Light Illuminating All: Treasured Buddhist Scriptures and Paintings from the Museum Collection, October 7, 2005 - January 26, 2006.
The lower part of the mandorla with a pair of elephants, lions and winged goat-like creatures flanking the Buddha also echo the iconography used in the door frame of the pagoda at the Baoan Temple built during the Yongle reign, a partial reconstruction is illustrated in J. C. Y. Watt and D. P. Leidy, Defining Yongle: Imperial Art in Early Fifteenth-Century China, New York, 2005 p.19, fig. 4.
In addition, a scientific analysis, reference number AAR000270.A, done by Art Access & Research (UK) Ltd., on the pigments used in the painting supports a 14th to 15th century date.
Sotheby's. Footsteps of the Buddha: Masterworks from Across the Buddhist World. New York | 03 sept. 2013 - http://www.sothebys.com