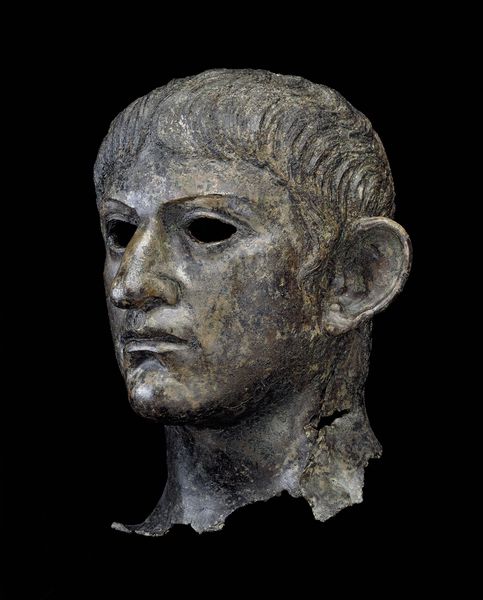 Head of the Emperor Claudius or Nero, AD 43–99, Romano-British. Unknown maker. Copper alloy, 31.5 x 24.5 x 25 cm. British Museum.
A life-size head from an equestrian statue of the emperor Claudius, fished out of the river Alde at Rendham, Suffolk in 1907 will be reunited with a fragment of a horse's leg, found some 60 kilometres away near Ashill in 1979, in the exhibition Masterpieces: Art and East Anglia at the Sainsbury Centre for Visual Arts in Norwich, on view from 14 September 2013 to 24 February 2014.
These two bronze pieces from the same statue have been separated for nearly 2,000 years and provide a direct link with the traumatic destruction of Colchester, Britain's first town, by the army of Queen Boudica, as the whole of East Anglia ignited into rebellion against the Romans in 60–61 AD. Following the outbreak of the Boudican rebellion, the Iceni and their allies marched south towards the Roman capital at Colchester. The town was razed to the ground in a frenzied and bloody massacre, and the statue of Claudius destroyed. Very few archaeological objects can be directly associated with a known historical event occurring as long as 2,000 years ago.
These are just two of the remarkable works of art to found in Masterpieces which brings together an extraordinarily diverse selection of the visual arts: from paintings, sculpture, architecture, ceramics, glass, and jewellery, to photography, graphic design, fashion and costume, product and textile design – from the prehistoric period to the present day.
The juxtapositions promise to be spectacular: a flint handaxe worked at least 700,000 years ago will sit alongside an ironstone pebble from the same Norfolk beach carved into a reclining figure by Henry Moore in 1930; striking pre-war posters and prints will hang in galleries with works by John Sell Cotman and John Constable; portraits by Thomas Gainsborough will be shown alongside haunting images of Edwardian fishermen by Olive Edis; sculptures by Barbara Hepworth and Elisabeth Frink will be interspersed with sculptural works from the Classical, Medieval and Renaissance periods; Ana Maria Pacheco's mythical party in a gigantic boat will be moored in the East Gallery whilst the iconic Lotus 72 sports car takes up pole position in the West End.
This landmark exhibition celebrates the rich and distinctive culture and artistic heritage of East Anglia and marks the unveiling of the newly-refurbished Sainsbury Centre galleries by Foster + Partners.
It is the most ambitious exhibition ever staged by the Centre and is organised in honour of the 50th anniversary of the University of East Anglia.