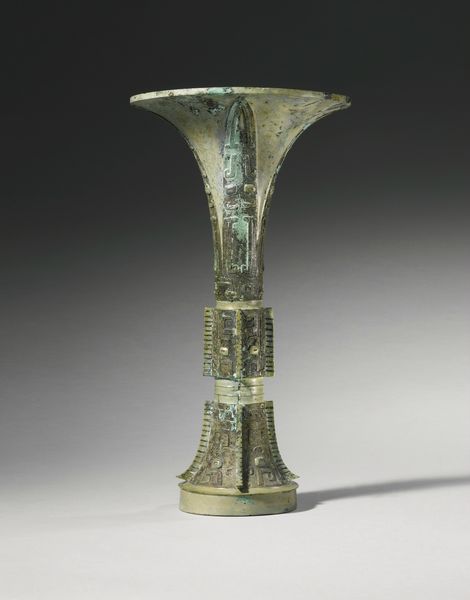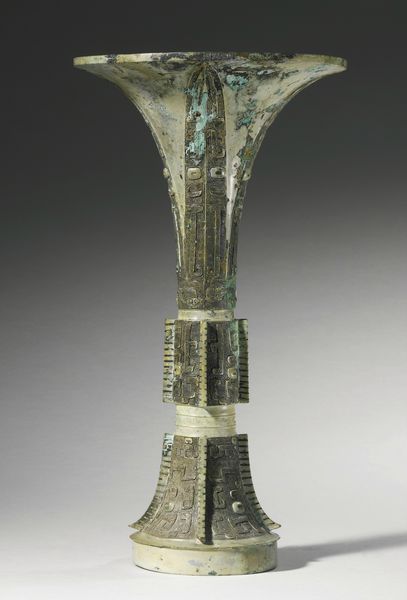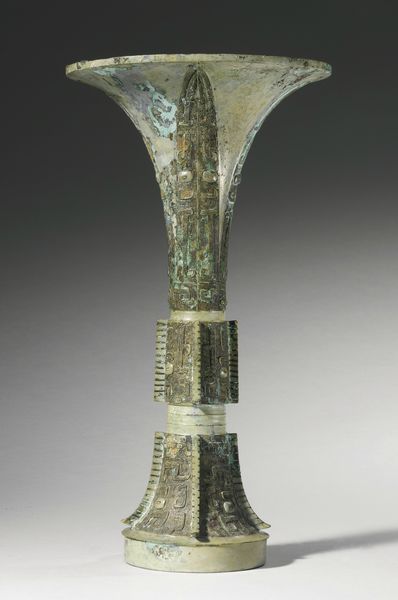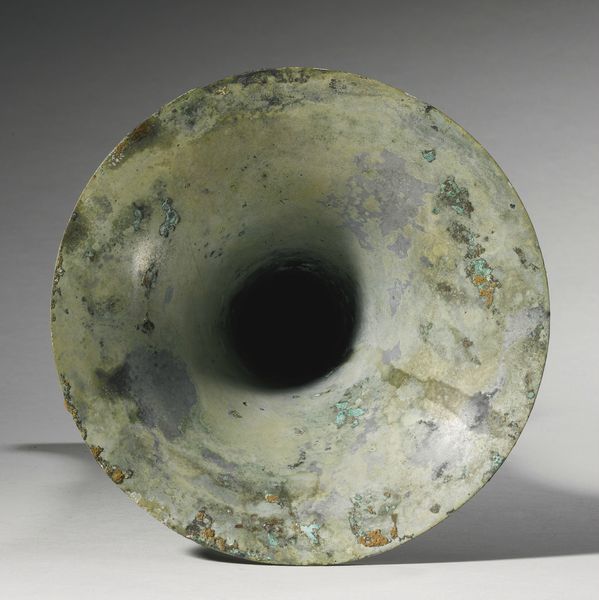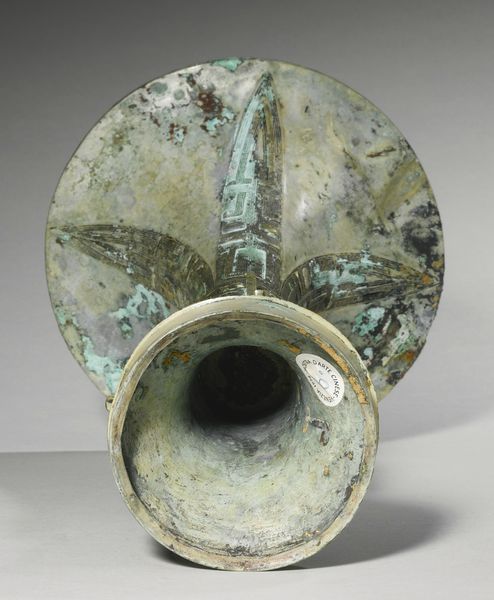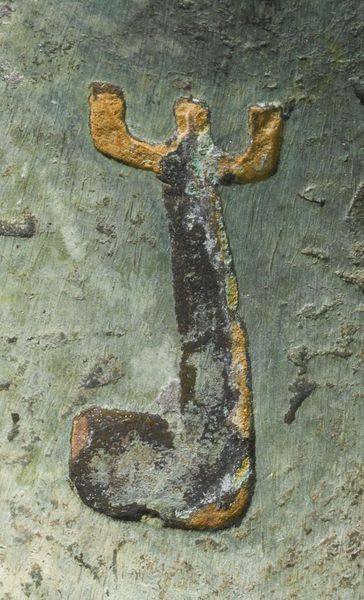 A bronze wine vessel (gu), late Shang dynasty, 12th-11th century BC. Photo: Sothebys.
the elegantly curved slender vessel resting on a tall foot-ring, crisply cast on the middle and lower sections with fine taotie masks with prominent eyes, ears, horns centered on notched flanges, detailed with intaglio, against a ground of intricate leiwen spiral, all below the tall trumpet neck decorated with shield blades filled withtaotie masks rising from a band of angular serpents, a single pictograph inside the foot, the patina of overall silvery green with encrustation. Height 12 1/8 in., 31 cm. Estimation 150,000 — 250,000 USD
Provenance: T.Y. King, Shanghai, 1948.
Collection of H.E. Alexandre J. Argyropoulos.
J.J. Lally & Co., New York.
Exposition: Mostra d'Arte Cinese, Palazzo Ducale, Venice, 1954, cat. no. 6.
Litterature: Jean-Pierre Dubosc, Mostra d'Arte Cinese, Venice, 1954, p. 20, no. 6.
Notes: The present gu is notable for its fine casting which creates an elegant silhouette and with its exquisite ornamentation, is typical of the final stage of the development in Anyang. This style is characterized by the high-raised motifs against the ground patterns. For the most refined examples such as the present piece, the main taotiemasks are further detailed by intaglios and the background is interspersed with leiwenspirals.
The single pictogram inside the foot depicts a curved rectangular axe head attached to a shaft and set on a tripod base; it may be translated as li dao, a clan name known from a number of other bronzes.
A closely related gu from the Sackler Collection in the Arthur M. Sackler Museum, Washington D.C., is discussed and illustrated in Robert W. Bagley, Shang Ritual Bronzes in the Arthur M. Sackler Collection, Washington, D.C., 1987, p. 255, no. 38; another similar gu vessel, unearthed in 2001 from Huayuanzhuang village, Anyang city, Henan province is illustrated in Yinxu xinchutu qingtongqi (Ritual bronzes recently excavated in Yinxu), Kunming, 2008, p. 152, no. 62.
The T.Y. King antique shop was founded by Jin Caibao in Shanghai in the early Republican period. With more than thirty years of continuing success, T.Y. King was one of the largest antique shops in Shanghai. The shop specialized in stone sculptures, archaic bronzes, sancai pottery wares and premier Song and Yuan wares. In 1949, the King family moved to Hong Kong and continued its antique business there.
Sotheby's. Magnificent Ritual Bronzes – Property from the Collection of Julius Eberhardt. New York | 17 sept. 2013 - http://www.sothebys.com