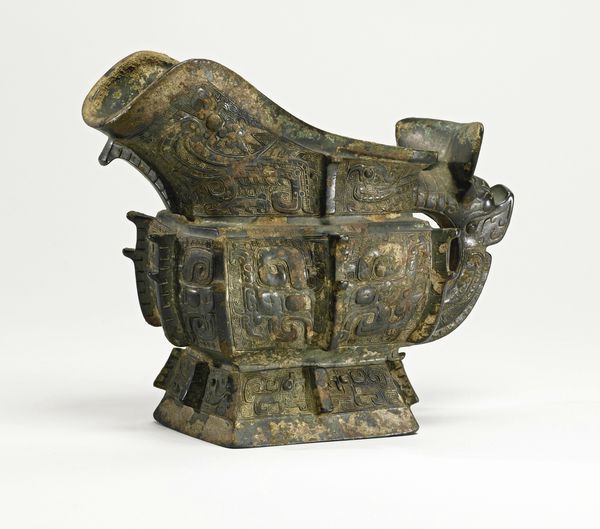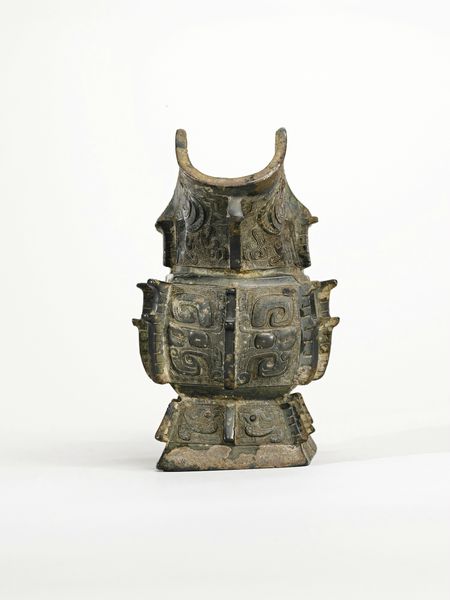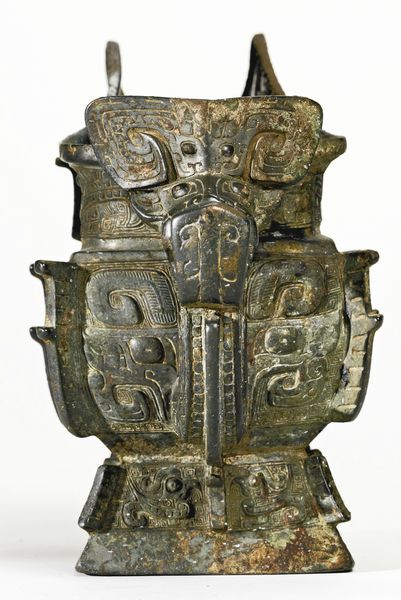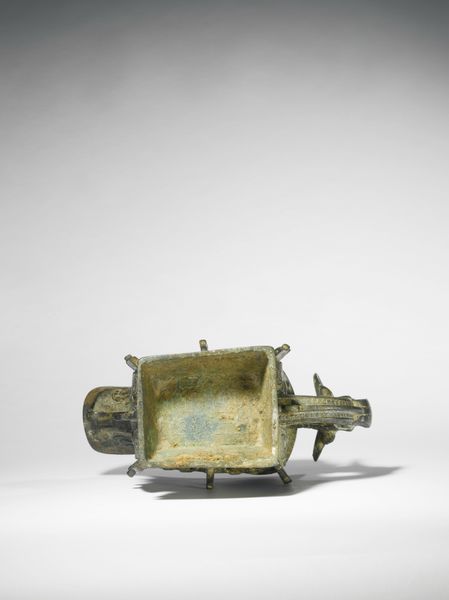 Lot 17. A bronze wine vessel (gong), Late Shang dynasty, 12th-11th century BC. Height 7 3/8 in., 18.7 cm. Estimation 300,000 — 500,000 USD. Lot sold 1,925,000 USD. Photo: Sothebys.
the oblong body set on a sloping, rectangular foot, well cast on each side with a taotie mask with raised eyes, out-curved jaws and hooked horns, the foot with two pairs of confronted kui dragons on the long sides and two pairs of confronted birds on the short sides, underneath an ascending spout, decorated by two bird-like creatures with rounded eyes, hooked beaks, three-pronged crests and elaborate tail plumes, followed by two smaller birds, all reserved on a dense leiwenground, the massive loop handle with a powerful animal head with widely open jaw biting a bird, surmounted by shield-like horns in the form of a pair of confronted dragons, all divided by heavy flanges, an inscription of one clan sign and two characters fu ding to the base of interior, the surface with a dark silvery-green patina.
PROPERTY FROM THE COLLECTION OF ALEX AND ELIZABETH LEWYT
Provenance: Acquired from Professor Alfred Salmony, 1953.
Notes: Bronze vessels of this rare form are known both with oval and rectangular cross sections. It is notable that in general, bronze vessels of rectangular cross sections are much rarer than those of oval or round cross sections. Therefore, the present rectagular gong vessel is among the rarest forms of Chinese archaic bronzes. This form is not only celebrated for its rarity but is also remarkable for its intrinsic beauty. The rectangular profile accentuates the powerful silhouette of the vessel which is further enhanced by the heavy, toothed flanges.

Rectangular gong vessels of this type, but of slightly different design, include one formerly in the von Lochow collection, illustrated in Robert W. Bagley, Shang Ritual Bronzes in the Arthur M. Sackler Collection, Washington, D.C. 1987, p. 299; one from the Seattle Art Museum illustrated in Early Chinese Metalwork in the Collection of the Seattle Art Museum, Seattle, 1989, no. 8; another with a cover in the Nagao Art Museum, Tokyo illustrated in Jessica Rawson, Western Zhou Ritual Bronzes from the Arthur M. Sackler Collection, Washington, D.C. 1990, p. 698; a fang gong vessel with a cover in the Sen-oku Hakuko Kan is illustrated in Sen-oku Hakuko Kan Sumitomo Collection, Tokyo, 2002, p. 92, no. 108; the fifth covered fang gong formerly in the Qing Court Collection, is now in the Idemitsu Museum, included in Sugimura Yuzo,Chinese Archaic Bronzes, Tokyo, 1966, pp. 64-73; compare also a large fang gongvessel with cover, excavated in 1976 from Fufeng county, Shaanxi province and illustrated in Xu Tianjin, Fine Western Zhou's Bronzes Unearthed from Zhouyuan, Beijing, 2002, pp. 94-107, no. 6.
Gong originated in the second phase of the Anyang period and rapidly replaced the animal-shaped zun vessels. According to Jessica Rawson in Western Zhou Ritual Bronzes from the Arthur M. Sackler Collection, "vessels wholly or partly shaped like animals did not lend themselves to the compartmented shapes that make up the standard repertory of the Anyang casters" (pp. 695-697). Gong vessels of this kind satisfy both the interest in the realistic representation of creatures and the convention of dividing surface decor into arbitrary compartments.
This piece was acquired from Alfred Salmony, the renowned art historian in Far Eastern arts who served as curator of the Cologne Museum of the Far East from 1920 to 1933. In 1934, he immigrated to the U.S. and became the Oriental Art specialist at the Institute of Fine Arts, New York University. In New York, Dr. Salmony helped C.T. Loo on several catalogues including the ground-breaking Sino-Siberian Art in the Collection of C.T. Loo.
Sotheby's. Fine Chinese Ceramics & Works of Art. New York | 17 sept. 2013