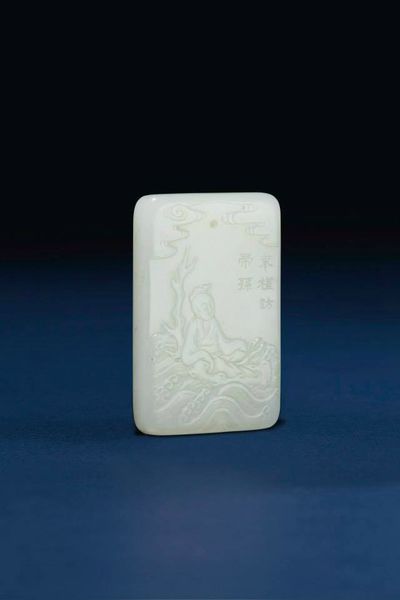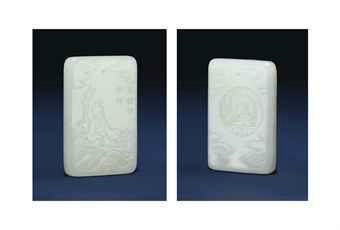 A White Jade Rectangular Pendant Plaque, 18th century. Photo Christie's Image Ltd 2013
One side is well carved with Zhang Qian floating in a log boat amidst rolling, wind-tossed waves below clouds and an inscription, cheng cha fang di sun (ride the raft and visit the star of the Weaving Maiden ([Vega]), and on the reverse with a woman (the Weaving Maiden) seen through a circular window as she sits at her loom, the scene framed by vaporous clouds at the corners. The semi-translucent stone is of even white color and softly polished. 2 3/16 in. (5.6 cm.) high. Estimate $30,000 – $50,000

Provenance: Lizzadro Collection, Chicago, Illinois, acquired prior to 1960.
Notes: The inscription is a line taken from the Dream of the Red Chamber, in which Xiangyun (a female character in the novel) came up with this line at the literary competition held on Mid-Autumn Festival.
The figure in the log boat on one side depicts the Han-dynasty imperial envoy and traveler Zhang Qian, whose extraordinary travels were later embellished into legendary poems.
A similar white jade plaque, dated to the Qing dynasty, and decorated on each side with the same scenes, is illustrated by Fu Xinian, Guyu Tuoying (A Selection of Ancient Jades), Hong Kong, 1995, pp. 302-3, no. 181. The plaque has the same inscription as the present plaque, but with the addition of a seal, wen wan (play thing). On the side with the 'weaving maiden', the window is framed by a tree and a fence, rather than the clouds on the present plaque.
Christie's. A COLLECTING LEGACY: FINE CHINESE JADE CARVINGS AND WORKS OF ART FROM THE LIZZADRO COLLECTION (PART II). 19 September 2013. New York, Rockefeller Plaza. www.christies.com