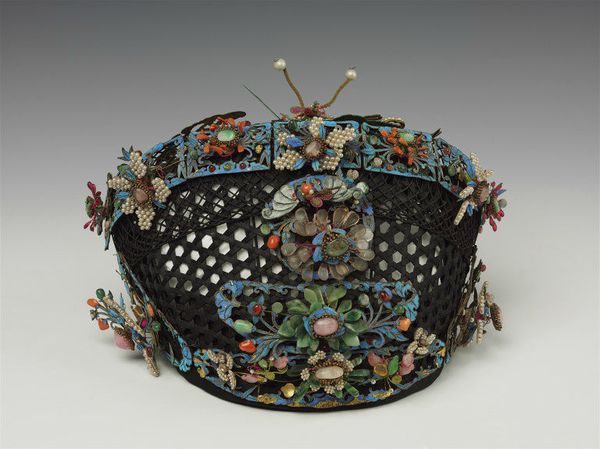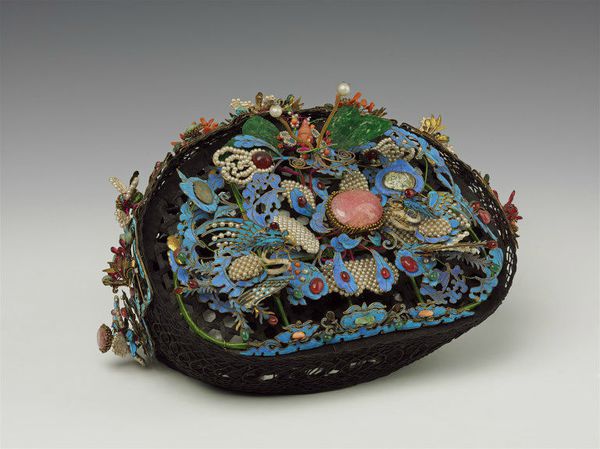 Headdress, China, 19th century. Wire covered in silk, kingfisher feathers, semi-precious stones. Height: 16.5 cm, Width: 25.5 cm. M.118-1966. © V&A Images.
Headdress for a Manchu court lady. Gold openwork enriched with kingfishers feathers, pearls and semi-precious stones, mounted on a framework of black silk strengthened with wire.
The headdress slopes slightly back from the forehead and widens a little towards the top; the back projects from the back of the head, presenting a flat semi-circular surface. this surface is richly decorated with a border of floral forms and two phoenixes in gold set with kingfisher feathers, surrounding a central device of a large pink stone surmounted by a butterfly with coral body and jade wings, the whole enriched with pearls set in and various semi-precious stones. In the front, the upper edge of the headdress is set with seven rectangular openwork plaques of the same style, each with a fairly large semi-precious stone in the middle, with pearl or coral enrichment. The lower part of the front surface is adorned in the same style with central device of a butterfly and flowers executed in pearls and semi-precious stones.
Parts of the gold-work are slightly bent and displaced; the kingfisher feather is missing in a few places, also one or two of the stones.