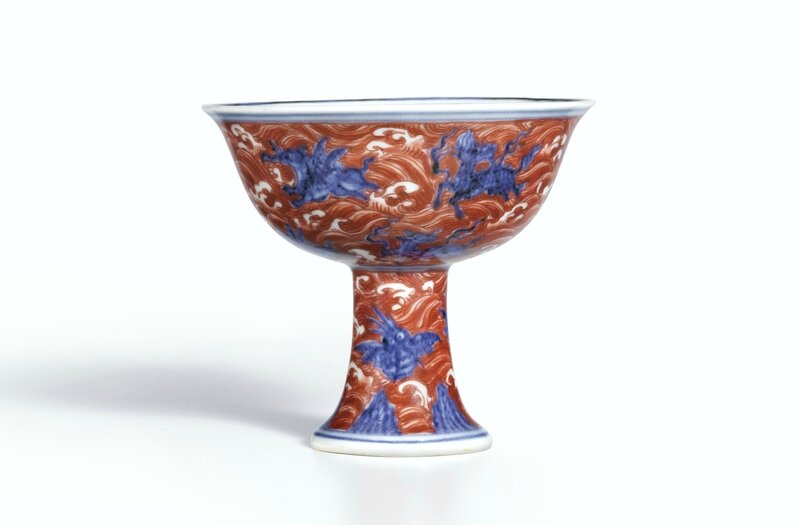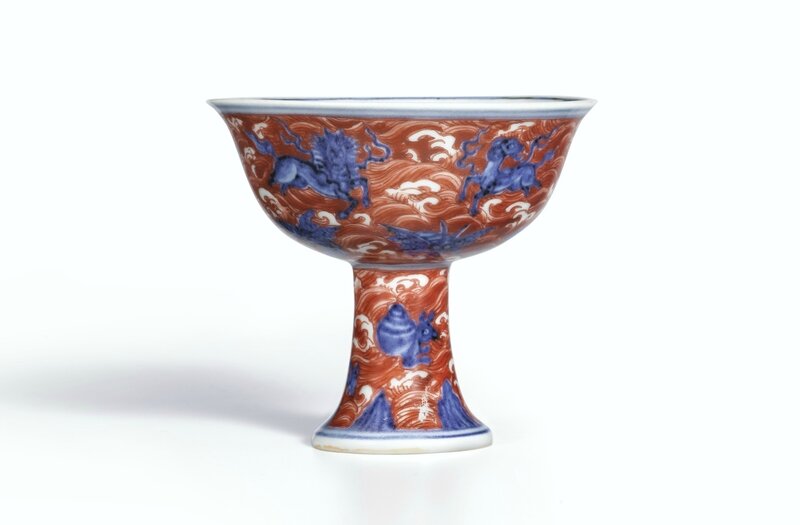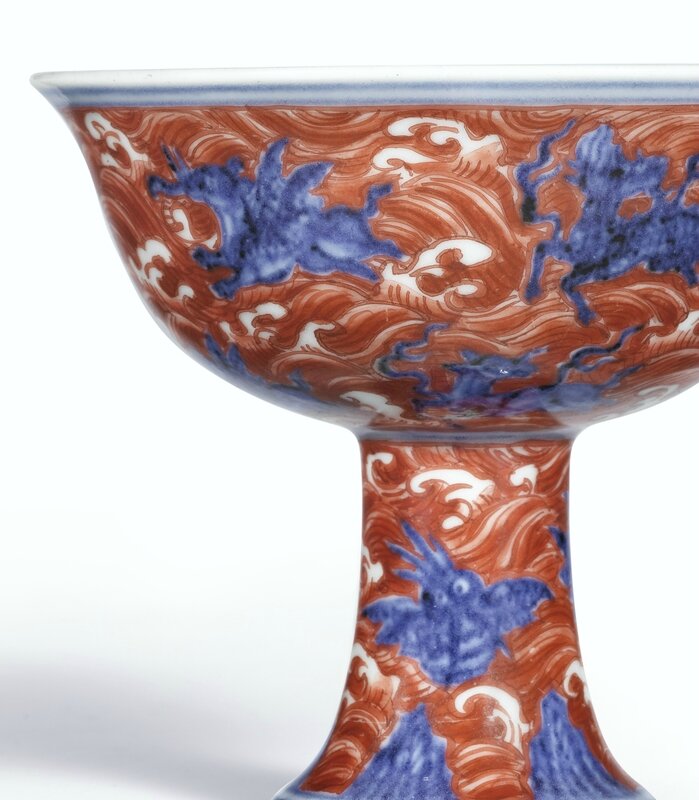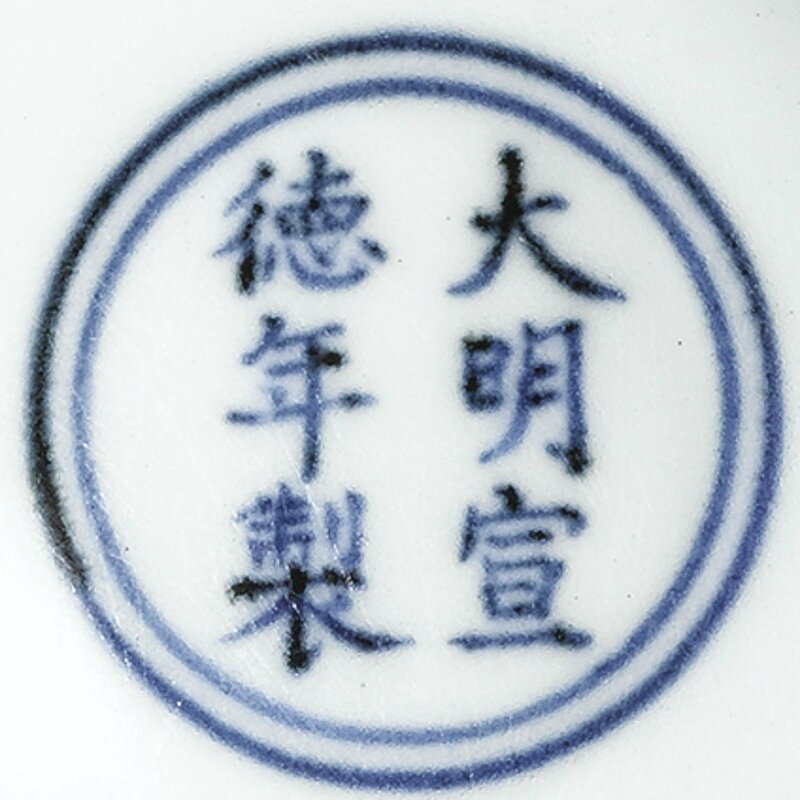 Lot 3029. An exceedingly rare and fine cobalt-blue and iron-red 'Mythical Beasts' stemcup, Mark and period of Xuande (1426-1435); 9.9 cm., 3 7/8 in. Estimation 25,000,000 — 35,000,000 HKD. Lot sold 79,640,000 HKD. Photo: Sotheby's 2013
finely potted with deep rounded sides rising to an everted rim, supported on a tall splayed stem with a sealed flat base, superbly painted around the exterior in deep shades of underglaze blue accented with 'heaping and piling', the cup with nine fabulous animals against an iron-red ground of turbulent waves, including a fish dragon and a winged carp leaping above the frothing crests, a bee-like insect staring with globular eyes, four galloping quadrupeds with flaming haunches including aqilin, a deer, a dragon-headed horse longma and a ram, together with a winged elephant and rat, all between double line borders encircling the rim and waist, the stem similarly decorated with three further animals above iron-red waves comprising the leaping winged carp, the bee-like insect and a squirrel nestled in a conch, above five pointed jagged rocks evenly spread around the foot, the interior of the cup left white and inscribed in underglaze blue with a six-character reign mark within double circles repeated at the rim, the base unglazed revealing the smooth white biscuit
Provenance: Mayuyama & Co., Ltd., Tokyo.
A private Japanese collection.
Litterature: Sekai tōji zenshū/Ceramic Art of the World, vol. 11, Genmin Hen/Yuan and Ming Dynasties, 1961, Tokyo, pl.10.
Kōyama Fujiō, Tōki Kōza [Lectures on ceramics], vol. 7: Genmin/Yuan to Ming Dynasty, Tokyo, 1971, pl. 84.
Sekai tōji zenshū/Ceramic Art of the World, vol. 14: Min/Ming Dynasty, Tokyo, 1976, col. pl. 185.
Mayuyama, Seventy Years, Tokyo, 1976, vol. 2, pl. 785.
A Xuande Period Innovation: An Underglaze-Blue and Iron-Red Decorated 'Mythical Sea Creatures' Stemcup
Hajni Elias
The present exquisite stemcup, decorated with the heavenly animals known as the 'mythical sea creatures' riding on turbulent waves, is amongst the most successful and pleasing vessels designed for the early Ming court at the imperial kilns in Jingdezhen, Jiangxi province. While it is an extremely rare design with only three similar examples recorded, it also represents an important innovation in the history of porcelain manufacture and decoration in China. It was during the reign of the Xuande Emperor (r.1426-1435) that Jingdezhen potters combined the techniques of painting in underglaze-blue and overglaze enamel for the first time. Furthermore, as seen on this stemcup, red enamel based on iron oxide was substituted for the high-fired copper red to accompany the underglaze-blue decoration. This allowed the artist to achieve a more accomplished and precise design with a clearer tone. The substitution of copper-red with iron-red also required the invention of a new technique whereby part of the design – the mythical sea creatures and the mountain formations around the base of the foot on this cup – was painted in underglaze-blue first and then fired to high temperature. Following this, the potter applied a further motif to complete the design – the waves on this cup – in iron-red over the glaze, and re-fired the vessel for the second time at a lower temperature. The second firing is known as 'muffle firing' or petit feu. The final result is impressive, with the two bright colours in sharp and brilliant contrast with each other. This method and decorative style unquestionably represented a key advancement in the history of Chinese painted wares.
One of the earliest stemcups painted with this design was unearthed from the Yongle stratum in 1984 at Zhushan, Jingdezhen. The exterior of the cup, decorated with thirteen similar fantastical animals in underglaze-red on a ground of crested waves and mountains in underglaze-blue, is illustrated in Imperial Porcelain of the Yongle and Xuande Periods Excavated from the Ming Imperial Factory at Jingdezhen, Hong Kong, 1989, pl. 37 (fig. 1).
A similar pattern is repeated on a Xuande mark and period stemcup of similar size and form to the Yongle example, the twelve mythical sea creatures painted in underglaze-red on a plain white ground, lacking the wave motif, published in the exhibition catalogue Jingdezhen chutu Ming Xuande guanyao ciqi/Xuande Imperial Porcelain Excavated at Jingdezhen, Chang Foundation, Taipei, 1998, pl. 45-2 (fig. 2).
The plain ground may suggest that the vessel was an experimental piece. Three closely comparable stemcups to the present example are known: one in the National Palace Museum, Taipei, included in the Museum's Special Exhibition of Hsuan-te Wares, National Palace Museum, Taipei, 1980, cat. no. 134; one from the collections of Dr. Ip Yee and Tianminlou, illustrated in Chinese Porcelain. The S.C. Ko Tianminlou Collection, Part II, Hong Kong, 1987, pl. 66, also included in the Min Chiu Society exhibition An Anthology of Chinese Ceramics, Hong Kong, 1980, cat. no. 92, and sold in these rooms, 19th November 1984, lot 204 (fig. 3); and a third cup, from the collection of Andrew L. and Amanda Adams Love, New York, sold at Christie's New York, 20th September 2005, lot 251.
Xuande mark and period stemcups of this size and shape, are also known decorated in reverse to the present piece, with the mythical sea creatures in iron-red on a ground of underglaze-blue waves; for example, see one in the Cleveland Museum of Art, Cleveland, illustrated in Daisy Lion-Goldschmidt, Ming Porcelain, London, 1978, pl. 63; another from the Qing Court collection and still in Beijing, published in The Complete Collection of Treasures of the Palace Museum. Blue and White Porcelain with Underglazed Red (I), Shanghai, 2000, pl. 231 (fig. 4); and a third cup in the Shanghai Museum, illustrated in Lu Minghua, Shanghai Bowuguan zangpin yanjiu daxi/Studies of the Shanghai Museum Collections : A Series of Monographs. Mingdai guanyao ciqi [Ming imperial porcelain], Shanghai, 2007, pl. 3-51.
A variant of this design was revived during the reign of the Chenghua emperor (r.1465-1487) when the 'mythical sea creatures' motif was used on wares of all types, including bowls, dishes and jars. See a stemcup (fig. 5), from the Sir Frank Swettenham, W.W. Winkworth and Mrs. Walter Sedgwick collections, illustrated in Soame Jenyns, Ming Pottery and Porcelain, London, 1953, pl. 66A, last sold in our London rooms, 27th November 1973, lot 310; and another from the Rockefeller collection, included in the China Institute of America exhibition, Ming Porcelains, New York, 1970, cat. no. 20.
This design is discussed in Chen Ching-kuang, 'Sea Creatures on Ming Imperial Porcelains', The Porcelains of Jingdezhen, Colloquies on Art and Archaeology in Asia, no. 16, London, 1993, pp. 101-22, who suggests that it may be related to descriptions of auspicious creatures in theShanhaijing (Classic of Mountains and Seas), a reference work compiled in the Western Han period (206 BC-8 AD) by Liu Xiang and later revised and illustrated by Guo Pu of the Eastern Jin dynasty (317-420). The Shanhaijing records official investigations into subject matters such as astronomy, geography, medicine, sciences and others, and served as an important source material for research into history, cultures, folk customs, archaeology, flora and fauna, landscapes, mythological stories, special local products, witchcraft and religious beliefs, covering a wide geographical area, from present-day Guangdong in the south to the inner-Mongolian plains in the north, and from Shandong in the east to Xinjiang in the west. Chen lists 61 Ming porcelains with this design in the collection of the National Palace Museum, Taipei.
Sotheby's. Fine Chinese Ceramics and Works of Art. Hong Kong | 08 oct. 2013