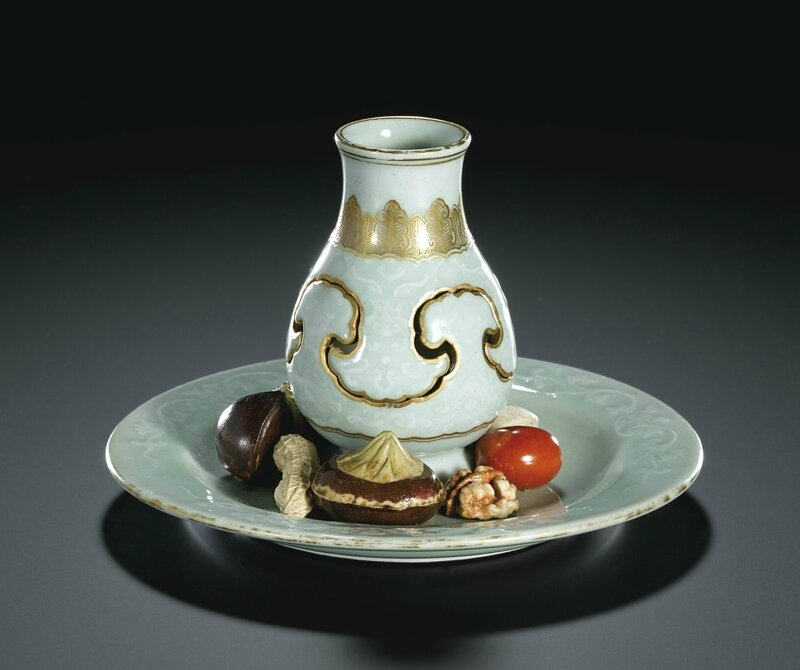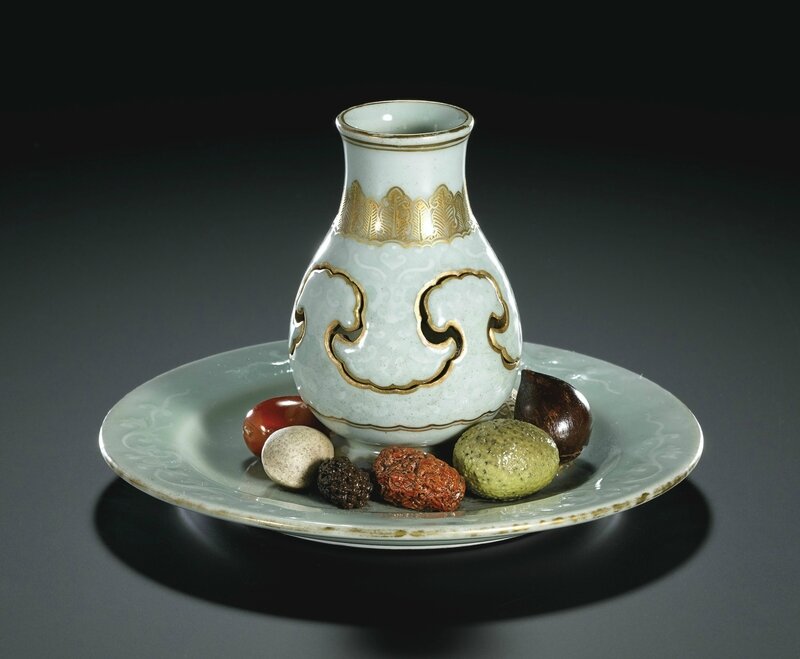 Lot 3031. A rare trompe-l'oeil celadon reticulated vase, Seal mark and period of Qianlong (1736-1795); 16.5 cm., 6 1/2 in. Estimate 3,000,000 — 4,000,000 HKD. Lot sold 9,640,000 HKD. Photo: Sotheby's 2013.
the small pear-shaped vase formed by two interlocked segments of ruyi-shaped outline, supported on a shallow circular dish, the vase slip-painted around the sides with archaistic motifs and the dish with detached lotus sprays, both applied overall with an even sea-green glaze, the interior of the dish set with a variety of dried fruits and nuts, including water chestnut, walnut, peanut, gingko, mulberry, longyan and jujube, all naturalistically moulded or carved in various media and placed as a trompe-l'oeil, the vase further picked out in gilt enamel with a collar of upright leaves, the rims gilt, the base of the dish inscribed in underglaze blue with a six-character seal mark.
Provenance: A private Japanese collection since the 1950s.
Note: The present vase is a novel example of the innovative and unconventional designs achieved in ceramic manufacturing during Qianlong's reign. The Qianlong Emperor had a unique approach to ceramic production: he favoured antiquity-inspired designs, enjoyed objects that were simulations of other materials and he challenged craftsmen to create pieces that were technically pioneering and unconventional in their aesthetics. During his reign and often under his supervision, simulations that were often difficult to separate from the 'real' were produced and these pieces became the trompe-l'oeil of ceramics. The present vase, with its interlocked segments and simulation fruit and nuts, is a stunning example of the striking trompe-l'oeil pieces manufactured in the imperial kilns at Jingdezhen. Zhu Yan in Tao shuo, published in 1774, noted that 'in fact, among all the works of art in carved gold, embossed silver, chiselled stone, lacquer, mother-of-pearl, bamboo and wood, gourd and shell, there is not one that is not now produced in porcelain, a perfect imitation of the original (fang xiao er xiao)'.
A similarly conceived example, composed of a gilt-decorated blue ground vase surrounded by a crab, shellfish and bat perched on a small dish, in the Palace Museum, Beijing, is published in Kangxi. Yongzheng. Qianlong. Qing Porcelain from the Palace Museum, Hong Kong, 1989, p. 404, pl. 85. Compare vessels of different forms containing various trompe-l'oeil fruits, nuts and other items, such as a dish holding an array of nuts and a crab, and a tazza containing citrus fruit and nuts, both from the Qing Court collection and still in Beijing, illustrated in The Complete Collection of Treasures of the Palace Museum. Porcelains with Cloisonné Enamel Decoration and Famille Rose Decoration, Hong Kong, 1999, pls. 151 and 152. The dish with crab was also included in the exhibition China. The Three Emperors 1662-1795, Royal Academy of Arts, London, 2005, cat. no. 232, where it is noted in the catalogue that 'through the use of puns and rebuses, this seemingly whimsical arrangement of a crab surrounded by various fruits, nuts and seeds conveys the wish not only for examination success but also for the birth of successful and clever sons' (p. 449). The present piece also holds a similar meaning through the jujube, or Chinese date (zaozi), a homonym for 'the early arrival of sons', the second character in the word for peanut (huasheng) being a homonym for 'giving birth', and the wish for 'Achieving the three successive firsts' (lianzhong sanyuan), a popular way of wishing success in his examinations, symbolised through the walnut, the dragon's eye fruit and gingko which are round in shape (yuan), a pun for first.
The interlocking form of the present vase is also a highly technical and remarkable Qianlong innovation in itself. The upper and lower sections of the vase have been created in a method similar to reticulated vessels, and this interlocking motif is associated with the yin and yang, an ancient Chinese concept as recorded in the I Ching(book of changes). Compare a slightly larger celadon-glazed vase of this form and decoration, also of Qianlong mark and period but lacking the gilt painted designs, published in The Complete Collection of Treasures of the Palace Museum. Monochrome Porcelain, Hong Kong, 1999, pl. 138; and another Qianlong vase of similar form, but richly decorated with famille rose enamels on a sgraffiato embellished yellow ground, in the National Palace Museum, Taipei, included in the Museum's exhibition Stunning Decorative Porcelains from the Ch'ien-lung Reign, Taipei, 2008, cat. no. 73. See another interlocking vase, the two sections of the compressed pear-shape vessel interconnected through a geometric band, also bearing a Qianlong reign mark and of the period, from the Qing Court collection and still in Beijing, included in The Complete Collection of Treasures of the Palace Museum. Blue and White Porcelain with Underglazed Red (II), Shanghai, 2000, pl. 236.
Sotheby's. Fine Chinese Ceramics and Works of Art. Hong Kong | 08 oct. 2013