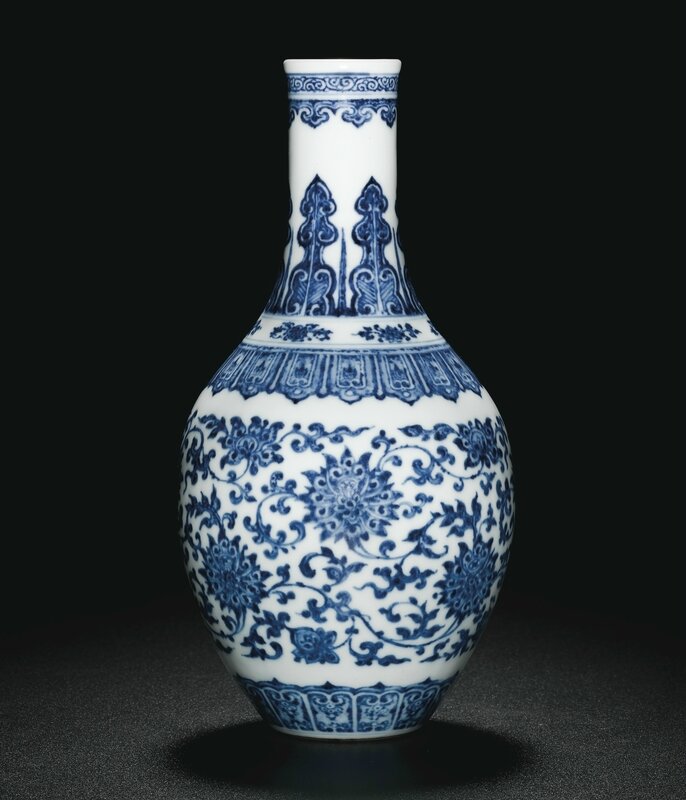 Lot 3032. A fine and rare blue and white 'Lotus' vase, Seal mark and period of Qianlong (1736-1795); 20 cm., 7 7/8 in. Estimate 4,000,000 — 7,000,000 HKD. Lot sold 10,240,000 HKD. Photo: Sotheby's.
elegantly potted, the ovoid body gently rising to a tall cylindrical neck with a lipped mouth, painted in bright shades of cobalt-blue with a wide band of lotus blooms arranged in double registers borne on meandering leafy scrolls, all between stylised lappet bands, the neck encircled by stiff upright leaves above a band of floral sprays, painted with a 'classic' scroll and a band of pendent ruyi heads just below the rim, the recessed base inscribed with a six-character seal mark.
Provenance: Collection of Sir Francis William Stronge, KCMG, HMB (1856-1924), acquired in Chinacirca 1880s.
Collection of the Richardson Family.
Note: With its elegant form, fine potting and exquisite painting this small vase is special for a number of reasons. It is a masterpiece of a highly accomplished potter working at the Imperial porcelain kilns at Jingdezhen in Jiangxi province, under the watchful eyes of Tang Ying (1682-1756), China's most famous and accomplished Superintendent at Jingdezhen during the early Qing period. The vase is attributable to the creative genius of Tang Ying himself, who was trained in ceramics designs from an early age. As a descendent of a bondservant, and belonging to one of the three Banners directly under the control of the emperor, Tang Ying started his career at the Neiwufu (Imperial Household Department) in the Forbidden City in Beijing at the age of 16. The palace presented him with the opportunity to study the Imperial collection of porcelains, paintings as well as decorative objects which provided an essential foundation from which he could produce classical yet innovative shapes and designs for ceramic pieces for the emperor, his family and the court after his transfer from the Palace to the Imperial kilns in 1728.
While no other blue and white vase of this form, size and decoration appears to be recorded, its shape is well known from the most exquisite falangcai (foreign colours) decorated bottle vases made for the Qianlong emperor. Blank vases of this type were produced under court orders at Jingdezhen, which were then sent to the Palace to be painted and enamelled by court artists employed in the Enamelling Workshops located in the Yangxindian (Hall of Mental Cultivation), within the Imperial Palace grounds. Of oviform body that extends into a cylindrical neck with an emphasized rim flange, and rests on a rounded footring with a recessed base that bears a six-character Qianlong reign mark, this vase is known as danping in Chinese which translates as 'gall-bladder vase'. It is illustrated in line drawing and recorded as one of the bottle shapes in Geng Baochang, Ming Qing ciqi jianding, Hong Kong, 1993, p. 259, fig. 422 (9).
Four falangcai decorated vases of this shape and size may be found in the collection of the National Palace Museum in Taipei, two painted with flocks of birds, one with a landscape and one with pavilions, all included in the exhibition Qing gongzhong falangcai ci tezhan/Special Exhibition of Ch'ing Dynasty Enamelled Porcelains of the Imperial Ateliers, National Palace Museum, Taipei, 1992, cat. nos. 127-130. Further examples of enamelled vases of this type may be found in the Idemitsu Museum of Arts, Tokyo, published in Idemitsu Bijutsukan zōhin zuroku. Chūgoku tōji/Chinese Ceramics in the Idemitsu Collection, Tokyo, 1987, pl. 232; one in the Musée Guimet, Paris, illustrated in Xavier Besse, La Chine des Porcelaines, Paris, 2004, pl. 54; and a further example, known as the 'Meiyintang Golden Pheasant Vase', sold in these rooms, 7th April 2011, lot 15, from the Meiyintang collection (fig.2).
fig.2. From the Meiyintang Collection. Falangcai 'Golden Pheasant' Vase, Blue Enamel, Mark and Period of Qianlong (1736-1795); 20.3 cm., 8 in. Sold privately after the sale for 200,000,000 HKD (25,064,000 USD) at Sotheby's Hong Kong, 7th April 2011, Lot 15. Photo Sotheby's 2011

Cf. my post: A magnificent and unique Falangcai 'Golden Pheasant' vase, Blue enamel mark and period of Qianlong (1736-1795)
Apart from the vase's association with falangcai wares, it is beautifully potted and painted in deep undeglaze blue. The artisan's skilful command over his material is evident in the varied use of the cobalt pigment. The fine and precise outlines of the main lotus scroll composition highlight the exceptional quality of the decoration painted in the style that closely simulates the 'heaping and piling' of cobalt blue seen on some of the most accomplished Ming dynasty wares. This painting technique served to heighten the three-dimensional quality of the design and belonged to a special group of blue-and-white wares. For further discussion on the use of 'heaping and piling' on Qing ceramics see Julian Thompson's introduction in Chinese Porcelain. The S.C. Ko Tianminlou Collection, Hong Kong, 1987, p. 30.
A number of related Qianlong mark and period bottle vases are known, although of much larger dimensions than the present example. They are generally pear-shaped, standing on a splayed foot, and painted in the Ming style with a dense lotus scroll motif around the body and various design band elements above and below. See one sold at Christie's London, 8th June 1992, lot 42; and another, decorated with a floral scroll motif containing flowers of the four seasons, sold in these rooms, 21st May 1984, lot 91 (fig. 3). Comparable design band elements to those seen on this vase may be found on Qianlong mark and period blue and white wares of different forms; for example, see a six conjoined bottle vase with lotus scroll motif included in the exhibition Etherial Elegance, Art Museum, The Chinese University of Hong Kong, Hong Kong, 2008, cat. no. 109; and a small zhadoushaped vessel, painted in blue and white with lotus sprays between stylised lappet bands, illustrated in The Official Kiln Porcelain of the Chinese Qing Dynasty, Shanghai, 2003, p. 237, from the Nanjing Museum.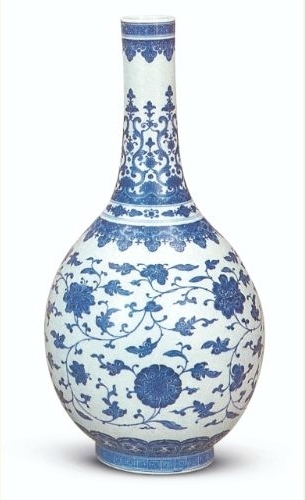 fig. 3. Blue and White Bottle Vase with Flowers of the Four Seasons, Seal Mark and Period of Qianlong, Sotheby's Hong Kong, 21st May 1984, Lot 91
The present vase is also special for its distinguished and extensive provenance that dates as far as the 1880s. It has been in the collection of the Stronge and Richardson families since it was acquired by Sir Francis William Stronge KCMG, HMB (b. 1856-1924) (fig. 1) sometime in the 1880s. Stronge joined the British Diplomatic Service in 1879 at the age of 22. He was posted to Shanghai to serve as Secretary for the British Supreme Court in China and Japan, in 1885. Following his posting in Shanghai he was transferred to South America, where he distinguished himself and was awarded a Knighthood in recognition of his diplomatic achievements, one of which included the acquisition of two battle-ships for the British Navy from the government of Chile in 1914. Sir Francis Stronge retired in 1919 and thereafter lived with his wife, Maria Elizabeth Florence, in Kilbroney House, Rostrevor, Co. Down, Ireland, until his death in 1924. His daughter, Ethel Margaret Richardson (neeStronge) handed down the vase to her daughter, Rose, which is confirmed in a hand-written list dated to 29th March 1925. Subsequently, the vase was inherited by Rose's son, Mr Robert Richardson, who has owned it ever since.
fig. 1. Sir Francis William Stronge (1856-1924), Late 1880s.
Sotheby's. Fine Chinese Ceramics and Works of Art. Hong Kong | 08 oct. 2013