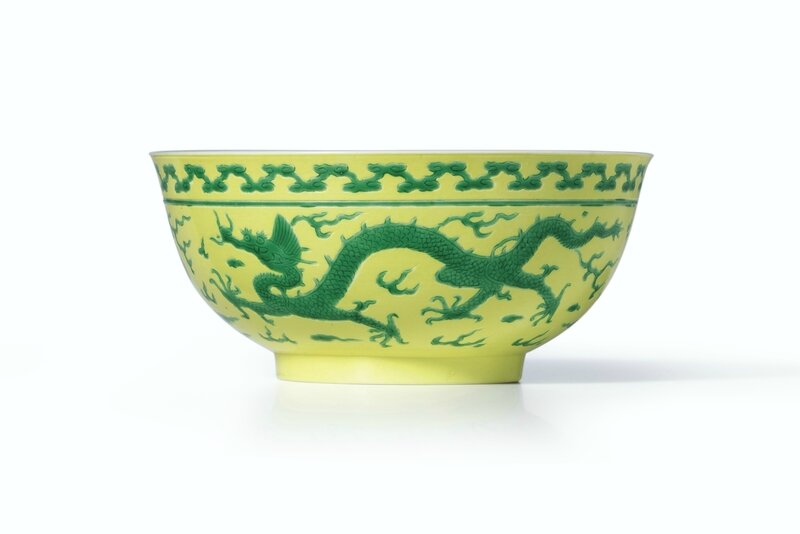 Lot 3051. A pair of fine yellow-ground green-enamelled 'Dragon' bowls, Marks and period of Yongzheng (1723-1735); 14 cm., 5 1/2 in. Estimate 4,000,000 — 6,000,000 HKD. uNSOLD. Photo: Sotheby's.
each with deep rounded sides rising from a tapered foot to a gently flared rim, finely decorated on the exterior with two dragons striding in mutual pursuit among clouds reaching for a 'flaming pearl', one with its head turned back, the other looking forward, each finely incised in the biscuit and enamelled in translucent green against a brilliant opaque lemon-yellow ground, all further below a zigzag border of clouds divided by a green fillet and a single incised line at the rim, the interior and the base reserved in white, the base inscribed in underglaze blue with a six-character reign mark within double circles
Provenance: Sotheby's Hong Kong, 29th November 1976, lot 578.
Collection of The British Rail Pension Fund.
Sotheby's Hong Kong, 16th May 1989, lot 80.
Christie's Hong Kong, 29th April 2001, lot 605.
Christie's Hong Kong, 26th April 2004, lot 958.
The Songzhutang Collection.
Two versions of bowls of this type were produced during the Yongzheng period: those with a translucent yellow glaze with heavier dragons and clouds, and those with a wispier rendering of the design on an opaque yellow glaze as seen in the present piece. A closely related bowl is published in Chinese Porcelain. The S.C. Ko Tianminlou Collection, Hong Kong, 1987, pl. 97; and a pair from the T.Y. Chao collection was included in the Oriental Ceramic Society exhibition Ch'ing Polychrome Porcelain, Hong Kong, 1977, cat. no. 69, and sold in these rooms, 19th May 1987, lot 315.
For bowls of this type with a translucent yellow glaze, see one in the Palace Museum, Beijing, illustrated in Gugong Bowuyuan cang Qingdai yuyao ciqi [Porcelains from the Qing dynasty imperial kilns in the Palace Museum collection], vol. 1, pt. II, Beijing, 2005, pl. 7; and another sold in these rooms, 16th May 1989, lot 338.
According to the Qing document Huangchao Liqi Tushi [The Illustrated Regulations for Ceremonial Paraphernalia of the Qing Dynasty], vessels with green dragons on a yellow ground were used by the emperor's concubines of the second and third rank. The prototype to the colour palette and decoration of these bowls appears to have been green dragon designs of the early 16th century; for example see a Zhengde (r. 1506-21) mark and period vase from the collection of Sir Percival David and now in the British Museum, London, illustrated in Soame Jenyns, Ming Pottery and Porcelain, London, 1953, pl. 84b, where the author notes that reproductions of Zhengde wares incised in green on a yellow ground were among the items included in the Yongzheng list of porcelains supplied to the court compiled by Tang Ying in 1729.
Sotheby's. Fine Chinese Ceramics and Works of Art. Hong Kong | 08 oct. 2013 - http://www.sothebys.com