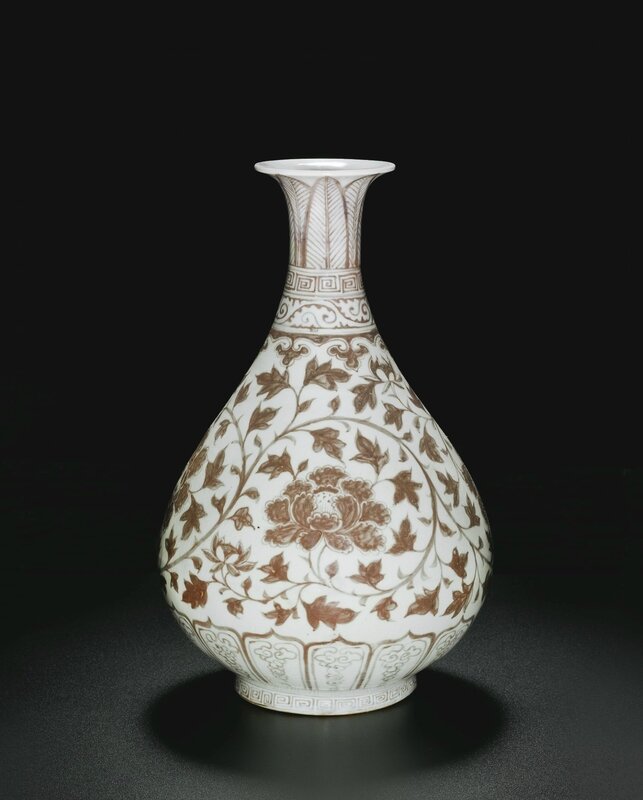 Lot 3182. A rare copper-red 'peony' vase, yuhuchunping, Ming Dynasty, Hongwu Period. Estimation 600,000 - 800,000 HKD. Lot sold 2,920,000 HKD. Photo: Sotheby's.
the pear-shaped body rising from a spreading foot to a tall waisted neck with flaring rim, painted in greyish tones of copper-red against a crackled glaze with an undulating leafy scroll bearing large peony blooms, all between trefoil leaf motifs above and a lappet band below, the neck encircled by stiff leaf, key-fret and foliate scroll bands, the foot skirted with a key-fret band; 32.8cm., 12 7/8 in.
Provenance: Collection of Dr. J.H. Zeeman, Chargé d'Affaires, Embassy of the Netherlands, Beijing, 1954-1957.
Thence by descent.
Underglaze copper-red decorated vessels of the Hongwu period are amongst the rarest examples of early Ming dynasty porcelain wares made in the kilns at Jingdezhen, Jiangxi province. Copper-red became an important colour for decoration during Hongwu's reign, and according to Liu Xinyuan, ceramics expert at the Jingdezhen Institute of Ceramic Archaeology, underglaze-red porcelain were produced systematically on a considerable scale because very few were fired successfully due to the difficulty in controlling the copper-red pigment. See Liu Xinyuan, 'A Study of Early Ming and Yongle Imperial Porcelain Excavated at Zhushan, Jingdezhen', Imperial Hongwu and Yongle Porcelain Excavated at Jingdezhen, Taipei, 1996, p. 52. Although the beginning of the new Ming dynasty brought profound changes to the Jingdezhen potters' repertoire, painted designs for the first three decades remained mainly restricted to formal flower motifs and ornamental borders covering the surface of the vessel in an orderly pattern, as seen on this piece. Liu ibid., p. 52, notes that while the subject matter and decoration employed may not have been as rich or varied as that of the Yuan Dynasty, nor is the brushwork as fluent and lively, Hongwu porcelain retains a quality of independent robustness with a distinct style that was virtually unrepeated in later periods.
A related bottle vase from the Qing court collection and still in Beijing, is illustrated inThe Complete Collection of Treasures of the Palace Museum. Blue and White Porcelain with Underglaze Red, vol. 1, Shanghai, 2000, pl. 197; and another in the Tokyo National Museum is included in Oriental Ceramics. The World's Great Collections, vol. 1, Tokyo, 1982, pl. 112. Compare also a vase sold in these rooms, 12th June 1990, lot 209, with the peony scroll design painted beneath a similarly distinct irregular crackled glaze, suggesting that the two pieces may have been produced and fired by the same hand.
Further examples of peony scroll decorated yuhuchunping include one from the collection of Sir Harry Garner, sold in these rooms, 21st November 1961, lot 24; four vessels of this type published in Mayuyama Seventy Years, Tokyo, 1976, pls. 721-4; and another with an extensive provenance, sold in our Hong Kong rooms, 17th May 1988, lot 12, and last sold at Christie's Hong Kong, 30th May 2006, lot 1248, of exceptional quality and deep copper-red decoration.
Sotheby's

. Fine Chinese Ceramics and Works of Art. Hong Kong | 08 Oct 2013