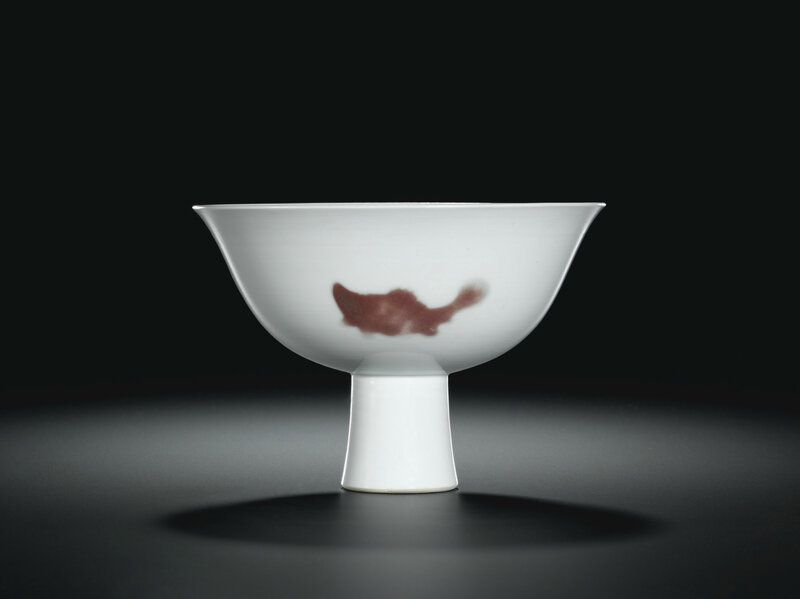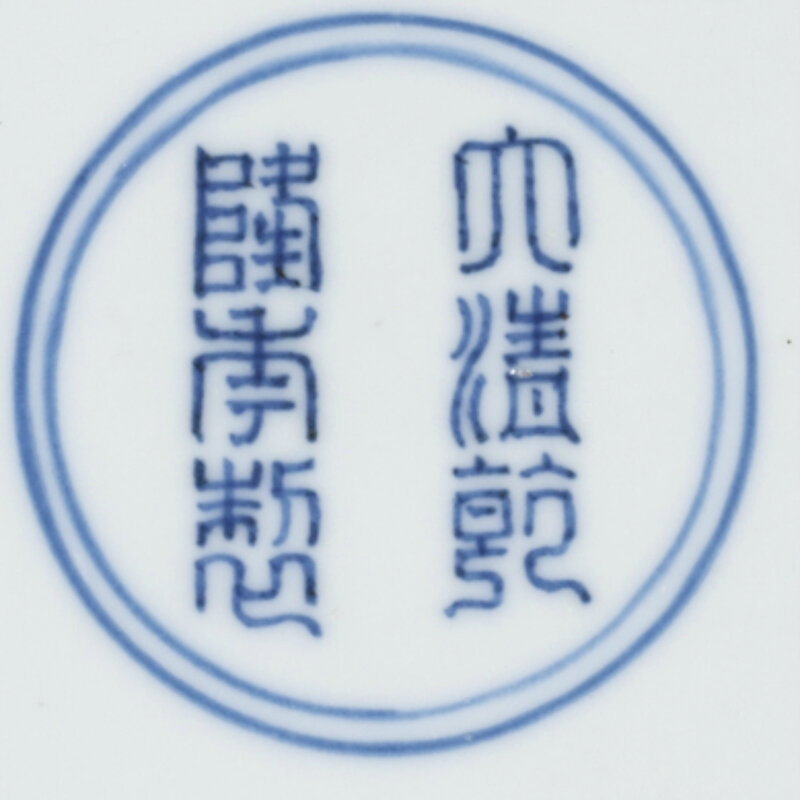 Lot 3183. A rare Ming-style copper-red decorated 'Three Fish' stembowl, Archaistic mark and period of Qianlong; 15.7 cm., 6 1/4 in. Estimate 200,000 - 300,000 HKD. Lot sold 687,500 HKD. Photo: Sotheby's.
the wide conical bowl supported on a tall hollow splayed stem, brightly decorated around the exterior in copper-red glaze on the white ground with three mandarin fish, each detailed with serrated dorsal and rounded tail fins, all fired to a soft purplish-red transmuting to brownish-grey towards the edge, the interior inscribed in underglaze blue with an unusual six-character archaistic reign mark within double circles, the footring left unglazed
Provenance: Sotheby's Hong Kong, 27th April 1993, lot 110.
Sotheby's London, 12th June 2003, lot 182.
Note: It is rare to find a stembowl of this type with a Qianlong reign mark, although one other example was sold in these rooms, 13th November 1990, lot 262. The stylised script used for the mark, which is also very unusual, is illustrated in Geng Baochang, Ming Qing ciqi jianding [Appraisal of Ming and Qing porcelains], Hong Kong, 1993, p. 343, fig. 569, who dates it to early in the reign of Qianlong. Stembowls of this decoration and similar proportions are usually found either with a Yongzheng reign mark written in a line inside the foot, such as the one from the Meiyintang collection, sold in these rooms 8th April 2013, lot 36.
This silhouette technique, which makes use of copper-red glaze, possibly sandwiched between layers of clear glaze, is very different from the much more common method of painting designs in copper-red pigment before the glaze is applied. If successfully handled, it results in much more intense red designs which, however, do not allow for the rendering of detail and are best suited for silhouettes.
For a Ming prototype of this design with three red fish, see a stembowl of Xuande mark and period, excavated from the Xuande stratum of the Ming imperial kiln site, and included in the exhibition Jingdezhen chutu Yuan Ming guanyao ciqi/Yuan's and Ming's Imperial Porcelain Unearthed from Jingdezhen, Yan-Huang Art Museum, Beijing, 1999, cat. no. 193; and another in the National Palace Museum, Taiwan, illustrated in Mingdai Xuande guanyao jinghua tezhan tulu/Catalogue of the Special Exhibition of Selected Hsüan-te Imperial Porcelains of the Ming Dynasty, National Palace Museum, Taipei, 1998, cat. no. 99, together with two similar stemcups of smaller size, cat. nos. 81 and 87. These early fish silhouettes also depict mandarin fish, with the characteristic large round tail fins, but the outlines are still much simpler compared to the Yongzheng and Qianlong versions, as they are lacking the serrated back fins.
Sotheby's. Fine Chinese Ceramics and Works of Art. Hong Kong | 08 Oct 2013