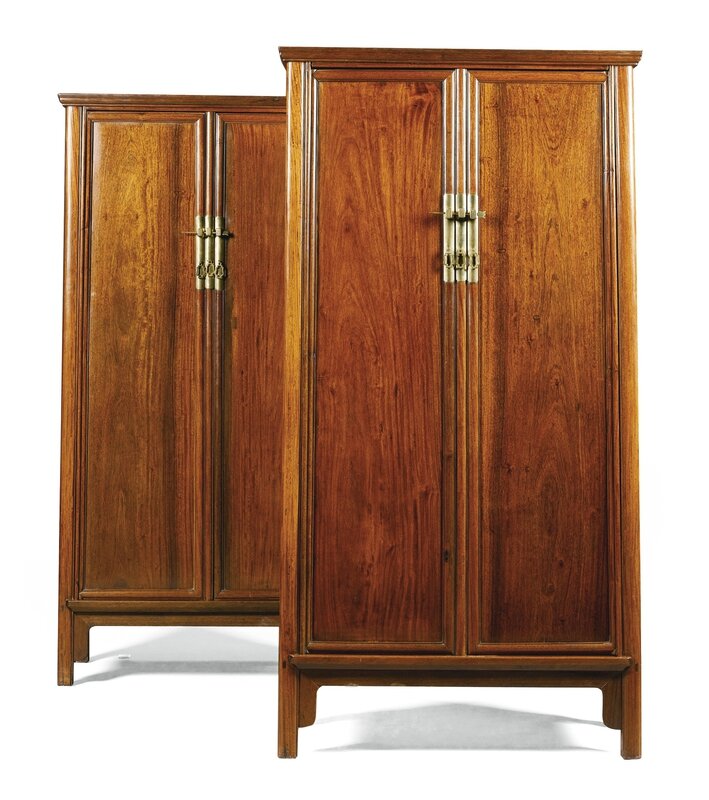 A pair of huanghuali round-corner tapered cabinets, yuanjiaogui, Qing dynasty. Photo courtesy Sotheby's
the rounded projecting four frame members set above the rectangular recessed top panel, joined by four round posts at each corner forming the tapered silhouette, the pair of single panel doors with wooden dowels fitting into sockets in the upper frame and lower front rail, above a plain narrow apron with curved spandrels, withbaitong plates, pulls and pin, the interior divided into four shelves. Quantité: 2 - 89 by 53 by 178.5cm., 35 by 20 7/8 by 70 1/4 in. Estimate 150,000 — 200,000 GBP. Sold 542,500 GBP
Provenance: Collection of Dr J.H. Zeeman, Charge d'Affaires, Embassy of the Netherlands, Beijing 1954-1957.
Thence by descent.
Huanghuali is amongst the most valued hardwood in China, appreciated for its vibrant colour, impressive grain pattern and light sweet fragrance. During the Ming and Qing dynasties it was used for making high quality furniture and craftsmen took full advantage of its distinct qualities to create smooth and plain surfaces that retained much of the material's natural beauty. The highest quality huanghuali, also known by its Chinese botanical name Hainan jiangxiang huangtan, comes from Hainan with a wide range of colouration from light yellow to purplish-red. This type of timber is also grown in Vietnam, Laos, Burma and Cambodia but with a coarser grain texture and its colour not as striking as that from Hainan. By the Qing dynasty, huanghuali became especially treasured by the imperial court and was frequently used for the production of imperial furniture. Hu Desheng in The Palace Museum Collection. A Treasury of Ming and Qing Dynasty Palace Furniture, vol. 2, Beijing, 2008, p. 578, describeshuanghuali furniture as that which typically combines artistry, technical rationale and functional utility and the embodiment of China's rich cultural heritage. Amongst collectors and connoisseurs huanghualiis universally acclaimed as the 'the pearl of the Orient'.
Cabinets of this type, with the characteristic round-corner, are known as yuanjiaogui. Amongst classical Chinese furniture yuanjiaogui are valued for their simple yet elegant form and design. This type of cabinet was widely made throughout the Ming and Qing periods. For detailed information on the development of Chinese cabinets see Sarah Handler, 'Cabinets and Shelves Containing All Things in China', Journal of the Classical Chinese Furniture Society, Winter, 1993, pp. 4-29, where Handler illustrates a large yuanjiaogui on p. 13, from the Nelson-Atkins Museum of Art, Kansas City, and notes that cabinets of this type became more common of domestic furniture from the 15th century.
A very similar single cabinet, illustrated in 'En Route to the West: Chinese Furniture in Hawaii', Journal of the Classical Chinese Furniture Society, Spring, 1991, vol. 1, no. 2, p. 39, fig. 3, was sold in our New York rooms, 17th/18th September 2013, lot 193; and a smaller example, attributed to the Ming dynasty, in the Beijing Art Museum, is published in Gems of Beijing Cultural Relics Series. Furniture, Beijing, 1999, pl. 42.
Sotheby's. Fine Chinese Ceramics & Works of Art. London | 06 nov. 2013 - www.sothebys.com