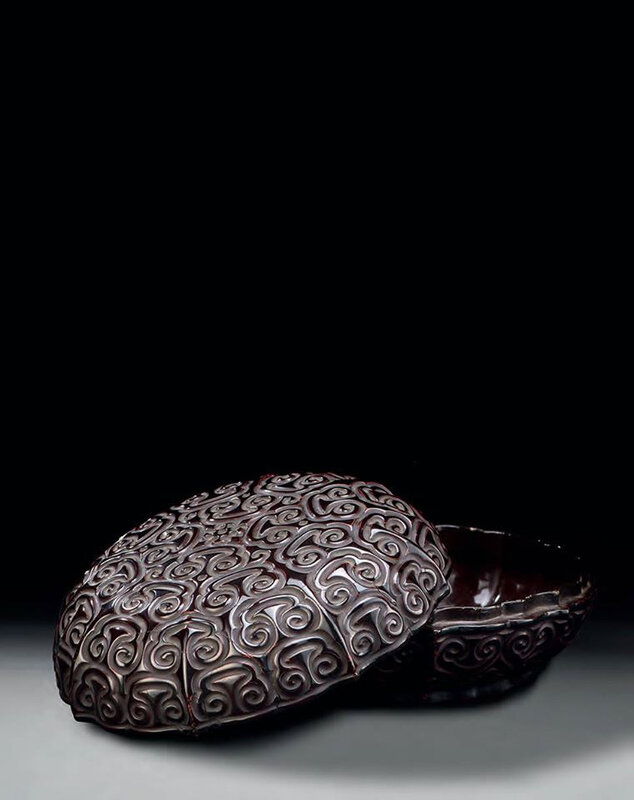 Lot 338. An tixi guri lacquer octagonal box and cover, Southern Song-Yuan dynasty; 18.7cm diam. Estimate HK$ 100,000 - 200,000 (€9,600 - 19,000). Sold for HK$ 162,500 (€ 17,141). © Bonhams 2001-2013.
The exterior intricately carved through a thick layer of black and thinner inner layers of red, with tightly-arranged ruyi-head motifs. (2).
The auspicious ruyi-head motif first appeared towards the end of the Southern Song dynasty, before becoming a popular decorative subject during the Yuan dynasty. The classic design inspired Ming dynasty lacquer-makers to a certain degree but artisans were pushing their technical limits and focusing on achieving wider range of subject matters, before finally becoming rejuvenated by a new sense of admiration for the past in the Qing dynasty, particularly under the influence of the Qianlong Emperor.
Compare a Yuan dynasty lacquer dish with similarruyi-head decorations and later gilt-decorated with a Qianlong four-character mark at the base, in the Qing Court collection in the Palace Museum, Beijing, illustrated in Lacquer Wares of the Yuan and Ming Dynasties. The Complete Collection of Treasures of the Palace Museum, Hong Kong, 2006, pp.18-19, no.12. Compare also another related black lacquer box and cover also with similar ruyi-head designs in the National Palace Museum, Taipei, illustrated inCarving the Subtle Radiance of Colours. Treasured Lacquerware in the National Palace Museum, Taipei, 2007, p.19, no.4.
Bonhams. FINE CHINESE CERAMICS AND WORKS OF ART. Hong Kong, 24 Nov 2013 14:00 CST