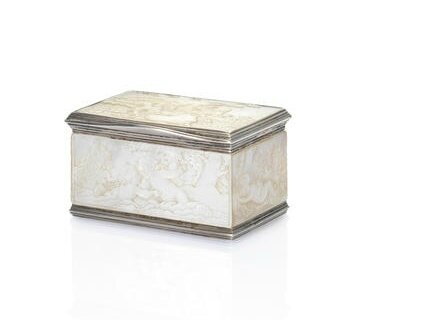 A very rare silver-mounted mother-of-pearl 'erotic-subject' rectangular box and cover, Qianlong, probably circa 1750. Photo courtesy Bonhams.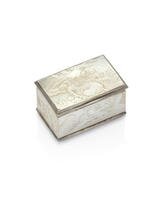 The rectangular box with a silver frame to hold the fragile panels, the top brilliantly carved in crisp relief with an elegant scene of a male gazing at a lady at rest under a tree, the base depicting a pair of water nymphs emerging from waves embracing each other, the sides decorated with various scenes of cupids engaging in similar activities, all exquisitely and finely worked panels in attractive crisp relief. 6.2cm wide; 4.3cm deep; 3.5cm high. Estimate HK$ 240,000 - 260,000 (€23,000 - 25,000)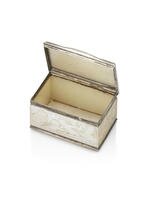 The panels are extremely well worked by the Canton craftsman, but this sort of shell work had become a speciality of the region, possibly because the raw material was imported as part of Canton's entrepot trade. At a later date shell would be used to create more mundane Export. In the 18th century, panels like this would have been carved using European prints as an unusual and mildly erotic design source. The prints may well have been Dutch, although the Rococo subject matter may well have originally been French, circa 1720-50: see for an example the elaborate shell-set cage-mounted box made in Paris in 1748, illustrated by A.Kenneth Snowman, Eighteenth Century Gold Boxes of Europe, op.cit., col.pl.170.
Bonhams. THE SPEELMAN COLLECTION OF CHINESE 'IMPERIAL TRIBUTE' SNUFF BOXES. Hong Kong. 24 Nov 2013 13:00 CST - www.bonhams.com